a tour of
America's Great White North
or
Buses and Boats and Bears, Oh My!

Ever since I met my wife she has wanted to go to Alaska. I guess that might be the defining characteristic for a bucket list. Since I have retired, and we've begun traveling with our Jacksonville friends, it seemed like the time to scratch this one off the list. You need to travel while you still can!

Our trip was near the end of the season: the last week of August and the first week of September. As you can see, even a two week tour gets you only a fraction of the 49th state: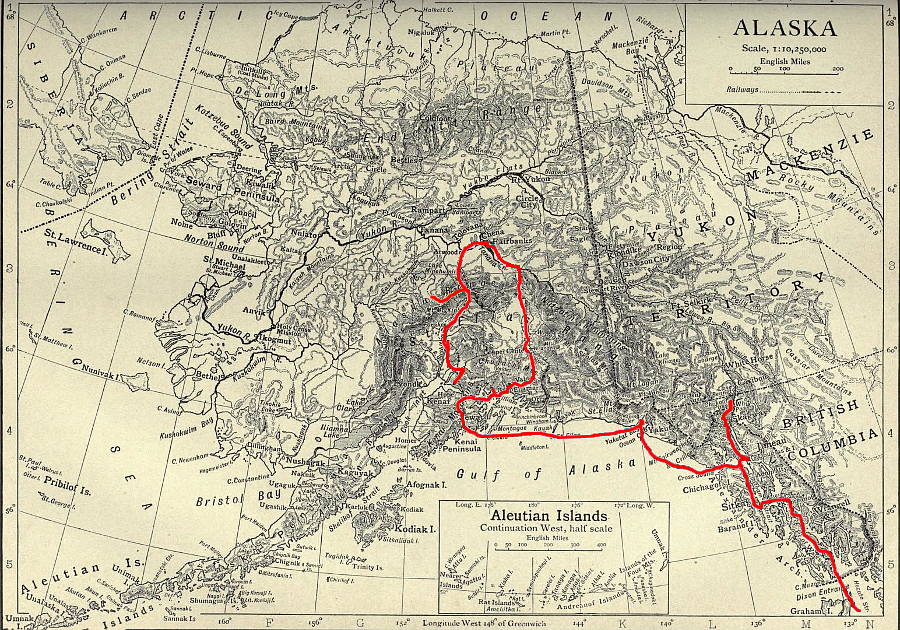 Anchorage
We flew into Anchorage (the left-most terminus of our red path on the map above) a day before the tour started. Two very pleasant young ladies from John Hall's Alaska met us at the airport and got us to our hotel. It was good to have a day to decompress, and after our friends had caught up with us at the hotel we got a cab to Humpy's Great Alaskan Alehouse. I had a reindeer (farmed caribou) burger that was very good, and Mary had halibut fish and chips that surprisingly turned out to be the best fish we had on the whole trip (more about that later).

The first day of our "15 day land/sea package" was actually designated a travel day, so we were on our own. We took a shuttle downtown, and wandered a bit. It was, as it would be most of our trip, overcast and drizzly, so we took a trolley tour of the city. Thoroughly enjoyable.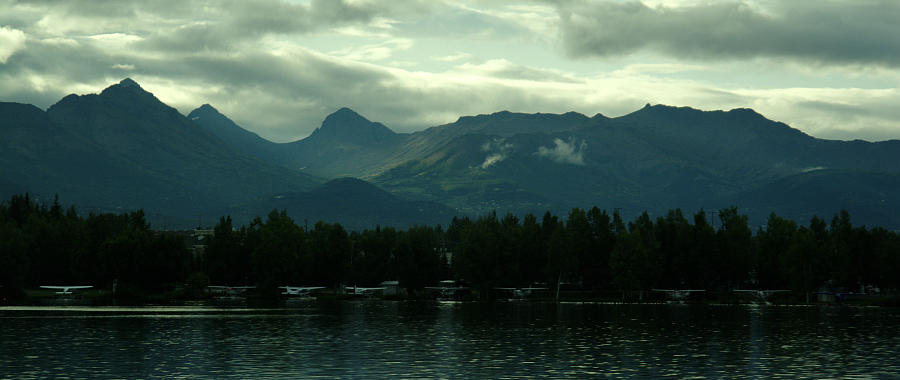 I just love a city with mountains in the background, and Anchorage reminded me of another of my favorite cities, Boulder, Colorado. The Chugach range is here seen behind Lake Hood, home to many of the local seaplanes.
We are not in the habit of taking organized tours. Our friends were old hands at it, but we've always been ones to plan our own travels, with time to explore. One of the first things we noticed was that, as a captive audience, you get a ton of information which is all very interesting. The problem comes in trying to remember anything (I'm sure age has nothing to do with this issue). It comes fast and furiously in one ear and seems to rush just as quickly out the other. For instance, we heard a lot about how seaplanes (and small planes in general) have been and still are crucial to transportation in Alaska, but a lot of the details have been forgotten in the intervening weeks.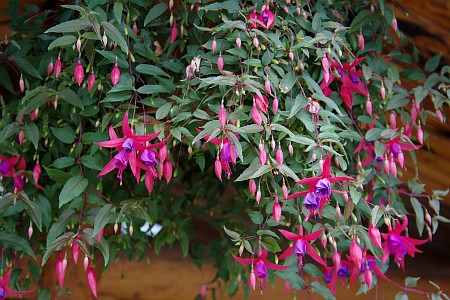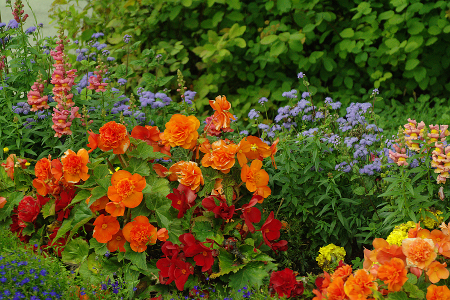 Another thing I liked about Anchorage was that there seemed to be flowers everywhere. This was true everywhere we went in Alaska, and I found them lovely. Perhaps it's because the floral season is relatively short in most of the state, and the residents feel the need to brighten things up as much as possible while they can. Or maybe they just want things to look nice for the tourists. But it adds a lot of (for my part) unexpected charm.
They also cheered up a rather bleary traveler who went west four time zones and woke up at 3 AM for a week.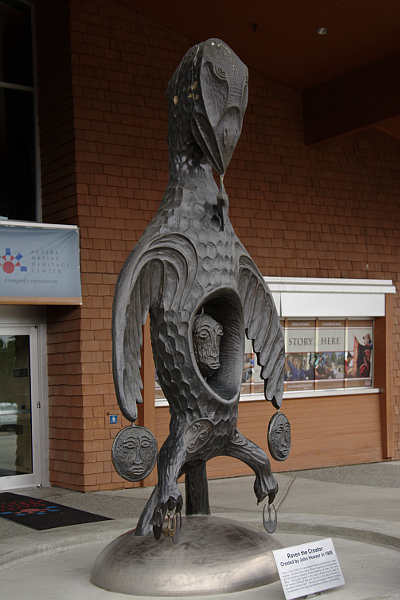 After the trolley tour we just had time to catch the next shuttle to the Alaskan Native Heritage Center. Ordinarily I am not a huge museum fan; I don't stand well, usually have the wrong glasses on and would rather take pictures and then go home and read a book about it. But this place was very nicely done.

Shortly after we arrived, four young people took the stage to talk about and demonstrate songs and dances of the First People. It was not exactly music as I know it; the only instrument was a frame drum, and as they explained, the words are essentially meaningless. The dances were performed in-place (they did not move around the stage), which is characteristic of Northeastern Alaska where it is too cold to dance outside and there is not much room inside. Each dance was short, and told a story interpreted by the movements of the dancers. The drums were capable of a variety of sounds by varying where and how hard they were struck. It was not so much music as a way to remember events through rhythm and movement. The leader did a fine job of explaining what we were watching.

The Center has regular performances throughout the day; a story teller had just finished, and later another group of young people demonstrated some very athletic games, mostly involving extreme balance and static strength. Nothing I could ever have done!

In addition there were a number of exhibits of clothing and artifacts, and that day several Native American artists were working outside. But the thing I enjoyed most were the village sites surrounding Lake Tiulana. Each represented a specific culture, and was very interactive: you were encouraged to pick up and examine (most of) the artifacts. Every site had a host who would describe the site and put it in the context of the culture it represented.

There were a number of log as well as earth-sheltered buildings, a canoe, a fish wheel (used to catch salmon), two totem poles, a whale skeleton and a spring bubbling up from the rocks. And those who follow this site will be happy to hear they even had a metal sculpture.

Upon our return to downtown Anchorage, we found my wife a quilt shop to visit. Having missed lunch, I stopped at Lepi De Paris next door for a pastry and a mocha, both delicious.

We had heard from Cincinnati friends who happened to be winding up their trip to Alaska. Back at the hotel they joined us for dinner and we swapped travel tales, increasing our appetite for adventure (if indeed that was possible).


"Day 2" of the tour was the first day we actually spent with our guide. He was a real character; over the next five and a half days he provided some vivid local color. Regaling us with long tales about historical people and places, you came away convinced that he had actually been there and known those folks. I think he had his facts straight, but I suspect he embroidered them with details that he had made up during his many years of driving a "motorcoach" filled with unknowing tourists (we were not allowed to call it a bus).

We had chosen John Hall's partially based on its reputation and a good recommendation from one of my sisters-in-law. We also liked that the group was limited to 42 people (there were 37 on our tour), but the primary draw was the itinerary. And on our first day on the bus, I have to say they let us down.

They hosted a nice breakfast at the hotel, and had us on the bus at 8 AM. It was actually a little less roomy than I had expected, and my long legs (and bad knees) had a hard time getting comfortable. We started with a city tour of Anchorage that was about the same as our trolley tour the day before, but a little less complete. Then we were deposited at the Anchorage Museum. Tickets were provided by our guide, and we spent most of our time at the Smithsonian Arctic Studies Center (a sizable fraction of the museum was closed for renovation). Our guide suggested two places to eat, both of which were a reasonably long walk; I for one could have used a lift.

After lunch and the walk back to the bus, we were off to Talkeetna. It's a little over two hours to drive and we were looking forward to seeing the "quaint little town", as it was described in our tour booklet. Unfortunately, we never got there. There were requests for a liquor store stop by a number of the tourists on the bus, and by the time we got to the Talkeetna Alaskan Lodge it was time for dinner. We had to be on the bus the next morning for another 8 AM departure and hit the sack shortly after.

One of the reasons we did not see the town was that our guide was adamant that we get to the Denali Visitor Center by 1. It's about 160 miles, and we stopped for lunch at the Prey Bar and Eatery. Lunch was a bit rushed, but tasty.

And now we come to the reason we were with John Hall's Alaska in the first place. Our itinerary included two nights at the Denali Backcountry Lodge. But you can't just drive there. Park Road starts at State Route 3 near the visitor's center, and ends 92 miles later at Kantishna. With very few exceptions, cars are not allowed on the road for most of its length. We traded buses - this one was essentially a school bus with closed-circuit TV screens every few rows - and spent six of the most amazing hours of our lives.

There are several park tour operators; ours was Denali Backcountry Adventure. Our driver was a grizzled veteran of the park. Until we got used to it (and with apologies to both him and Mel Brooks), his voice sounded like authentic Alaskan gibberish. But he had eyes like the proverbial hawk. With our guide as wingman they spotted wildlife that most people would never have seen. Focusing their video camera on it, the CCTV screens allowed us to see what they saw and made it possible to find it with our binoculars and cameras. And in hindsight, we saw why we were in such a rush to make the Park by 1.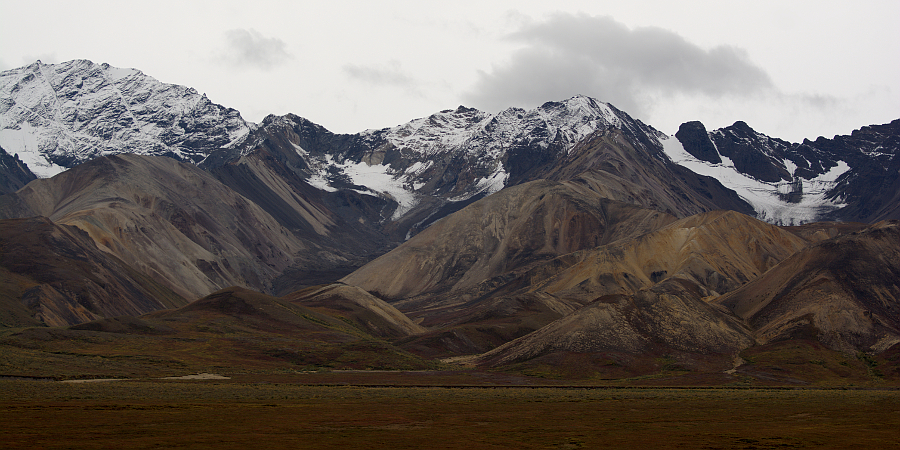 We were in the vanguard of the afternoon bus tours, so most of our time was spent seeing what we were there to see and not waiting for traffic jams to clear. And it was one amazing sight after another.
I love the national parks. From Acadia in Maine to Olympia in Washington State, Glacier in Montana to the Everglades in Florida, they're all beautiful. But Denali is, in my humble opinion, the crown jewel of them all.
The road is a winding one, and every turn brings a view more gorgeous than the last. This is a photo I took at the Polychrome Overlook.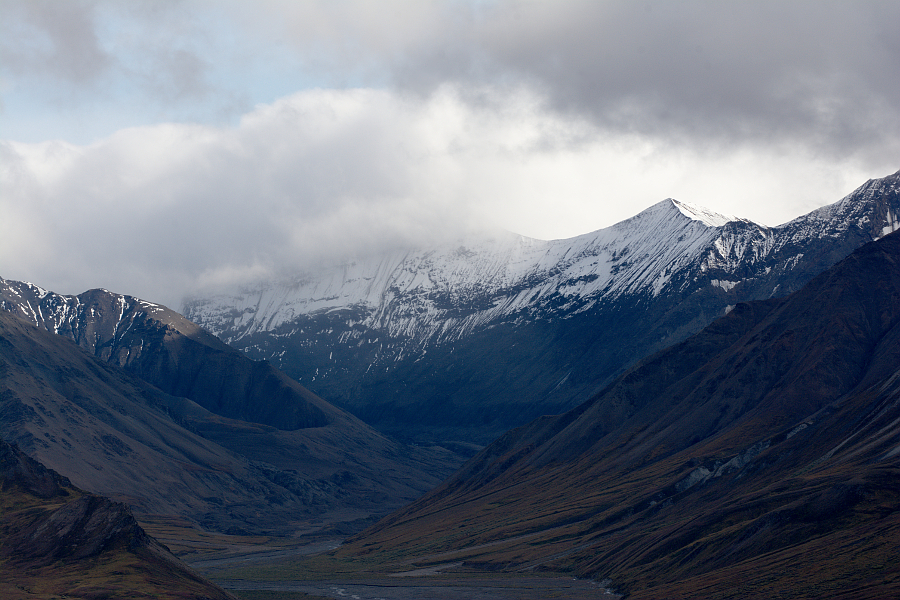 Here is one of the views from the Eielson Visitor Center (at mile marker 66):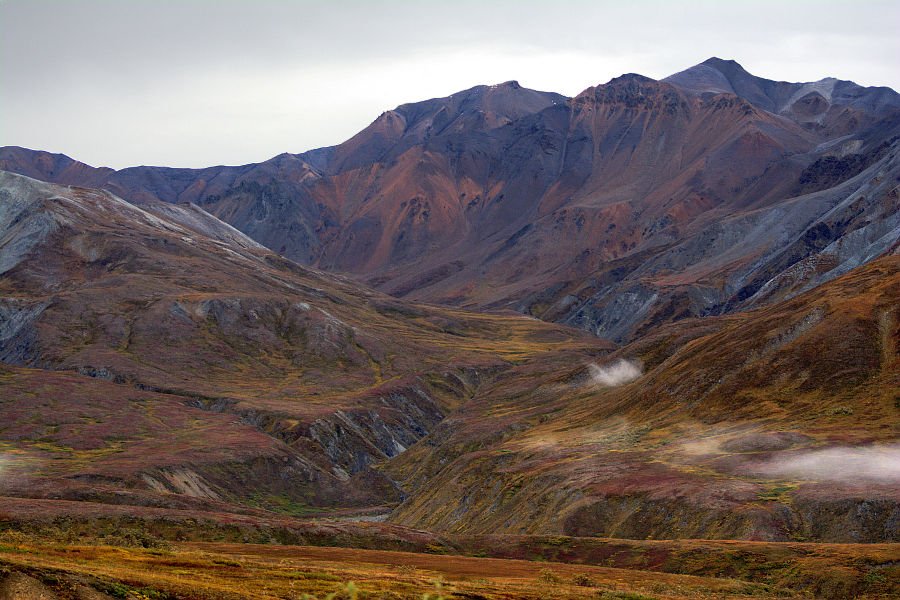 And this shot was taken from the moving bus about halfway between Eielson and Kantishna.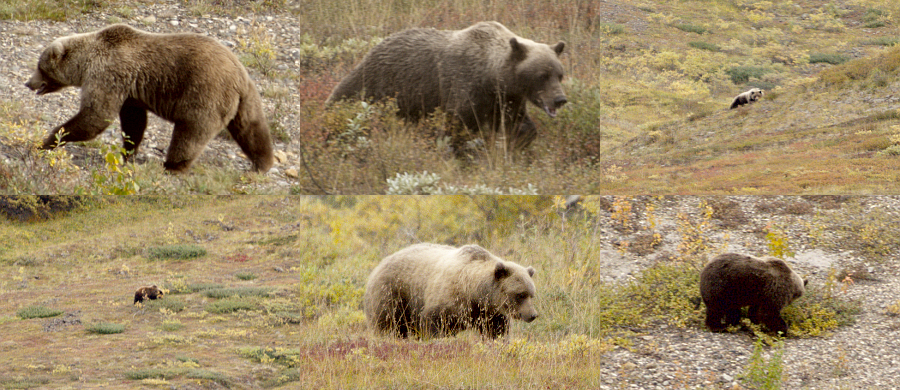 But "did you see any wildlife?"
Our tally for the six hours going into and five hours going out of the park included these six grizzly bears: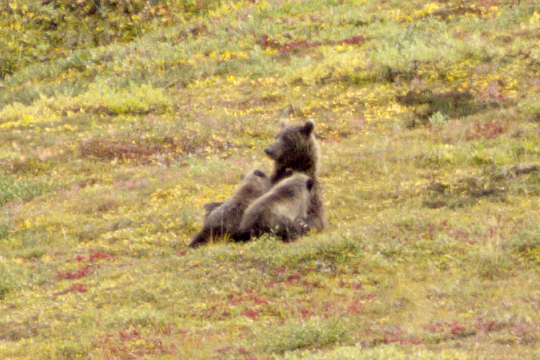 this mother grizzly nursing two cubs; our guide and driver agreed that in 15 years of traveling Park Road, they had only seen this sight six times; before they put the camera on them, they were simply a dark spot on a distant hill to my eyes;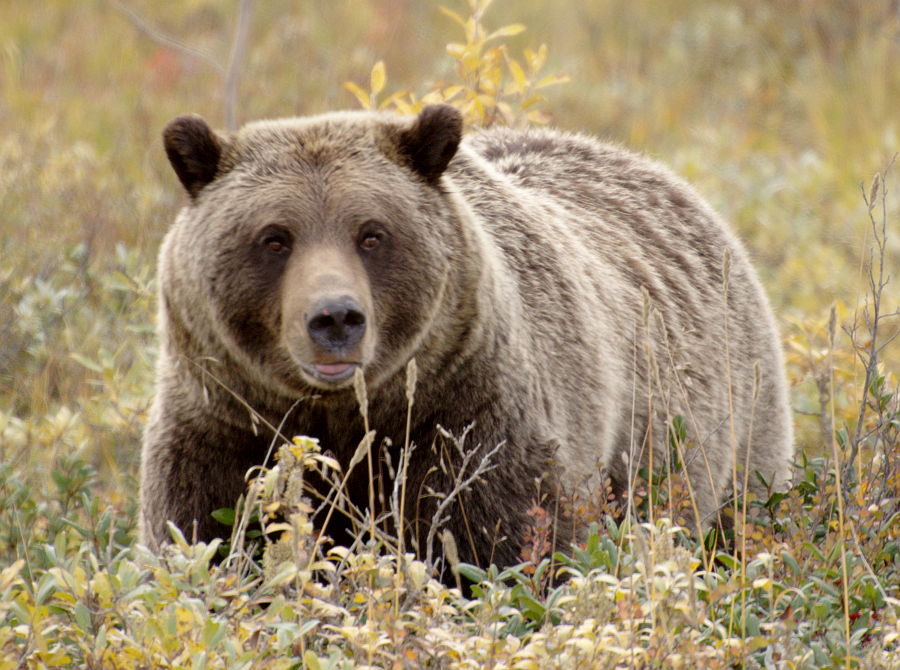 and this fellow:
We were told that grizzly bears are not quite as dangerous as I had thought; so long as they are not used to humans ("a fed bear is a dead bear") - and as long as you don't run. Running triggers their predator instinct; if you just stand still, make yourself as big as possible, and make normal human sounds, they don't see you as part of their world.
But it was a good thing they weren't letting us off the bus; this fellow ambled onto the road just ahead of us and walked it for some time before heading off into the brush for some more berries.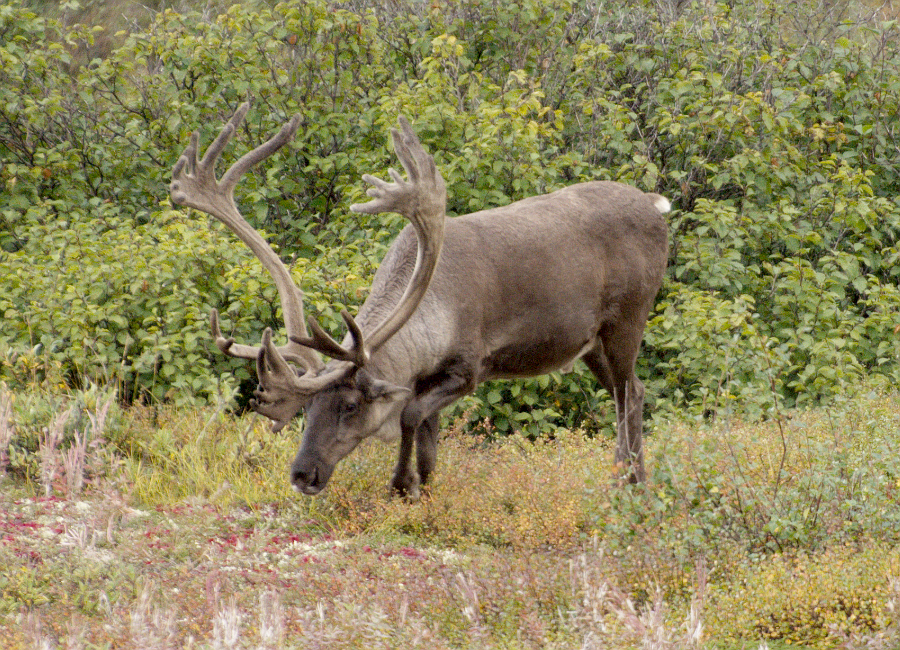 Our Denali totals also included a few Caribou;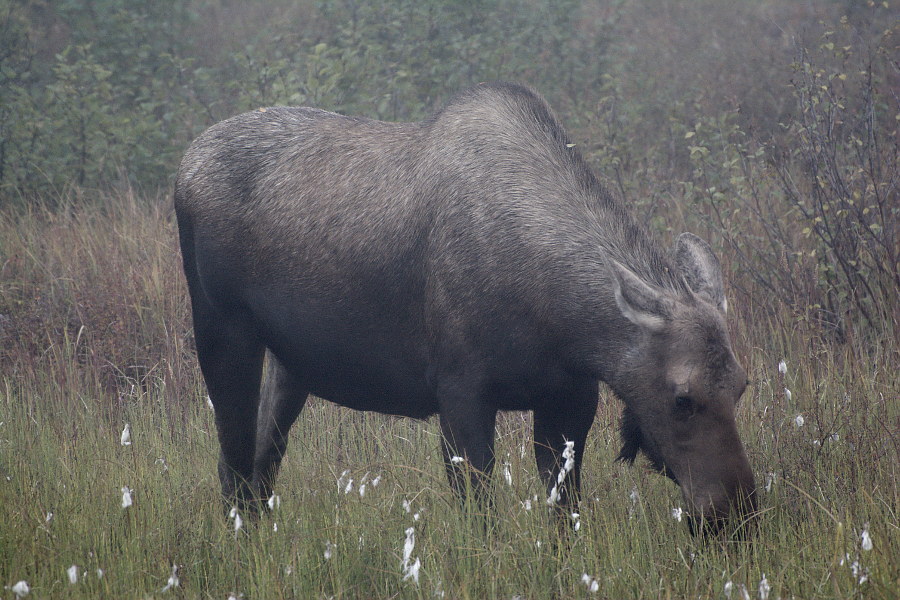 a couple of moose, both females like this one; the female is absolutely fearless, making her, averaging a half ton, the most dangerous animal in the park; this one you do want to run from;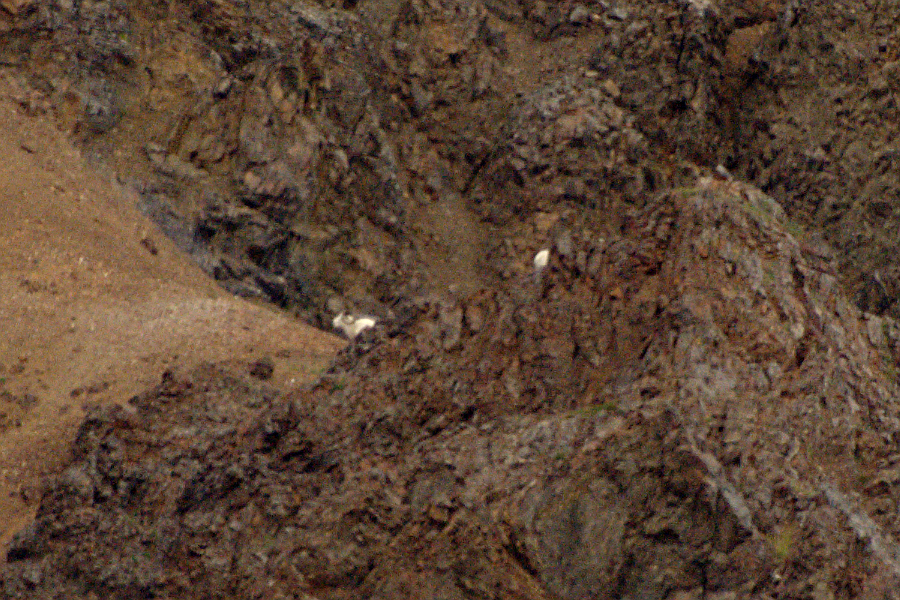 and 13 Dall Sheep. These I could usually find without the camera; they show up as little white dots very high up on mountains.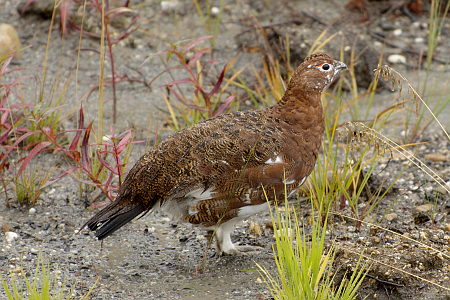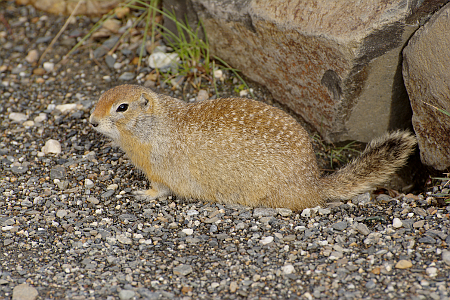 We also saw ten species of bird, including the Willow Ptarmigan (Alaska's state bird); and at Eielson we saw this Arctic Ground Squirrel: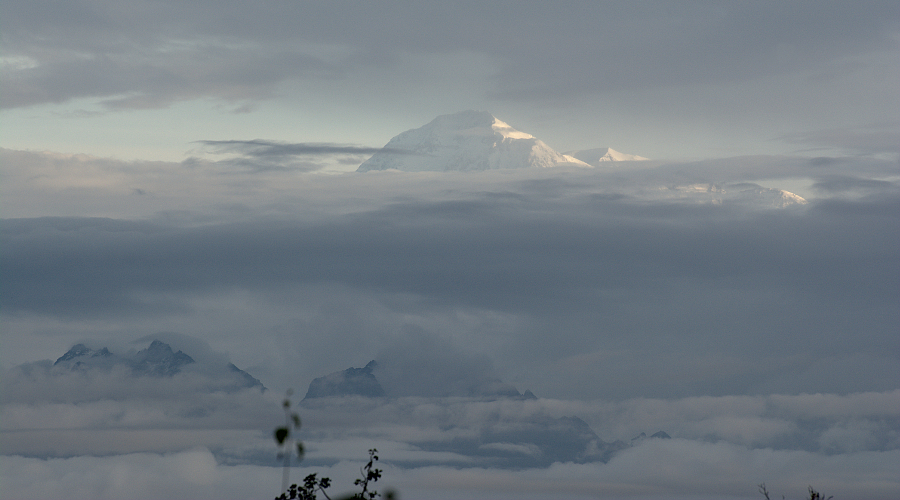 The other question people ask is "Did you see Denali?"
The mountain is notorious for hiding behind clouds. About one person in a hundred sees one or both peaks, so before we were even in the park, we had made "the 1% club"; this photo was taken early in the morning behind the Talkeetna Lodge:
But now we come to the reason you really want to spend a couple of nights in the park. If memory serves, we had only one truly sunny day in Alaska: the day we had to ourselves at the Backcountry Lodge.

After breakfast, we hopped a shuttle to (about a half mile from) Wonder Lake, hiked around Blueberry Hill (the blueberries were small and tart this year), and saw what only about 14 in every 100,000 people see: the whole range, with Mount Denali at right:
Denali, currently at 20,310 feet, is the tallest mountain in North America and the third tallest in the world. This picture was taken from a distance of about 27 miles. And it's the first of at least three photos in this essay that illustrates my point that half of every photo is luck. That the only really sunny day in two weeks in Alaska should be the day in Denali still amazes me.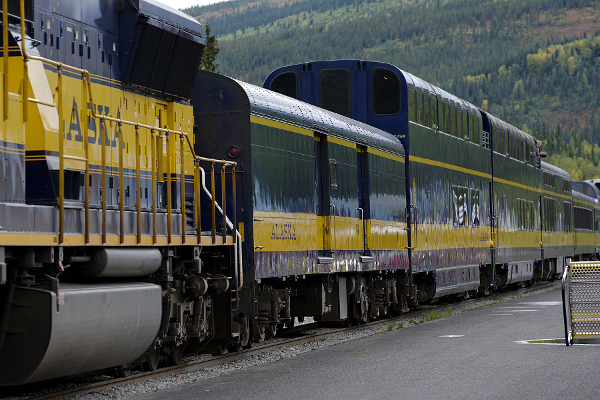 The next morning we were on the bus at 7 AM and back to the visitor's center by noon. After lunch and a little time browsing the center, the book shop and surrounding paths, we were back on the bus for a short trip to the train station. The next portion of our tour was a trip on the Denali Star route to Fairbanks. It's a four hour ride, and ours included probably the best dinner I had on the entire tour (the braised pot roast).
While we enjoyed the scenery and the narration (and the dinner and drinks), our tour guide had the boring job of driving the motorcoach with all of our luggage up to Fairbanks. He dutifully picked us up at the station and ferried us to our home for the next two nights, the Sophie Station Suites.

Fairbanks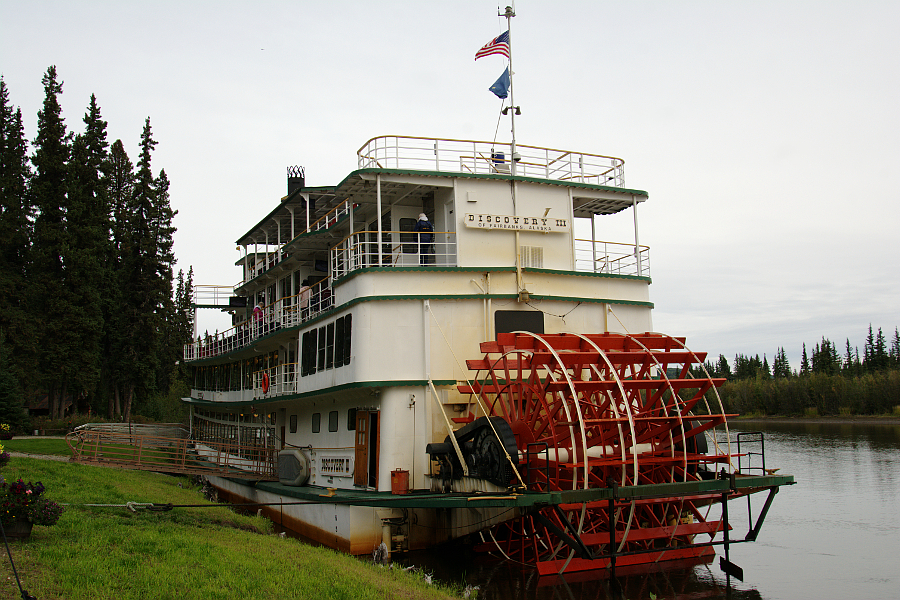 Our day in Fairbanks was full indeed. Another 8 AM departure on the bus for our first activity of the day, a riverboat ride on the Discovery III. She's a true sternwheeler, and the narrated trip was varied and interesting. As we got underway, we were joined on the Chena River by two beavers, one industriously hauling a tree limb across the river, and a number of ducks.

Over about three hours we traveled the Chena to its junction with the Tanana and back again. The trip was very pleasant, and featured three main attractions. First was a bush seaplane take-off and landing, followed by an interview with the pilot. The second stop was at Trail Breaker Kennel, where owner David Monson rode an ATV hauled by some of his huskies around their lake. The third stop was at Chena Indian Village, a re-created Athabascan Indian village. Mary enjoyed the tour; I'm sorry I missed it, but I needed to stay close to the boat to give my legs and back a break. But there's never a bad day on a river! And the complimentary homemade blueberry doughnuts were the icing on the cake.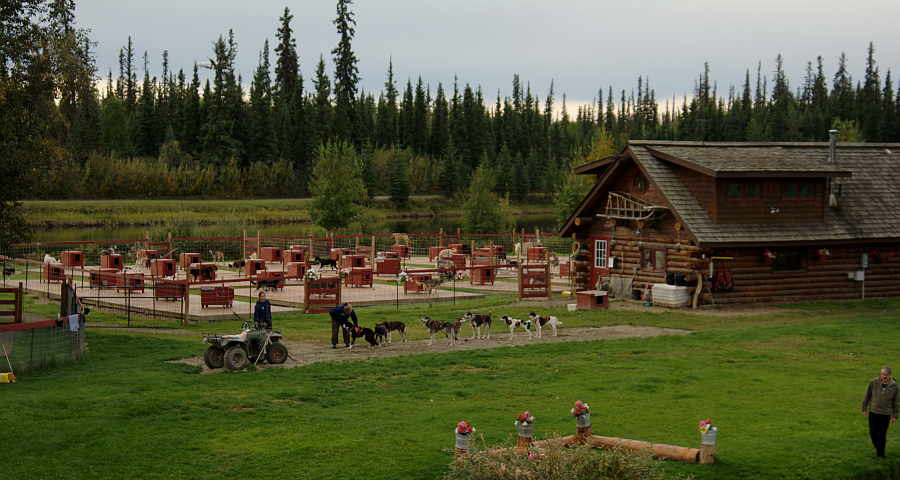 Our John Hall's group then took a short bus ride to Trail Breaker Kennel for a more in-depth tour, and lunch with the staff. The kennel is not only a working training school for the huskies, but it also serves as a sort of memorial to David's late wife, Susan Butcher. She was four-time winner of the Iditarod, the roughly 1,000 mile race from (nominally) Anchorage to Nome. Susan died from cancer in 2006.
After lunch we were back on the coach for a short city tour of Fairbanks, including a drive through the University of Alaska campus where my friend Joe was a Research Assistant for a year. I'm always interested in seeing a campus but most of my fellow tourists would probably have liked a longer break before dinner...
... which was a "famed" Alaska Salmon Bake. Before our trip we thought that we would be enjoying a lot of fresh salmon and halibut. But aside from Mary's fish and chips the first night, all of the fish we had on the entire trip was overcooked. You'd really think they would know how to cook salmon. Lest you say that this was an isolated case (actually the fourth so far, with a couple more to follow), several friends have told me since coming home that had been their experience too!
And, in the pattern of the entire tour, dinner was a bit rushed so that we could make the 7 PM show at the Palace Theater. Turns out the Salmon Bake and the Palace Theater are both part of a larger venue, Pioneer Park. The show was cute but in the end the whole place felt like just another tourist trap.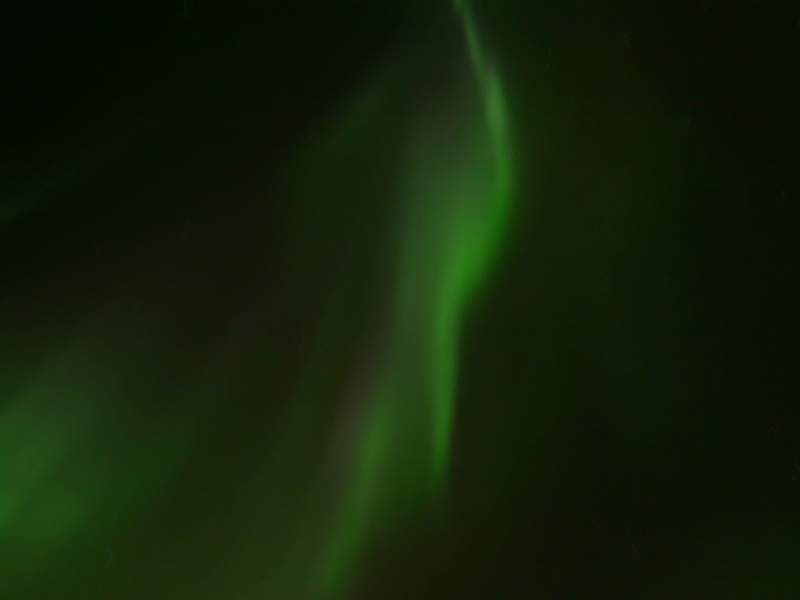 At your request, the Sophie Suites will call your room if an aurora is visible. On our second night in Kantishna I had checked the Aurora forecast, as well as the GOES Infrared Loop to see what the cloud cover was up to. Things looked promising, but at 12:15 AM, 2:30, 4 and 5, there was not only no aurora, but the cloud cover increased and by morning it was raining. I had prepped my camera gear and was all ready with nothing to shoot.
So I went through the same checks in Fairbanks and decided it didn't look like we had a very good chance to see an aurora. Consequently, when I got a call from the front desk at 1 AM, I was completely unprepared. I quickly dressed, changed lenses, put on my tripod mount, grabbed the tripod and remote shutter release, and went outside. It was a modest show, but absolutely gorgeous!
There were "sprays" and "curtains", some steady and some changing in the space of seconds. The changing lights gave the distinct impression of showers, which in a sense they are: showers of charged particles (protons and the like from the Sun) funneled into the atmosphere by the Earth's magnetic field, hitting molecular Oxygen (for the green lights) and atomic Oxygen (the red cast), energizing electrons in the Oxygen atoms which give off light as they lose energy again.
And this is the only shot I got (a 2 second exposure). In the dark, I couldn't get the tripod set up properly, and to top it off I dropped my remote release, which must have gotten mashed into the mud by a passing truck (I think; at least I couldn't find it in the morning). But as disappointing as my equipment issues were, I echo Mary's sentiment that "it feels like Christmas after you got exactly what you were hoping for!"

The Road to Valdez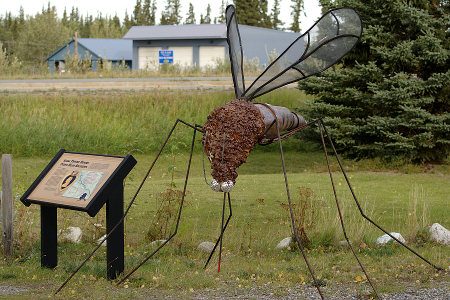 On the bus at 7 AM. For our two nights at the Backcountry Lodge, we had to pack in a small duffle bag that John Hall's had provided, because our regular luggage wouldn't fit on the school bus. We had to go through that routine again because we were doing Prince William Sound the next day and while we were on the boat, our luggage would be traveling to Whittier to meet us.

Our first stop of the day was at the Delta Junction Visitor Center. I had heard all of the horror stories about how bad the mosquitoes were in Alaska; I'm one of those folks who gets eaten alive before anyone else gets bit. So I had my mosquito net ready, but I doubt I saw a dozen of the critters during the whole trip. Turns out they had a hard freeze just before we arrived. So I felt compelled to get a picture of this girl:

It turns out that the median last Spring freeze date in Anchorage is close to the first week in May, and the first Fall freeze is around the last week in September, so we appear to have gotten lucky (although in Fairbanks it's closer to the middle of May and the end of August).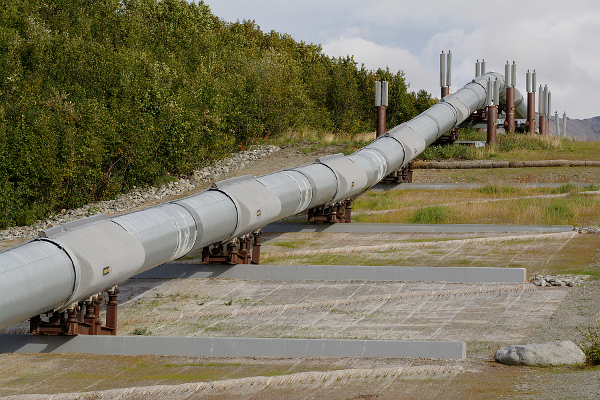 We also had a stop to take a look at a section of the Trans-Alaskan Pipeline. It's actually pretty interesting: how do you keep the integrity of a pipe in a state where there are on average three (usually unnoticeable) earthquakes a day? It's about 800 miles from Prudhoe Bay at one end to Valdez on the other, and average temperatures range from -20F to 62F. The pipe is warm to the touch, not just because the sun can shine on the pipe (which it didn't much that day), but because the oil is hot-tap hot coming out of the ground.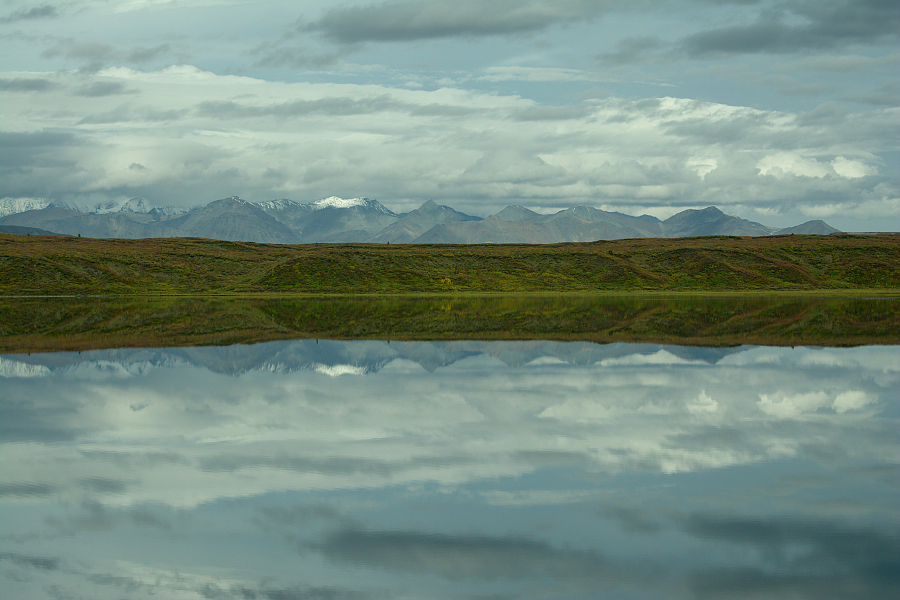 I have written before that it would make sense to make the whole state of Utah a national park; I'm tempted to say the same about Alaska. This picture was taken from the moving bus along State Route 4 (the Richardson Highway):
I believe this is Summit Lake, but my camera lacks GPS so I'm not sure.
There's a long section south of the lake that is rough as a cob. And here I feel obliged to give an important travel tip: go to the bathroom every time the bus stops and there's a restroom. The motorcoach had facilities, but now I know what a marble in a garbage disposal feels like when it's trying to relieve itself.
We had a nice lunch at the Carriage House Restaurant in Gakona, stopped at the Wrangell - Saint Elias Visitor Center, and again later at Horsetail Falls, about 20 minutes outside of Valdez.
Valdez is a small port town which was completely destroyed in the Great Alaska Earthquake of 1964. It was pretty miserable on a rainy evening walking to dinner from the hotel and back again. But if you expect it to be all mucked up from the Exxon Valdez oil spill in 1989, worry not: the spill actually occurred about 20 miles away at the entrance to the sound.

Prince William Sound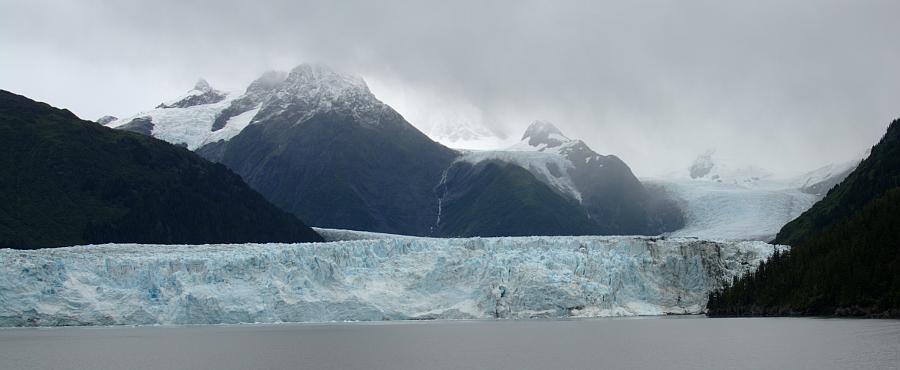 Although there is some oil remaining on isolated coastal sites, you would not know it after a seven hour catamaran tour. We were on the boat at 6:45 AM; at this point I am longing for the cruise ship, something I thought I would never say, for a chance at a more leisurely pace. But once again, being with John Hall's had its plus side: it was a private charter, and the 37 of us had plenty of room on a boat designed to hold almost 150. And it was another case of everything you see is prettier than the last.

Our primary destination was Meares Glacier, but the entire coast of the sound reminded me of every scene from every movie made in New Zealand that I've ever seen. Stretching all along Alaska's southeastern coast, the temperate rainforest is capped by glaciers and streaked with glacial waterfalls.

Meares Glacier is a tidewater glacier (the river of ice flows into open ocean). What appears to be soot is actually rock residue loosened from the mountain valleys by glacial friction.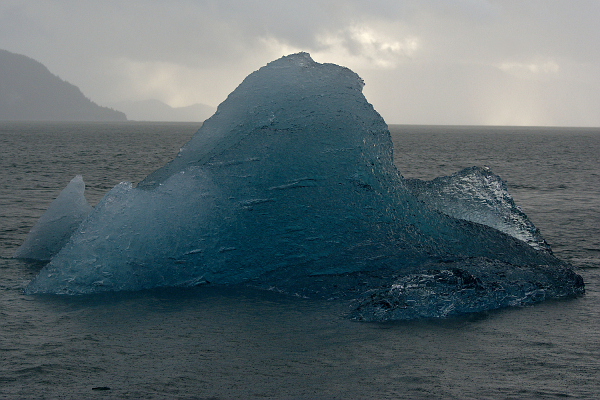 The blue of the glacial ice is beautiful, but the tip of the iceberg shows it at its best: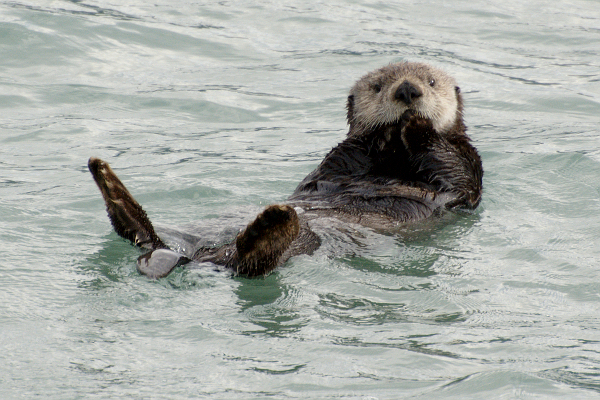 Our tour of the sound also featured several species of gulls, some cormorants and some loons, a number of Bald Eagles, some Stellar Sea Lions lounging on a navigational buoy, and several rafts of Sea Otters, like this fellow here.

We also saw a few Harbor Seals hanging out on an ice floe near the glacier:
After a stop at a salmon fishery, we got to Whittier around 2 PM. The 90 mile bus ride to Seward through the Chugach National Forest was nice but it was rainy pretty much the whole way. There was a 25 minute wait at the Anton Anderson Memorial Tunnel, which is one lane, 2.5 miles long, shared by trains, and the only road into or out of Whittier.

Hubbard Glacier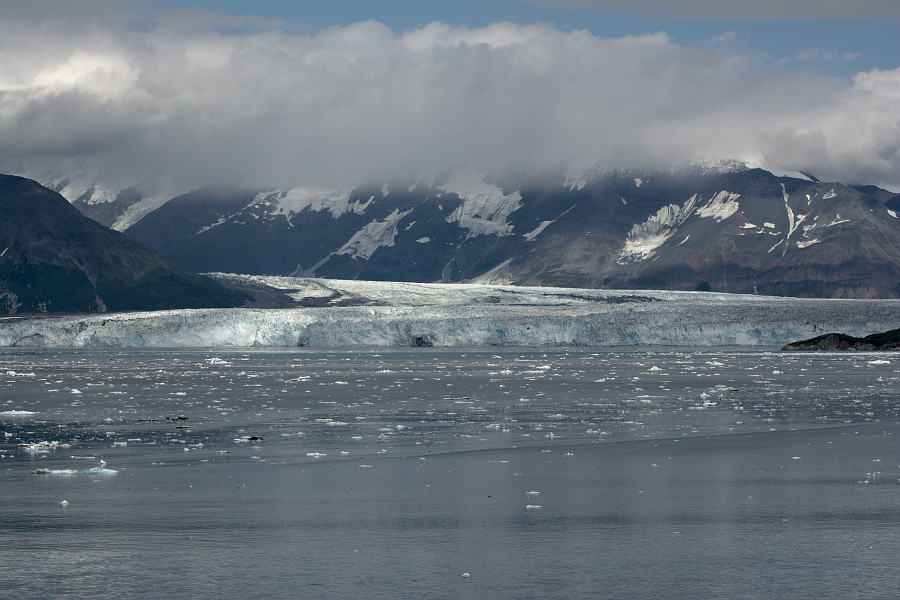 And now we come to the cruise portion of the tour. I had only cruised once before, and after that experience I had (so I thought) sworn off cruising for good. You see, as a passenger I tend to get motion sickness, on just about anything that moves. Whenever we take a road trip, I have to do all of the driving. On my first cruise I used "the patch" (scopolamine), and as long as I kept a beer nearby I was OK - just OK. When we got back I removed the patch, and in just about 24 hours I got dreadfully ill. I was motion sick, lying in bed, for the better part of a week. Turns out that if you read the physician's insert that comes with the prescription, it will tell you that a small percentage of patients will experience withdrawal (motion sickness) symptoms 24 hours after removing the patch. I'm just a lucky guy, I guess!

I had done pretty well as a passenger on the bus by taking meclizine around the clock, and supplementing with a Gravol a couple of times when the going got rough. By trying to stay constantly alert looking for wildlife, I was able to pretty much control the issue. And I'm happy to report that this regimen worked on the boat as well; we were supposed to call it a "ship", but by now I'm just being contrary.

The first day was at sea, and the highlight was Hubbard Glacier. It was huge, and the surrounding coastlines were beautiful, but we couldn't get too close, and it was a bit of a disappointment. Perhaps if we had seen some good calving...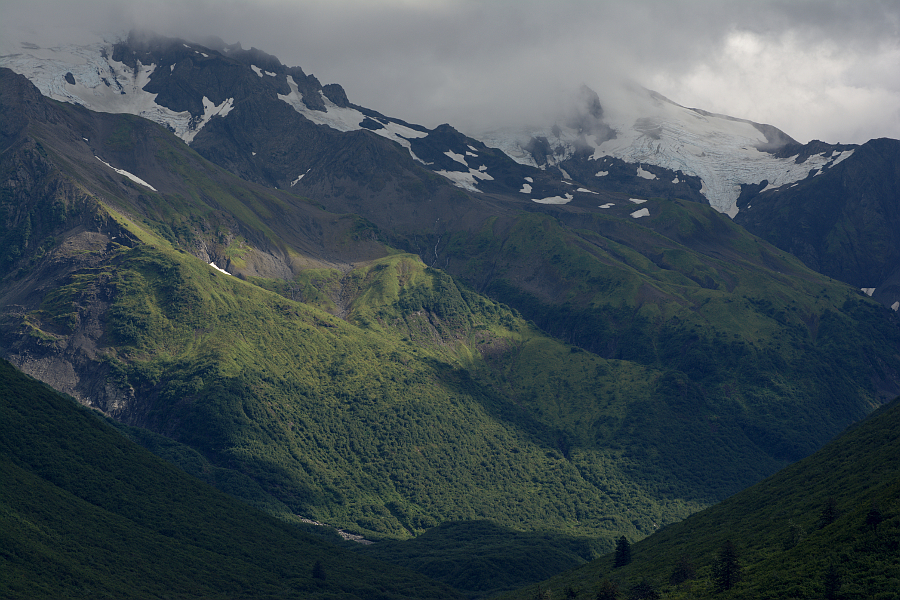 Here is a bit of that gorgeous temperate rainforest:
And Alaska has nearly a thousand of miles of this kind of coastline!

Juneau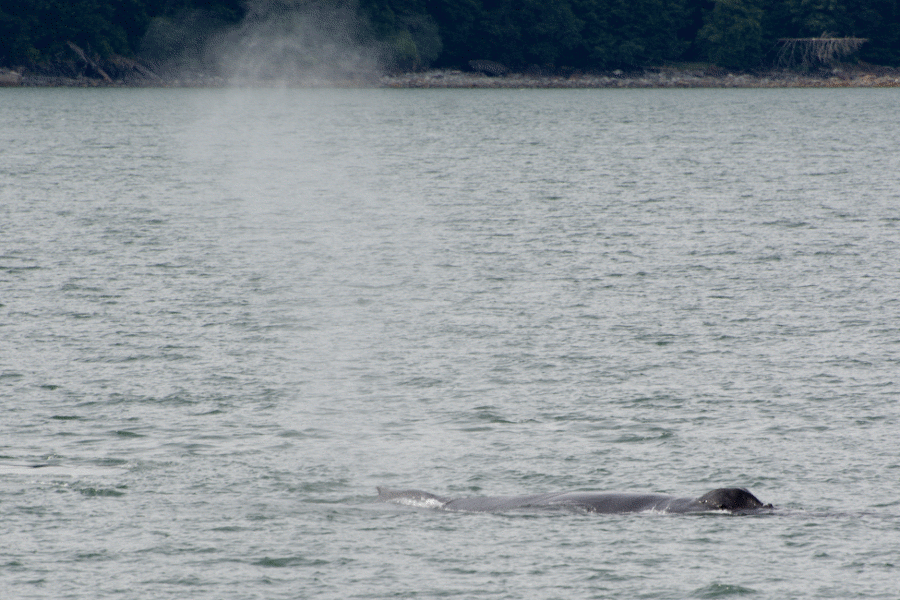 We had seen, briefly, a hump-backed whale in Prince William Sound. But we had arranged another catamaran wildlife tour in Juneau, partly because of my sister-in-law's comment that they had been disappointed in the whale showing in the sound.

We made a brief trek ashore to get some cold medicine; by now we had what I call "cruise ship crud", a kind of a cold that's not exactly a cold; cruise ships are not unlike floating petri dishes. We also found a quilt shop for Mary to visit. In hindsight we should have just had lunch on shore before the tour, because passing through security an extra time is always a pain, especially when you have metal bits inside you. But we had lunch on board and then disembarked again for our tour.

Which was amazing! This hump-backed whale followed the boat for at least a half hour. It never breached, but we got a lot of good fluke slapping. (If you'd like to see the animation again, just reload the page, or open the image in a new tab).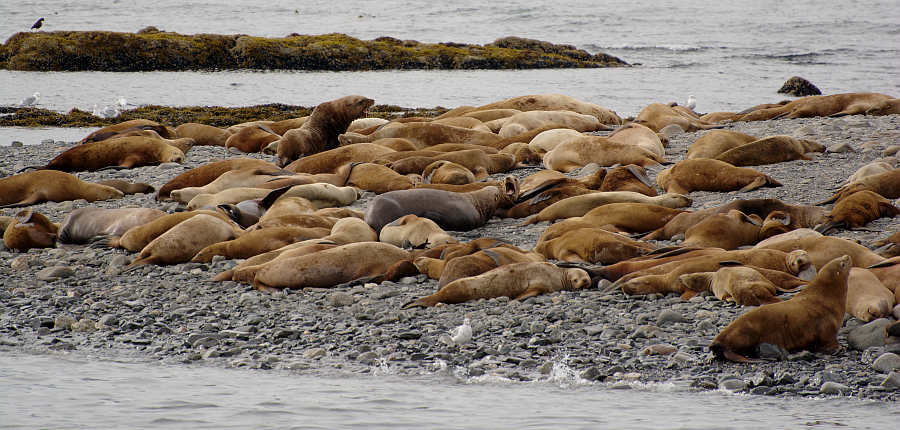 We stopped near an island covered with Stellar Sea Lions, most sleeping, a few belligerent (gray) juveniles sparring, and nearly all of them must have been grunting or snoring or growling because the noise was tremendous!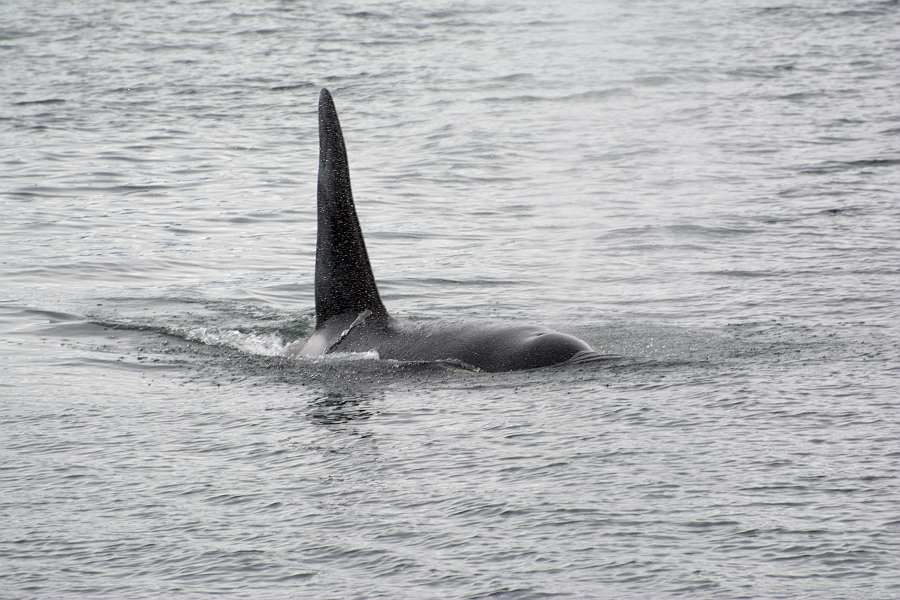 Heading back toward Juneau we were accompanied by a pod of Orca: Killer Whales; the guide thought these were resident fish-eaters, as opposed to the transients which feed on marine mammals.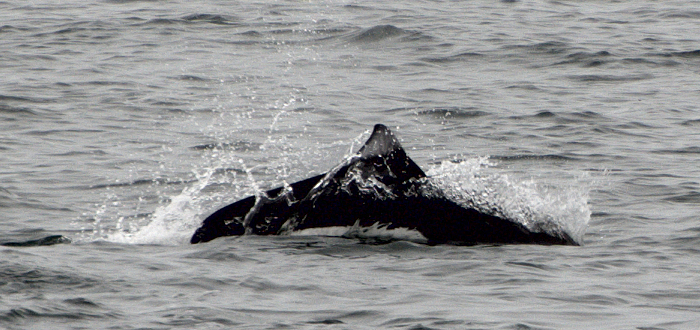 Some Dall's Porpoises were also in the mix:
After returning to the dock, we boarded the bus which had brought us from port to go to Mendenhall Glacier. After seeing Meares Glacier it was a bit of a letdown, especially since the Nugget Falls Trail was closed due to high water. But the falls are pretty, and Mendenhall as an alpine glacier is definitely more accessible than any of the tidewater glaciers.

Skagway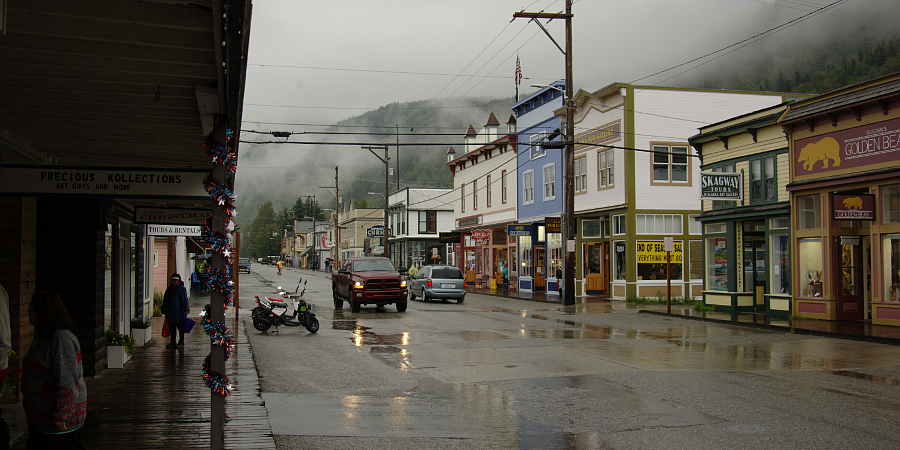 Our second port of call during the cruise was Skagway. It seems to be more of a frontier town than anywhere else we went in Alaska. And it was a pretty miserable day, rainy and cold. You have to remind yourself that this is indeed rain forest, so you have to expect some rain. After a quilt shop stop, we walked down to Skagway Brewing Company (at the end of the street on the right side) for chili and a beer and a t-shirt.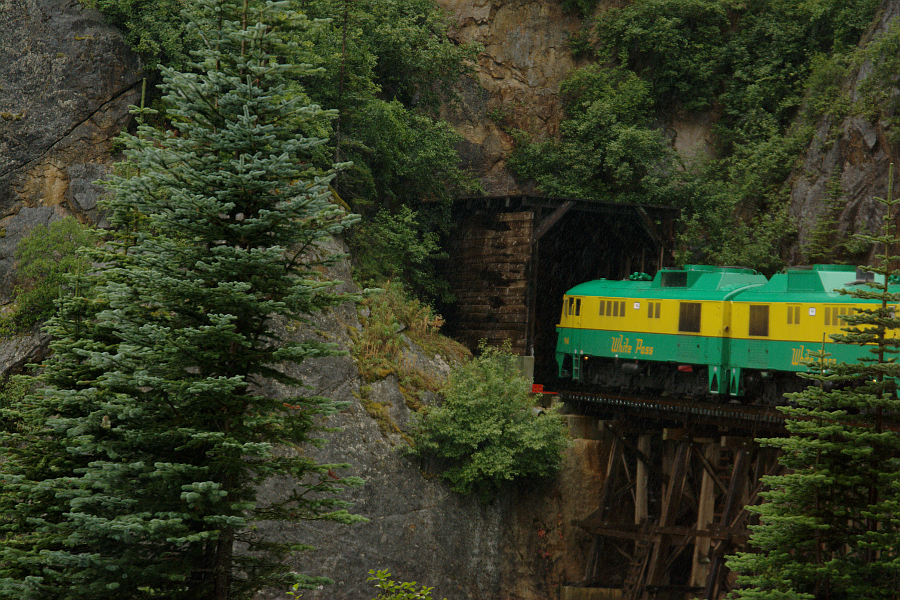 Then we caught the shuttle back to port to wait for our train trip on the narrow-gauge White Pass and Yukon Route. It's a three hour, 40 mile round trip that begins along the Skagway River, picks up about 3000 feet in elevation and stops at White Pass Summit at the border with British Columbia (but you don't need your passport).
The train doesn't turn around at the summit, but the seats do, and everybody gets to switch sides for the return trip (which is shorter due to the gravity assist). We chose the left side, which got the best views on the way up; about half the time, anyway, because the fog and clouds were thick as soup. And if you have any problems with heights, you want to stay away from the windows!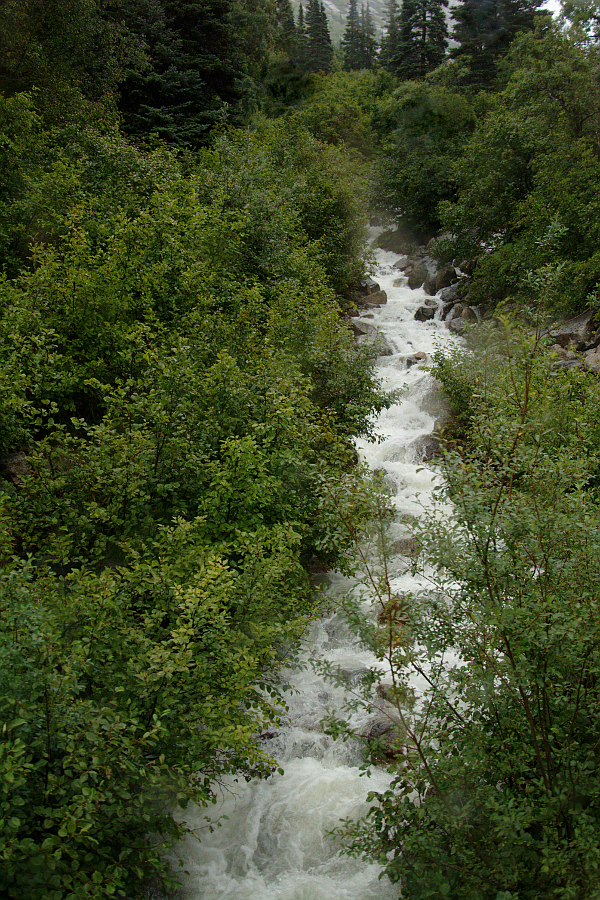 There are numerous glacial waterfalls along the route, but on a rainy day I am always reluctant to get my camera wet, and it's tough to get good shots through the windows because of the glare. The best pictures by far are from the small platform on either end of each train car.
But the scenery was beautiful, and at times simply breathtaking. I imagine it is truly impressive on a clear day, when you can see just how high up you really are.
While it was a rainy day, it wasn't coming down in buckets. So we were a bit surprised the next day at Icy Strait Point when someone from another cruise ship mentioned that they weren't supposed to be there (and therefore had no excursions booked). They were supposed to be in Skagway, but a landslide had crashed into the dock!

Hoonah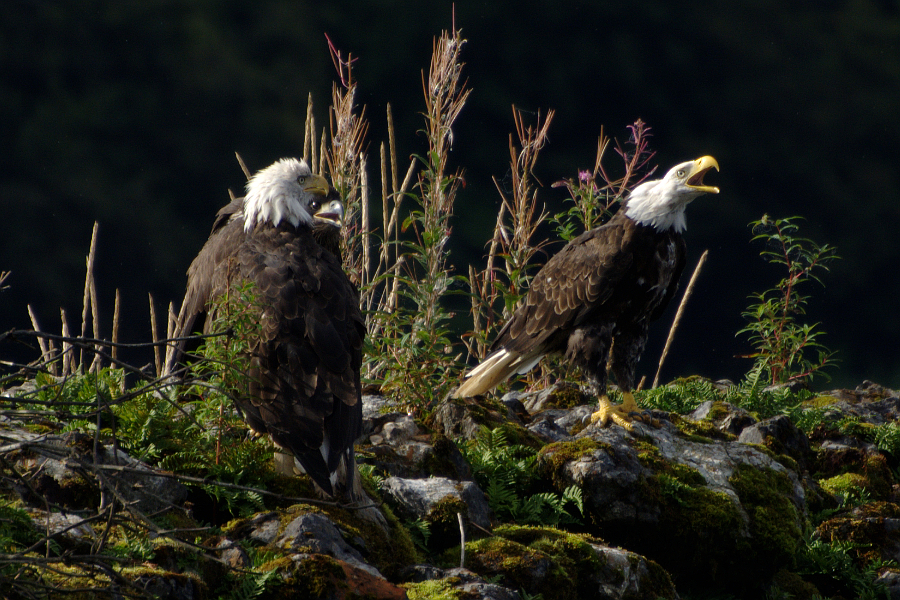 Our third port of call was Icy Strait Point, which is an Alaskan Native owned and operated cruise ship destination. And the fog was so thick you could barely see the cruise ship from the dock!

Our excursion that day was a bird-watching trip, and our first thought was that we were not going to see a thing. But as we traveled into Hoonah the sun gave us our only other clear day of the trip. We saw a number of birds, including a couple of new species for our life list, but many of the shorebirds that summer in Alaska had already begun migrating south.

The stars of our trip were this family of Bald Eagles:

If you've seen the movie "Jurassic Park" and recall the velociraptors squawking at each other, this seemed to be exactly what this adult was doing. None of us (including the guide) had ever seen this behavior before.

And when we got back to dock, the ship was still almost invisible in the fog! But perhaps this climate has something to recommend itself: our guide, who had lived in Hoonah all her life, told us that for all the rain, they (surprisingly to me) don't get lightning here.

Ketchikan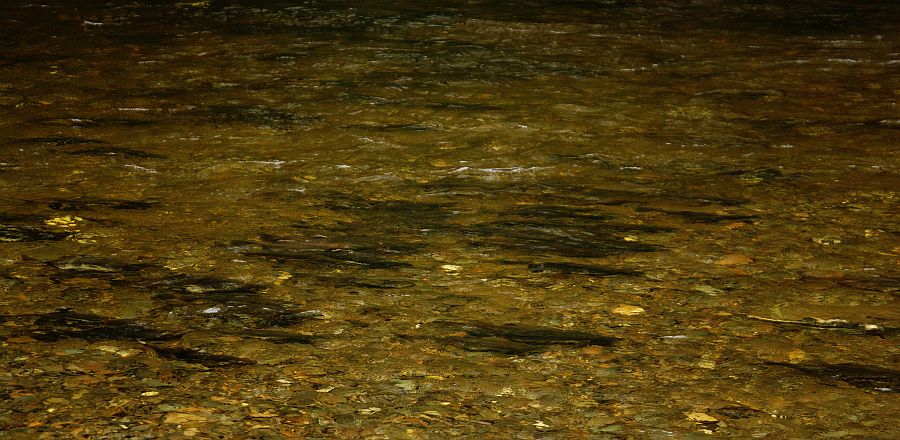 Our last port of call before the end of the cruise was Ketchikan - Alaska's first city and self-proclaimed "Salmon Capital of the World". And you guessed it: it was raining. But here that's not all that unusual; while average winter temperatures are above freezing and average summer temperatures are in the 60s, Ketchikan gets an average of 153 inches of rain annually (over three and a half times what we get in Cincinnati!).

And there are salmon! These were resting all lined up, heading upstream. They had already made it up some significant waterfalls (some probably with the help of the fish ladder we had seen downstream).

You may have seen demonstrations of chain reactions using mousetraps and ping pong balls. Every few minutes a similar thing would happen to a group of 40 or 50 salmon: suddenly a bit of the stream would erupt in a salmon frenzy. They were spawning, something I didn't realize until I got home and looked at the walking tour map. This spot was marked as a "Salmon Spawning Area"!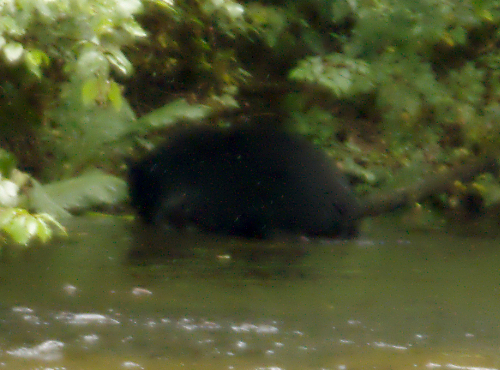 When we saw the salmon all lined up, we were walking up Park Avenue alongside Ketchikan Creek. That part of the creek (just before you get to Freeman Street) was a little low and we saw a group of people standing on the gravel creek bed, just a short walk from the sidewalk. We went down and saw the salmon, and thought that was what they were looking at. Then we noticed movement in the brush on the other side of the creek, about 30 feet away.
Soon, a black bear emerged from the brush! It was fishing, somewhat successfully, and while it never really emerged from the shadow of the trees on the other side, I managed to tease this out of the shots I got: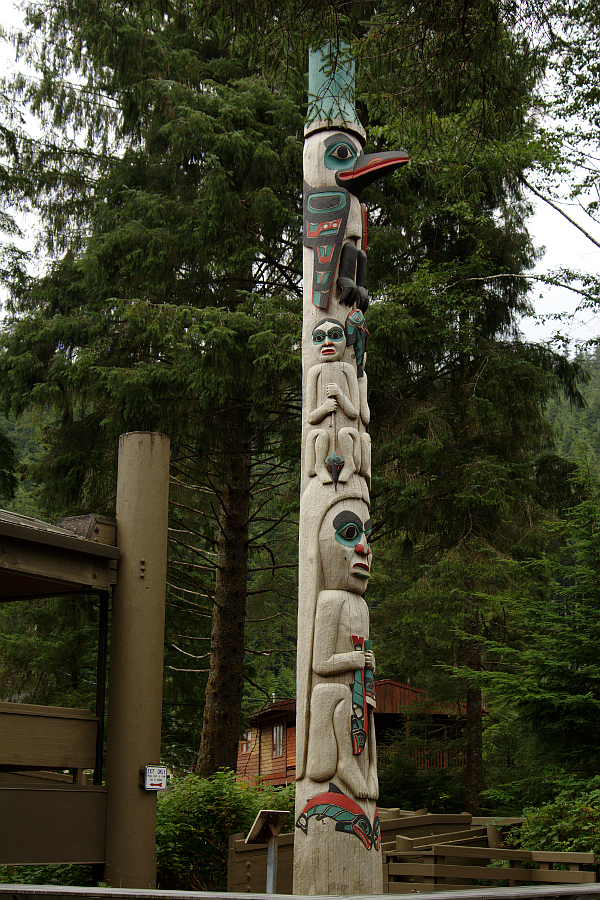 The destination of our walk was the Totem Heritage Center. This totem pole stands outside the center, which features a number of First People artifacts as well as a number of totem poles. The original Chief Johnson Totem Pole rests in the basement, and can be seen by peeking in the basement windows from the outside; it does not fit in the museum proper because it is as long as the entire building!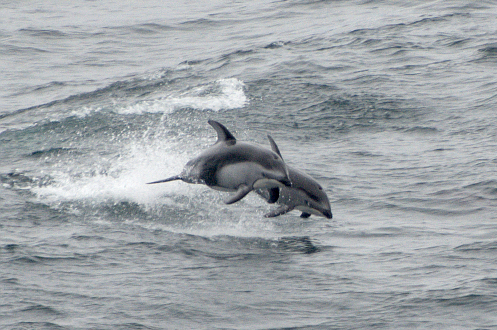 Our last cruise day was at sea. I had hoped to see more pelagic (ocean-going) birds on the trip, and have now come to realize that you're not going to see them in the Inside Passage; they stay on the open-ocean sides of islands. But we did see some wildlife, including a pod of Harbor Porpoises surfing on the bow wave of the ship. This shot was the last of my lucky shots; we were getting ready for dinner, when I saw them and quickly grabbed my camera. By the time I got the photo, they were almost out of sight!
Our cruise ended in Vancouver. The ship docked at 7 AM (so our "15 day land/sea package" was really 13 days), but we didn't make it off until almost 9. Clearing customs was as simple as handing our completed form to the agent as we walked by with our luggage. Getting to the hotel was awkward; we had to take the shuttle to the airport, and then another to the hotel. We all thought John Hall's could have done a little better on the tail end of the trip. But we were all happy to be off the ship!
We took the "SkyTrain" downtown for dinner at the Cactus Club Cafe. Mary and I like a city with clean, safe mass transit, and should we ever get back to Vancouver, I suspect we will use it to explore the city more thoroughly; it seems to be a vibrant place. But we had to get some sleep for another early tour:

Victoria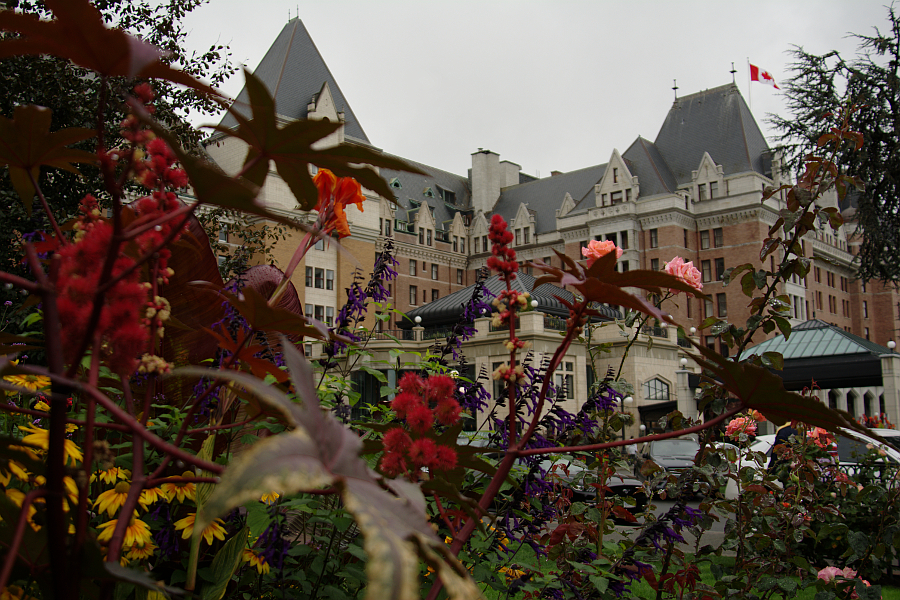 We were on the bus at 8 AM, to the BC Ferries terminal at Tsawwassen, across the Strait of Georgia to Swartz Bay on Vancouver Island, and to Victoria around lunchtime. And of course, it was raining.

The driver (another character; are all tour drivers like that?) dropped us off in Chinatown, and we meandered back to the statue of James Cook across from the Empress Hotel.

We had been led to believe that high tea at the Empress was included in our tour, but it was probably just as well that it wasn't. We had a bite and a beer at Bard & Banker, and some time to browse the gardens at the Empress. Then it was back on the bus for a visit to The Butchart Gardens.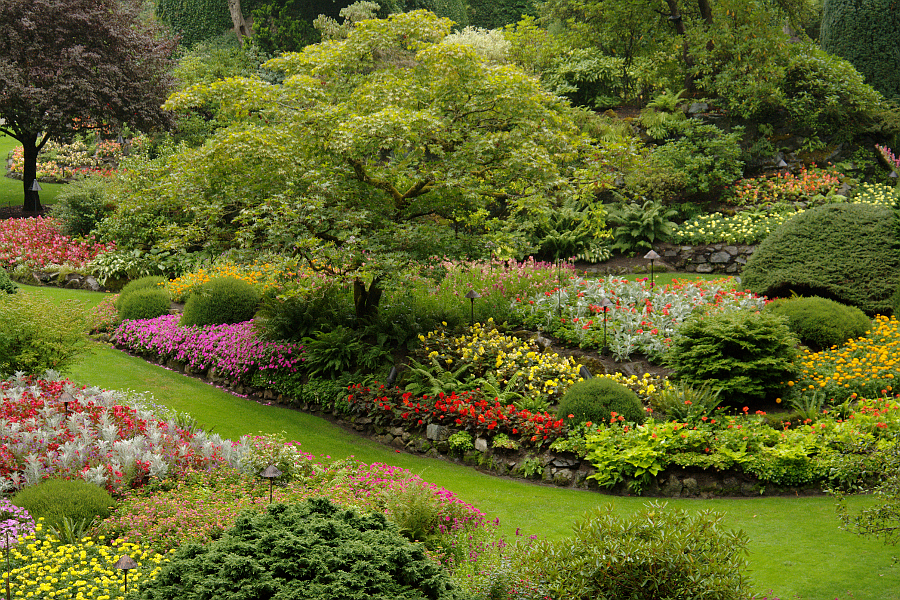 Normally I do not include any photos taken inside a place that charges admission. But I have to include at least one shot from inside Butchart Gardens. I hope they don't mind the free publicity. The place is amazing!
I had always heard that the gardens at the Vanderbilt Estate were special, and when we went there a couple of years ago we found them very nice. But I have yet to see anyplace that holds a candle to Butchart. We walked it in the drizzle for over two hours and didn't see everything, and everything we saw was prettier than the last (seems like a theme for the whole trip!). The landscaping was so good that you would never know it had been a quarry, and the juxtaposition of species and colors was dazzling.

But all good things must come to an end. We arrived back at the hotel around 9 PM, and got up at 3 AM to fly back to Cincinnati.
But would I do it again?
We did and saw a lot of amazing things, but we were exhausted. It took almost three weeks to get back to our usual sleep schedule; I think we slept almost 12 hours a day for the first few days back home. But that's not too surprising: seven days on the bus (or the boat) at or before 8 AM, not to mention back and forth across four time zones. It would have been amazing not to have been exhausted!

As things got back to normal, I thought to myself that we had checked Alaska off our list. It was a great trip, but I didn't feel a need to go back for more. It felt like we had spent way too much time on buses, and the cruise ship was just OK. Very little of the food was memorable, on land or at sea. The cruise ship was a little shabby, and while it could hold 2500 passengers, it was not as steady as I would have liked when the wind kicked up. Even flying had not been as nice as expected; we had sprung for first class because my knees no longer will fold up enough for coach, and it offered less legroom than I would have liked for that kind of money.

Then we received a gift from John Hall's in the mail: an autographed copy of "Alaska: A Photographic Excursion", by Mark Kelley and Nick Jans. And I read about Kenai Fjords National Park and Tracy Arm and Glacier Bay National Park & Preserve.

And I saw pictures of Totem Bight State Historical Park and Saxman Totem Park and Sitka National Historical Park and the wildlife of Sitka Sound.

And I got the urge to get above the Arctic Circle and... OK, I'm ready to go back. But I don't think we'll be doing another "all-inclusive" tour again. It was good to have done this one; I don't think we knew enough about Alaska to successfully navigate it on our own before this trip. But I think we have not seen the last of the 49th state.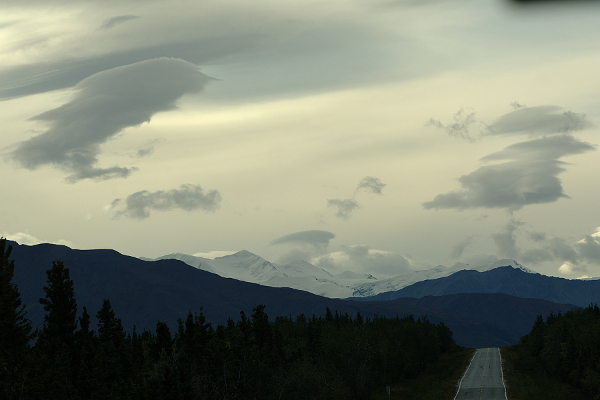 ©2017, Kenneth R. Koehler. All Rights Reserved.