Note: clicking on a picture will load a (usually) larger image.
Vireos are small and look much alike, many having "eye lines" or "spectacles", and all have gray legs.
Red-eyed Vireo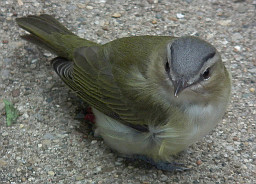 green back, white breast, pale yellow belly, gray crown with dark border, strong white supercilium, white below, gray line through dark red eye
---
©2017, Kenneth R. Koehler. All Rights Reserved.