Neutrino Astronomy
The purpose of neutrino astronomy is much the same as that of cosmic ray astronomy: to detect sources and measure energies. Neutrinos are electrically neutral, almost massless, and interact so weakly that the flux of solar neutrinos through the Earth of approximately 65 billion per cm3 passes through the Earth each second with only a handful of interactions. These facts makes this perhaps the most difficult astronomical undertaking besides the detection of gravitational waves.

The Kamioka Observatory in Japan has been instrumental in confirming our understanding about supernova explosions, and in determining that neutrinos indeed have mass. Its instrument, Super-Kamiokande, is comprised of 13027 photomultiplier tubes in 50000 tons of pure water. The tubes detect Cherenkov Radiation: electromagnetic energy emitted by charged particles whose speed is greater than the speed of light in water (about 2.25 * 108 m/s). When a neutrino interacts with an atom in the water, an electron or muon is created whose track the tubes can measure. The instrument typically detects less than 14 solar neutrino events per day.

The latest high-energy neutrino observatory is currently under construction using 1 km3 of Antarctic ice: the IceCube Neutrino Observatory. It will focus on neutrinos entering the opposite side of the Earth so that the lower-energy neutrinos associated with cosmic ray showers will not be confused with those of extraterrestrial origin.
---
Gravitational Wave Astronomy
In 1974, Taylor and Hulse found a binary system of neutron stars, one of which is a pulsar. After two decades of observation, they determined that the change in the rate of spin of the pulsar matched the predictions of General Relativity for such a system emitting gravitational waves:
The changing orbit of binary pulsar PSR 1913 + 16 meets General Relativity. (
source
)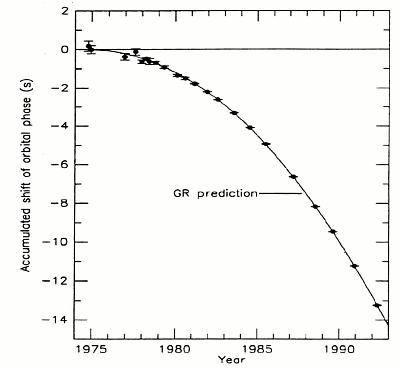 But no one has ever directly detected a gravitational wave. It is the purpose of LIGO - the Laser Interferometer Gravitational-wave Observatory - to change that.
LIGO consists of two L-shaped detectors, each 4 km long, one in Hanford, Washington, and the other in Livingston, Louisiana. In each, laser light travels repeatedly from one end to the other, reflected by mirrors. A passing gravitational wave will change the relative lengths of the two beams, and the change in the interference pattern will be registered by a photodetector. The fifth science run (recently completed) achieved a sensitivity of one part in 1021 from 70 Hz up, enabling detection of binary inspiral of 1.4 solar mass neutron stars at a distance of 12 Mpc. No news yet on what if anything they have seen.
There's a nice TED talk by Janna Levin which includes some auditory simulations of gravitational waves emitted by inspiraling black holes.
---
---
©2012, Kenneth R. Koehler. All Rights Reserved. This document may be freely reproduced provided that this copyright notice is included.
Please send comments or suggestions to the author.