One question remains: how does one compute vx0 and vy0 from v0 and θ0 (the Greek letter theta, denoting the angle of your jump)? Your initial velocity has both a magnitude and a direction which can be decomposed into x and y components:

By using elementary right triangle trigonometry: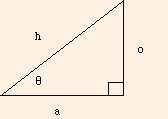 sin θ = 0 / h
cos θ = a / h
we see that we can express the x and y components of your initial velocity as
vx0 = v0 cos (θ0)
and
vy0 = v0 sin (θ0).
Here, v0 corresponds to h (the hypotenuse), while vx0 corresponds to a (the side adjacent to the angle θ0) and vy0 corresponds to o (the side opposite the angle θ0).

We can now extend our problems from the previous section to include questions about how long it took to reach your maximum height, what your maximum height was, and how far from the house you landed. We will assume that when you hit the ground, only the vertical component of your velocity at that point contributed to your injuries.

The next section is about dynamics: why it hurts when you fall.
---
---
©2003, Kenneth R. Koehler. All Rights Reserved. This document may be freely reproduced provided that this copyright notice is included.
Please send comments or suggestions to the author.