Roadside Art of the Northern Plains
Question: What do you do when you live in Cincinnati, Ohio, and want to drive to Glacier National Park, and you don't want to be bored out of your skull for 2000 miles?

Answer: You do a little research, and plan to take a week each way meandering around the countryside looking for roadside art! Here's a sample of what you can see if you go looking for it:
Chicago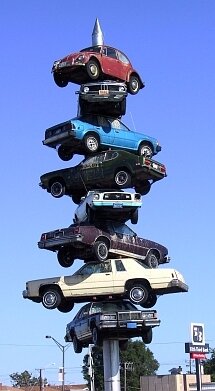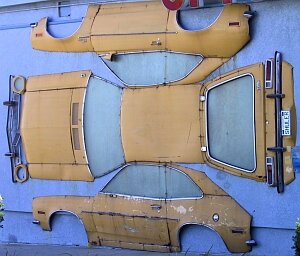 I know, Chicago isn't exactly the northern plains... but it's on the way, and hides some wonderful art at the Cermak Plaza in Berwyn. "Spindle" (left) and "Pinto Pelt" (right) are both creations of Dustin Shuler. But if you simply drive by, you'll miss the other art that the plaza has to offer. As their sign states: "TO OUR CUSTOMERS: The art at this shopping center has been placed here by its owners. There is no charge to our customers or our merchants; no public funds of any kind have been used or requested. The sole objective of the owners is to add a pleasurable element to your shopping experience here. Aristotle stated that: "the goal of fine art is to make a pleasurable impression upon the mind of the viewer." (Poetics) We hope this collection does that for you. ENJOY!"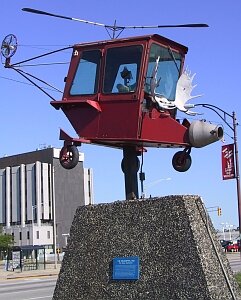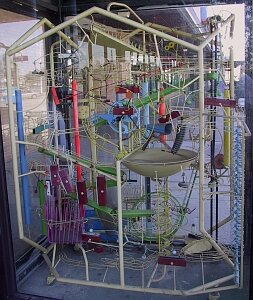 "The Helicopter", by Steve Gerberich, greets shoppers from the west side of the plaza. And all along the plaza are additional works, but sadly many of them are in less than good condition. The clock (right) moved occasionally in fits and starts, but in good repair it must have been a wonder to watch as the balls moved through the mechanism reminiscent of the game "Mouse Trap". But then, I've always been a sucker for Rube Goldberg machinations, ever since I first encountered "A Big Ball of String" as a child.

Baraboo, Wisconsin, Home of Dr. Evermor
Tom Every, AKA Dr. Evermor, has an amazing place behind Delaney's Salvage Yard, south of Baraboo on US 12. It is home to a collection of metal sculpture of his own devise which must be seen to be believed. The collection includes The Forevertron, officially the largest metal sculpture ever made: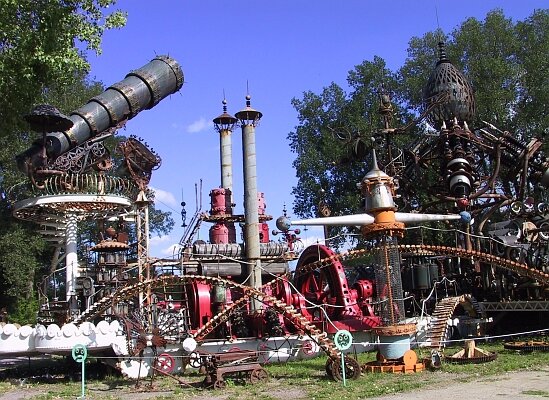 But it is also home to an a huge assortment of metal spiders and dragons and bird-like creatures. As we strolled around the "grounds", we happened upon two humongous Fiddle Birds,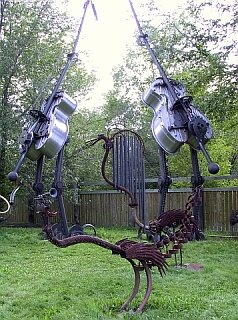 not realizing at first that they were part of an entire orchestra!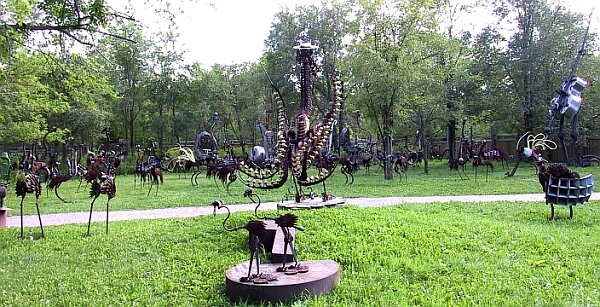 The body of each creature in the "Bird Band" includes one or more musical instruments, making the entire orchestra an astonishing and complex single-themed work of art. I found it impossible to photograph it in such a way as to do it justice, so the picture above has over two dozen "hot spots" in it, each with a close-up of birds of a related specie. When you mouse over a hot spot, a message will give you some idea of what you will see if you click on the spot.
We hear that negotiations are underway to preserve Dr. Evermor's site, or at least some of his art, and send our best wishes to all parties involved for a successful conclusion!

Jurustic Park
"You can take pictures but if you scare any of the animals, you're out of here!"

So began our tour of Jurustic Park, home to the creatures of Clyde Wynia's imagination. As he tells the story, Clyde dug these creatures out of the marshes (here in Marshfield, of course) where they have lain these untold millennia, victims of industrial pollution.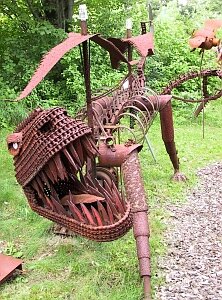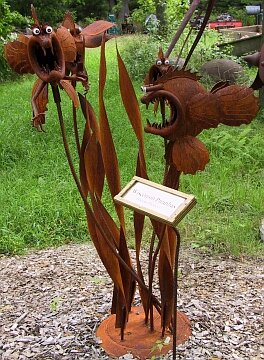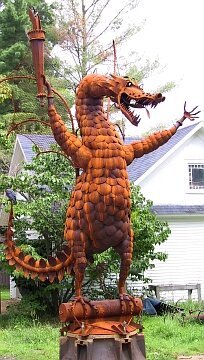 Clyde gives a great tour of his "findings", peppered with some hilarious (and sometimes slightly off-color) stories about the creatures and their habits. Note the sign under the fish: "Wisconsin Piranhas (Vicious Phishes)". Clyde's wife Nancy is an accomplished glass and fiber artist, and in their honor we named our new pet rustosaur Clancy. Clancy is a small flightless Squat Bird with a spring neck who responds to a gentle kick by nodding his head. I also have a thing for kinetic art...
If you're having trouble finding the park, take WI 97 north through Marshfield, and turn left on County Road E, then left on Sugarbush. While you're back there, be sure to take a walk through Foxfire Gardens. And before you leave Marshfield, have a look at the world's largest round barn at the fairgrounds.

The National Fresh Water Fishing Hall of Fame in Hayward
How often do you get a chance to take a walk inside a giant muskie?

Anglers will go nuts over the Hall of Fame, which includes entire wings filled with outboard motors and lures and rods and reels and of course, a lot of stuffed fish. But lovers of unusual art and architecture will also find the price of admission cheap for the privilege of seeing these spectacular oversized piscines. Take a picnic and a lot of pictures!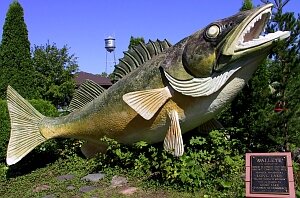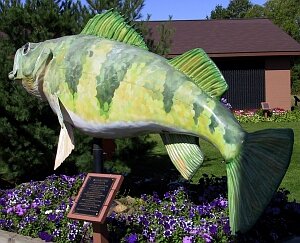 Ken Nyberg's Roadside Sculptures in Vining, Minnesota
Scattered around Vining are a number of Ken's extraordinary sculptures,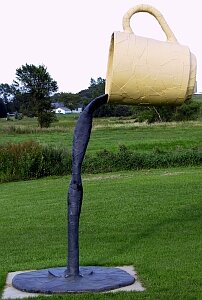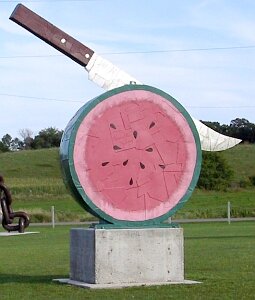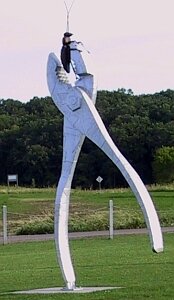 including a few we missed because we didn't read our brochure closely enough. The lesson here is to not be in a hurry, and realize that the sites on the main drag are not always everything there is to see.

Grand Forks, North Dakota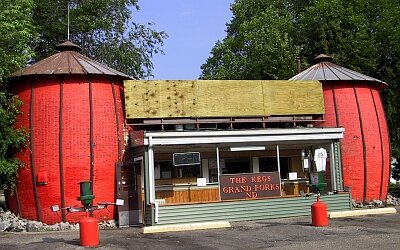 North Dakota was an extremely pleasant surprise. The rolling landscape was beautiful with fields of blossoming sunflowers (late August must be just the right time to visit), and is dotted with small lakes and marshes full of water fowl. And if you're not worried about eating too healthily, the friendly folks will recommend a fleischkeuchle or some knoephla soup.

Unfortunately, we arrived at the Kegs too early for lunch, but as long as it's daylight it's never too early for a photo op!

Dunseith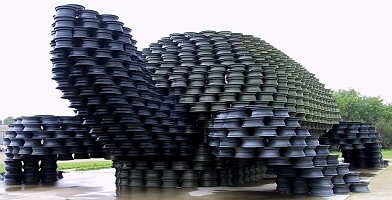 Just after ND 3 jogs west and then north again, you can find the W'eel Turtle on the west side of the road. Built in 1982 by George Gottbreht, it is made from over 2000 tire rims.


And here we see the westbound end of an eastbound W'eel Turtle:

Salem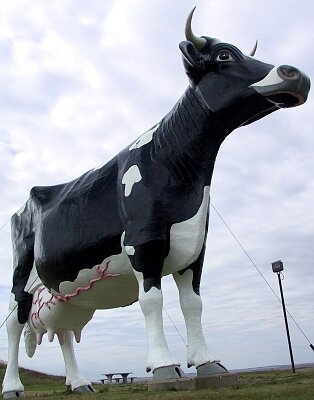 I generally don't make special trips for the world's largest anything, but in this case I had to make an exception. So large it is visible from miles away, Salem Sue is just a whole other order of world's largest. Built in 1974, Sue is a 38 foot high, 50 foot long, 12,000 pound Holstein Cow.

The Enchanted Highway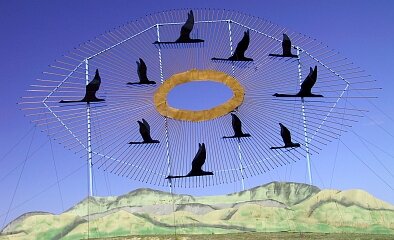 One of the great things about seeking out folk art is that you sometimes get to meet the artists themselves. Get off of I-94 at exit 72 and take a leisurely trip south to Regent along The Enchanted Highway. The highway is made special by the creations of Gary Greff: huge metal sculptures spaced along the 32 miles to Regent, ending at the gift shop which Gary was tending when we arrived.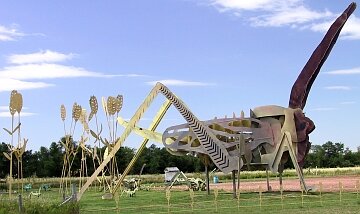 Gary told us that it typically takes about 5 years (!) to build one of the sculptures. Design and partial construction is done at his shop. He then trucks the pieces out to the site and assembles it there. By this time it has rusted, so he sand-blasts it and paints it. And finally he builds the picnic area surrounding each sculpture.
So far he has eight sculptures in place: Geese in Flight, Deer Crossing, Grasshopper's Delight, Fisherman's Dream (still under construction), Pheasants on the Prairie, Teddy Roosevelt Rides Again, The Tin Family and next to the gift shop, a motorized household (just push the button).


Gary has plans for a total of eleven, so come back periodically (and buy more T-shirts to support Gary's work!).

Along I-94 in South Dakota


Both west and east of exit 170 off I-94, you will find some very cool roadside art on the north side of the highway. This is where the frontage roads come in handy (try the one on the south side), because they provide traffic-free venues for photographers.

Mitchell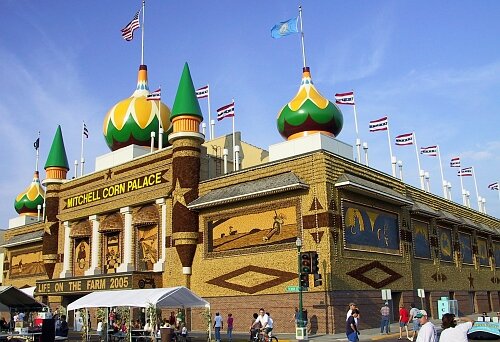 Any time you're near Mitchell, it's a good idea to stop by the Corn Palace. The frescos on the exterior (all made using corn) are replaced annually, and so the palace presents a continuously changing face rewarding the returning tourist. And don't forget to go inside.

Porter Sculpture Park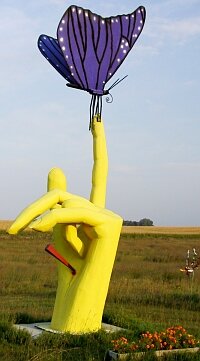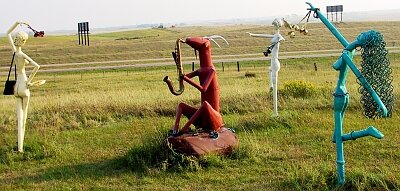 Wayne Porter is what you might call a philosophical artist: many of his pieces have accompanying stories aimed at revealing some of the truths of life. What I find so interesting, aside from the technical mastery displayed in much of his work, is the huge variety: these pictures only scratch the surface of his collection.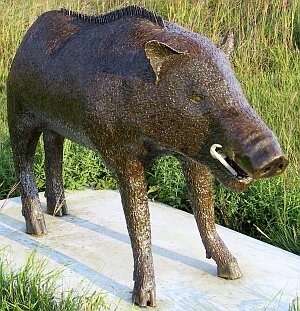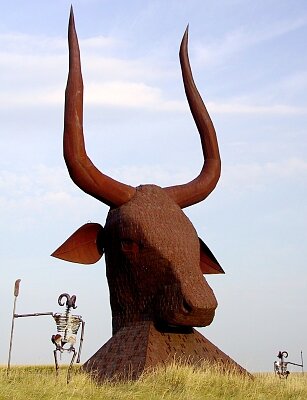 Wayne does his work 200 miles away in St. Lawrence, and moves it to the park for final assembly. The "Egyptian Longhorn", made of railroad tie plates, is 60 feet tall, weighs 25 tons and took 3 years to build. It is clearly visible from the interstate, but a visit to the park is certainly worth leaving the highway for. Between Memorial Day and Labor Day (8 AM to 6 PM) a paid admission includes a tour hosted by Wayne. While he claims no interest in computers, he does have a web site.

Prairie Moon Sculpture Park (Wisconsin)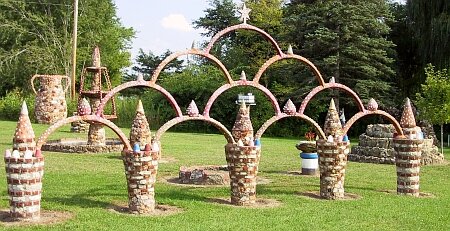 In 1958, Herman Rusch began building the sculptures at what was then his "Prairie Moon Museum". Over a period of 16 years he built nearly 40 pieces, because "Beauty creates the will to live". Herman sold the property in 1979 so he "could have a little more time for fishing and fiddling." In 1992 the Kohler Foundation purchased it, renovating it and later donating it to the Town of Milton in 1994.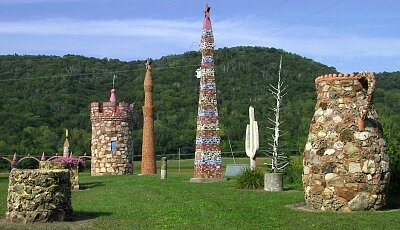 Mr. Rusch spent most of his life as a farmer, becoming a self-taught master of masonry in his retirement. He passed away shortly after his 100th birthday in 1985.

There are several more pictures from these sites linked from my Roadside Americana page. Those pictures, as well as this selection, were culled from the 458 (!) pictures I took over 18 days and 5600 miles. Which means there's a whole lot more to see, so get going!
---
©2005, Kenneth R. Koehler. All Rights Reserved.