California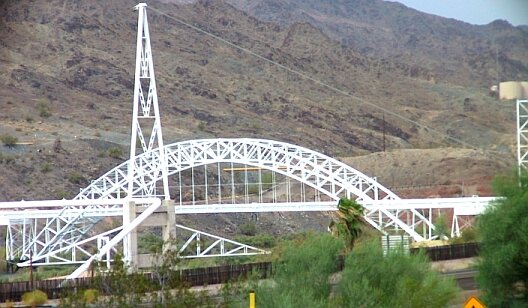 The drive from Oatman to Topock was very nice, winding road with none of the thrills of the Kingman-to-Oatman stretch but very fun to drive, and there is even room to stop for a photo now and then.

There is another Rainbow Bridge in sight as you cross over into Needles, California. Crossing over the Colorado River, it now carries a natural gas pipeline. Needles takes its name from the aspect of the nearby "mountains".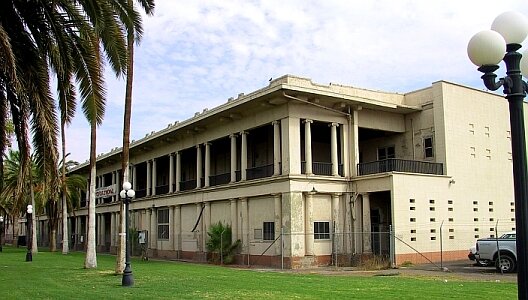 The El Garces Hotel in Needles (another Harvey House) is in the process of restoration (as indicated by the sign) but is far from finished.
Heat has been a problem out west all summer. Today's high was 111, although on the return trip we hit 118 along Lake Mead in Nevada, and with a 30 mph wind blowing off the lake. Don't let anyone tell you about the "dry heat"; it's still awful. Couldn't see well to focus the camera because my eyes dried out as soon as I got out of the car.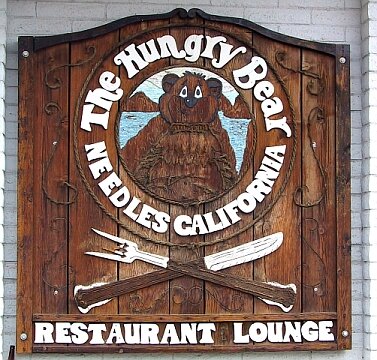 But getting back to Needles, the Hungry Bear Restaurant is open on the west end of town, and serving great food. It was still early but we ordered strawberry milkshakes. When the waitress found out she had no strawberry syrup, she cut up fresh ones and made us the best shakes we had ever tasted.
Leaving Needles we began the worst part of the entire trip: north into Goffs and then south onto the National Old Trails Highway. It's no wonder that this part of California often is the hottest place on the map: it's all desert. Ugly and boring, with occasional exceptions (including rock signs placed along the road by earlier travelers).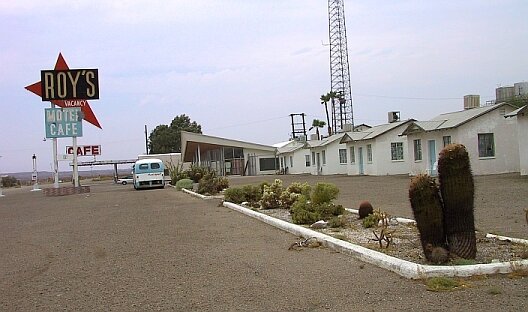 Roy's Motel and Cafe in Amboy is not open for travelers; apparently its primary usage is as a movie set. But Amboy is home to a volcanic crater of note that you can see from the highway.
You might see the occasional Joshua Tree, but mostly it's long stretches of straight, rough roadbed and the maximum comfortable speed is in the 40s.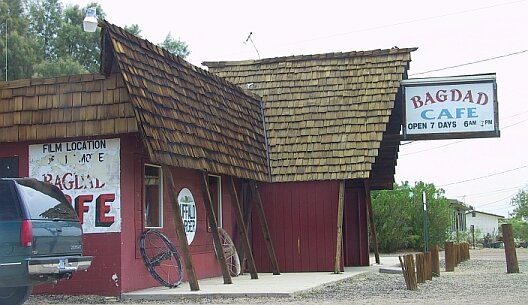 For you non-Californians, get ready for some pricey gasoline; prices went up at least 10% when we crossed the state line. But the good news is that the Historic Route 66 signs and road stencils seem to be plentiful in California, so it's not quite as easy to get off the Route.
The Bagdad Cafe in the picture is actually in Newberry Springs.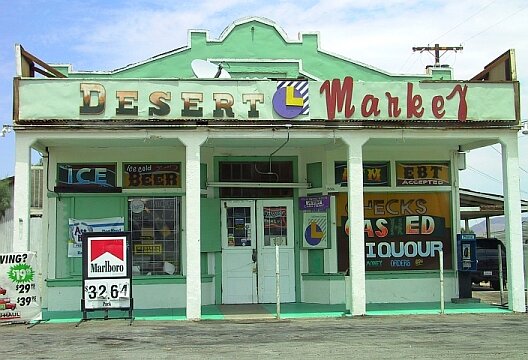 The Desert Market in Daggett is on the other side of the only railroad tracks to hold us up on the entire trip. We'd been seeing a lot of long trains ever since New Mexico (and hearing them most of the night behind our wigwam) but had been lucky thus far at crossings. But it's a nice photo op.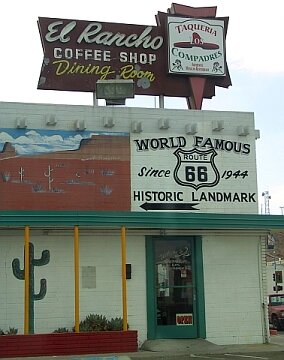 Lunch was at the El Rancho Coffee Shop and Dining Room in Barstow, where the winner was a Pork Torta (sort of a Mexican sub on a soft bun - very tasty). Unfortunately the "museum" was no longer open.
There were some very cool murals on the sides of buildings in Barstow and in fact all along the Route. I would like to suggest that one of you do a photo trip of the Route to document them!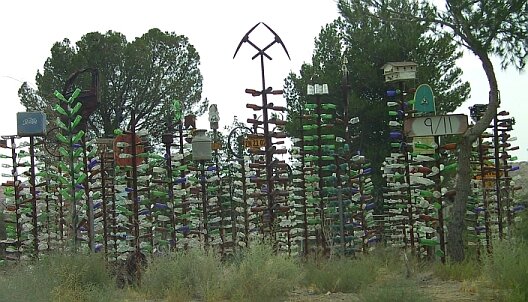 There was some more folk art on the Route that we couldn't pass up, between Barstow and Victorville.
At 16849 D St. in Victorville is the best Route 66 museum and shop on the Route (to my taste, at any rate).
And shortly after Victorville we did the unthinkable: we departed from Route 66.

As you near San Bernadino and then Los Angeles, roads get very crowded and after ten days of mostly lonely two lanes, I wasn't ready to face it. Or so I thought... So I looked at the map and lucked into one of the nicest drives I've ever had. Leaving I-15 at Cajon Summit we took CA 138 west to CA 2 and drove through Angeles National Forest. 66 miles of nicely banked, winding roads with plenty of places to pull over, beautiful vistas, nothing straight longer than 1/4 mile and a top altitude of about 7500 feet. Top speed was usually in the low 40s and it was exhilarating! Which is probably the only reason I survived what happened next.
We had thought we would stay on the outskirts of L.A. and see the western end of Route 66 the next morning. But upon exiting Angeles we found ourselves having to make quick choices with little signage and no motels in sight. And so we found ourselves heading west into L.A. at 6 PM on a Friday evening in the midst of more cars than I had ever seen in one place. And the amazing thing was, it worked! Most of the drivers were courteous (or at least forgiving of the rube from Ohio). Every time my wife would locate a motel in the AAA book I would tell her that we just passed that exit. But eventually we found a room on Sepulveda Blvd. and ate our anniversary dinner in a Denny's. So much for avoiding the big cities...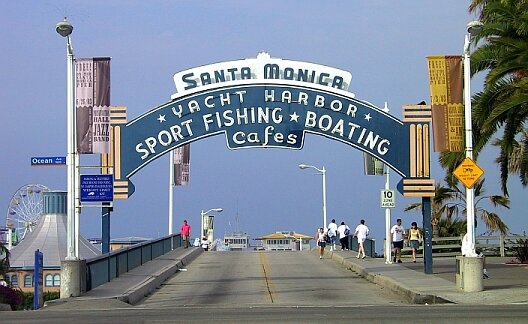 And so the next morning we found the end of the Route at the Santa Monica Pier.
We enjoyed the trip thoroughly (OK, maybe not the National Old Trails Highway, but the rest was great), but we were not quite ready to do it all again, backwards. So we drove up the Pacific Coast Highway (every bit as fun as driving in Angeles National Forest) to Monterey. Then we cut east and drove through Yosemite, Death Valley, Zion, Bryce Canyon, Canyonlands and Arches National Parks. For my money, you could just save time and make the entire state of Utah a national park; it's that beautiful. And then we decided we were ready to be home, and reluctantly spent three days on the interstate heading east.

---
Over the last few years I have received many comments and inquiries from readers of this page, and the most common question is "how long did you take to make the trip?" By way of answering, I thought I'd add a brief chronology of the places where we stopped for the night:

Pontiac, IL
Edwardsville, IL
Lebanon, MO
Claremore, OK
Clinton, OK
Canyon, TX
Las Vegas, NM
Los Lumas, NM
Holbrook, AZ
Kingman, AZ
Sherman Oaks (Los Angeles), CA
Salinas, CA
Mariposa, CA
Lone Pine, CA
St. George, UT
Beaver, UT
Moab, UT
Colby, KS
Kingdom City, MO

As you can see, we averaged about 250 miles a day on the way out, and that seemed like a reasonable pace. Between L. A. and Moab we averaged almost 400 miles a day, and for the last 3 days we averaged about 525 miles a day. Of course it depends on where home is for you, and whether or not you want to take some time to see the big cities. As they say, your mileage may vary...

But if you get the chance to explore Route 66, do it! It can only thrive if we travel it, and things change (as of this writing, Ernie's Pig Hip is no more; it burned to the ground in 2007).
---
©2009, Kenneth R. Koehler. All Rights Reserved.