Montepulciano
Here is where we get to meet up with Carol and Rick again, and hear about their adventures in Rothenburg, Ihlendorf, Vechta, Rome and Orvietto. But first I have to remember how to drive a car! Of course, nothing in the U.S. can prepare you for driving in Italy...

It had been almost two decades since I had driven a car with a manual transmission, but it came back to me reasonable quickly (at least as soon as I got used to the Punto's clutch, and figured out exactly where third gear was...). But the problem is not with the car; it is with the Italians. For them, the speed limit is a starting point, and the lines on the road mere suggestions (at one point, we saw 4 cars abreast on a two-lane road!). And they are even more aggressive on the road than they are in train stations and at bus stops; they seem genetically wired to tailgate you, stay in your lane as they pass you and cut you off before they roar off into the distance. And the motorcyclists are even worse: of course one lane has room for a car and a motorcycle side by side! This is all very difficult for someone with a German disposition and a healthy respect for the rules of the road.

And then there's the problem of navigation. I'm a map fiend; I'll take a paper map any day over MapQuest. I love to explore the interconnections of roads, figuring out which routes to take to see the most of the countryside. So before we left Cincinnati, I had purchased several good road maps of Italy, and had worked out which route numbers to take to get just about everywhere we wanted to go.

So it was a difficult adjustment when I discovered that you can be on a road for 30 or 40 kilometers before you have any idea if you are on the correct route! Route numbers are just not important to Italians. What matters is the order of the towns you go through to get where you're going. Every major intersection of roads is a traffic circle, and near each road is a list of towns you might find in that direction. So to plan your trip, you don't count on taking the 408 to the 429 to the 222; you plan on going toward Gaiole in Chianti, then toward Radda in Chianti, then toward Castellina in Chianti, and finally toward San Donato in Chianti. They simply don't think like I do; I see the road system as a network of roads, they see it as a maze. This bit was even harder for me than dealing with the Italian drivers.

In retrospect, I think it was a mistake to try to drive in Italy at all. We had followed Rick Steves' advice to get a car to see the hill towns of Tuscany. But I would rather have used trains and buses, and stayed in each town a day or two, than do as we did and take a series of day trips from a central location. During the 8 days we had the car, I noticed my jaw getting more and more sore, and I started to worry about the prospects of having dental work done in Italy. The day after we dropped the car off in Florence, the pain was gone; I had been gritting my teeth all that time. Driving in Italy drove me to distraction!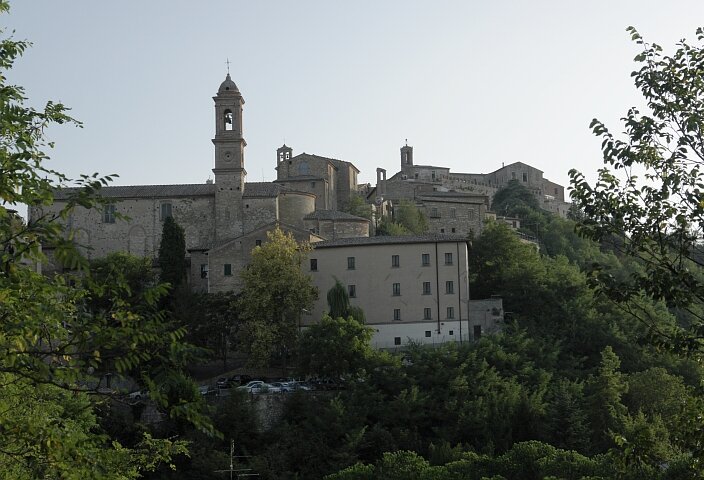 But we survived our first outing on the Autostrada, complete with gas, food and a short bottle of wine at the Autogrill. There were lots of tunnels on the Autostrada, and a ton of gorgeous views, but nowhere to stop and take a picture. We arrived mid-afternoon at our bed and breakfast in Montepulciano, just 15 minutes after Rick and Carol. As we sat in the garden catching up, I was introduced to one of the great mysteries of Tuscany: where do all the mosquitoes come from when it is so dry? I got chewed up, and kept getting chewed during our entire stay. By the time we bid the Tuscan sun goodbye, I had over 50 bites, most still itching.
But Montepulciano was a lovely town, and a strenuous introduction to the concept of "hill town"; there is a reason why they are called that. After climbing and exploring and climbing and exploring, we had a delightful (but very breezy) dinner al fresco as the sun set. And as we climbed back down to our beds, Richard and Karen and Nancy were in the air over the Atlantic Ocean, on their way to join us.

Chianti
They were flying into Rome, and we had arranged to meet them in Montevarchi, a small town on the rail line between Rome and Florence. The plan was that they would get a phone card and call us when they got to the Rome train station, so that we would know when to expect them. We drove to Montevarchi, arriving a little after noon, and after finding the train station and wandering a bit, we had some lunch. We had expected to hear from them by now, but optimism won out and we returned to the train station to see if they were on the 2:11 from Rome.

No such luck. Now we were in a bit of a conundrum. No word, no idea when to expect them, and somebody had to be at the villa to get the keys from the owner between 5:00 and 7:00 PM. So we loaded all the luggage into our Fiat, and Mary and I took off for Chianti while Rick and Carol watched the town prepare for the evening's festivities and waited hopefully for our family to show up on the 4:10.

From Montevarchi to Poggibonsi is a wild ride: lots of curves and switchbacks and hills. Nothing like the straight little line on the map would have you believe! The road was nicely banked, making driving strenuous but fun, through gorgeous scenery, and a lot more woods than I expected. And everywhere you looked there were olive groves and vineyards. About 4:15 we got a call from Carol: Richard and company had indeed arrived on the 4:10. The communications blackout was due to problems with the phone card, and the delay was courtesy the airline, who lost Richard's bag and to date (almost two months later) has still not found it!

It was about this time that I missed the turn to San Donato. After backtracking to find it and not succeeding, we went on to Poggibonsi and called our hostess Giana for help. We took the Superstrada (one notch below the Autostrada) to San Donato and, following her directions, turned left at the sign for Monsanto onto the "dirty road".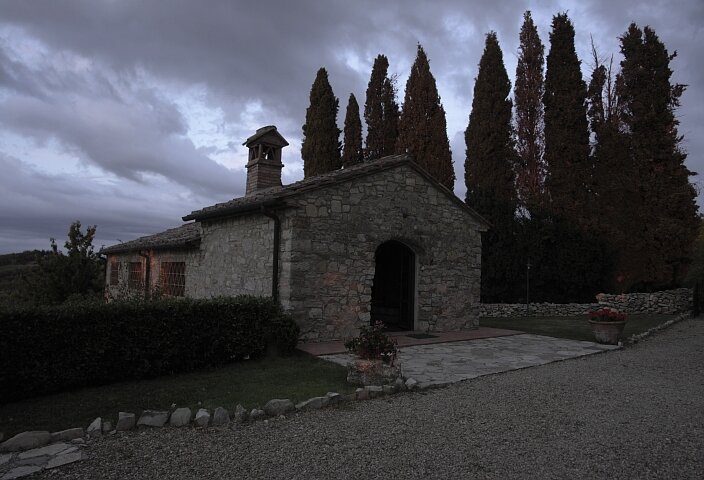 This was the road from hell! 0.8 kilometers (about half a mile) of gravel road, almost all up hill, with long ruts the width of your head. It had 4 switchbacks and was really just one lane, although as we later learned, two cars do fit side by side (if you close your eyes). Our best time up the road was just under 4 minutes, which means top speed is less than 8 miles per hour. And you really have to just hit it on a run and keep going, because if you have to stop, you're going to stall your car at least once starting up it again. Richard made a video (98 MB) with his digital camera on our last trip up so you can see what I mean.

When we got to the top, we called Carol, pleaded with her to stop for food before they came up the hill (we weren't sure we were ever going to make it back down), and gave Rick just enough suggestions for attacking the hill to scare them all to death. About 45 minutes later another car pulled up behind ours with only Rick inside; they didn't think they would make it up with 5 people in the car, so the rest of them walked!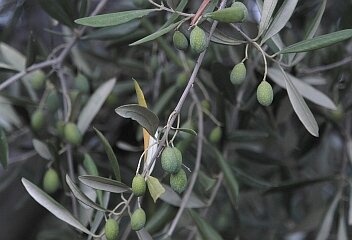 We did indeed make it back down, and back up and down 6 more times; but we never really got used to it, and never attempted it after dark. This of course put a real cramp in our lifestyle, because none of the restaurants open much before then! So we ended up cooking more than we expected, but it was nice to have everyone in one place, eating good food and drinking good wine at a more than leisurely pace.

After finding Giana and getting acclimated, her husband Aldo stopped in with 4 baskets of fresh eggs, pears, apples, and the best tomatoes we ever tasted, all from his farm. We were in sight of their vineyards, and there were olives on the hoof just outside our windows:


After dinner and dishes we did the usual laundry, and I did battle (as I would for the remainder of our stay in Chianti) with the airline and the cell phone and the travel insurance company (who were actually very helpful). And as luck would have it, Giana told me that the road would be fixed soon; just a month after we would be leaving!

Siena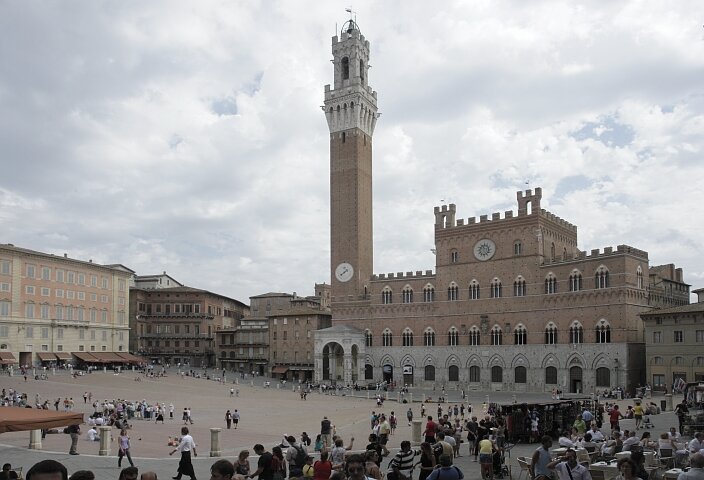 Our first day trip in Tuscany was to Siena. Following Rick Steves' directions, we parked in the Fortezza lot and walked into the old town. We explored the Benedictine Church of St. Catherine, which contains some anatomical relics: her mummified finger and head! This was not the first time we had encountered body parts of the saints: in Padua we had seen St. Anthonio's tongue, jaw bone and vocal chords. The faithful find this inspiring, I suppose, but I found it a little unsettling.
We wandered around quite a lot looking for the town square ("Il Campo"), and after a gelato stop and some more wandering, we found it:
(You can click on the image for a panorama of the square looking in the opposite direction.)
Then it was off to the Duomo, which featured 4 organs and a music library with a magnificent ceiling. But the floors here are as interesting as the ceilings:

We walked back to the square for lunch and some musical entertainment from a local marching band, then went grocery shopping at the co-op and made our way back up the hill before nightfall. We spent the evening snacking and enjoying the wine we bought, and making friends with 2 local cats who seemed to feel like they owned the place; which I guess they did! Took some pictures of a pretty sunset courtesy of the regional pollution (Tuscany was a very hazy place) and then it was off to bed.

Greve
We had intended to drive to Prato for the Festival of the Virgin's Girdle, but driving in Italy had already begun to take its toll, and we just didn't feel like it would be possible to make it there and back before sundown with the scanty amount of information we had. So instead we decided to visit Greve, which is in some sense the "center" of Chianti. Of course the Tourist Information Bureau was closed for the holiday, which is the one time you would think they would be open for the tourists! So we wandered around the square, visiting an amazing butcher's shop:


Need some wild boar salami? They've got it; it's a regional favorite.

We also found a wine museum, which was most interesting for the huge number of wines you could sample. We finally tasted a Brunello from Montalcino: very rich, with a bitter finish; liked it quite a lot but it was too expensive to buy a bottle. We walked back to the square for a nice lunch and then drove off in search of Castello Vicchiomaggio, a winery that has been in continuous operation for over a thousand years!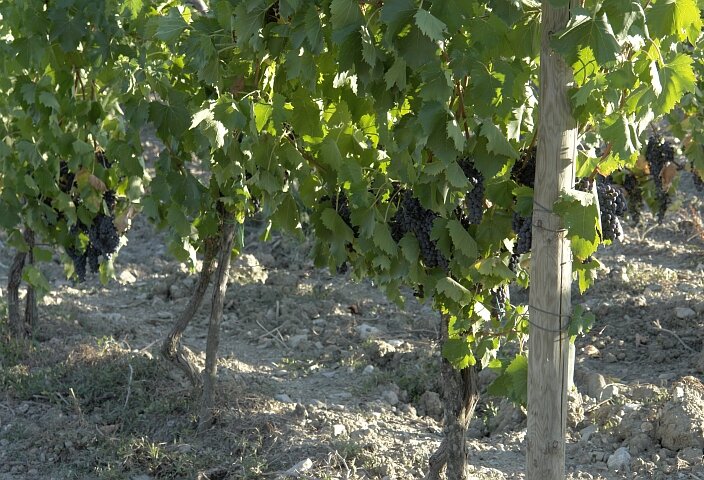 For a small fee they give you a delightful tour of the winery and tastes of all their products. We learned that DOCG Chianti Classico is geographically limited, from young Sangiovese vines, aged in large casks for a relatively short time; it has a correspondingly short life. Chianti Classico Reserva (which has a very delicate nose and is very smooth) is from old vines, aged in smaller casks for a longer period; it has a longer lifespan. Supertuscans (denoted IGT) are less than 80% Sangiovese, with most of the character coming from the Cabernet Sauvignon and/or Merlot components. Sangiovese grows so tightly that they pull some off prematurely to let the air circulate around the grapes; that's why we saw so many grapes on the ground. Those are left a small distance from the vines to avoid off flavors from the decaying grapes.
We also tasted the Grappa: distilled wine, not unlike brandy, which the Italians like to add to coffee. Now that's a wake-up call!

We bought some wine (surprise!) and returned to our farm house for dinner and mosquitoes and huge flies and moths; you'd have thought Leonardo could have invented screens.
Assisi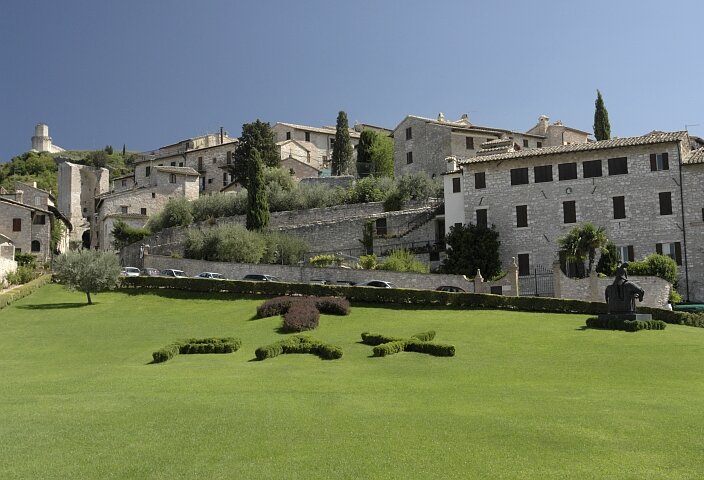 Assisi is in Umbria, and was a several hour drive. It is actually shorter time-wise to drive up to Florence and then back down the Autostrata to Perugia on the way. We parked near the train station and took a bus up to the old town, then walked up to the Cathedral of St. Francis. We saw the tomb, the relics, the museum and both the upper and lower churches. I've decided that frescoes are really not my thing, but the marble and the stained glass were nice, and the organ was interesting. Outside the upper church there was a lovely green with an equally lovely message from St. Francis:


Inside the church we were treated to a Python-esque moment. As with all of the churches in Italy, there was a sign asking you to be quiet; very reasonable, and yet some folks just couldn't hold it down. And whenever someone talked a little too loudly, there was a crashing "SILENCIO! SHHHHHHHHHH!" from the speakers; vastly more loud and disturbing than anything anyone had said. But no one seemed to appreciate the absurdity of the situation, and I couldn't decide whether the speaker was just over-zealous, or if he enjoyed playing the part of God.


We ran a little late at the church and ended up looking for a restaurant just about the time when they all close for the afternoon. But one enterprising young fellow agreed to feed us, and did a very fine job of it. Even brought us a couple of fans (it had been beastly hot all during our time in Tuscany). After lunch we finished our hike to the square and saw Minerva's Temple, which fronts another church. Then Mary, Richard and I decided to take a taxi back to the car so Richard could do some clothes shopping on the way back to Chianti. Riding down those narrow hill-town streets, it is better not to open your eyes; on more than one occasion I thought we would either hit someone, or not fit through the opening there was. But our driver did a good job not committing vehicular homicide, and we were off again to shop, buy some groceries, and spend the evening battling with international dialing. Hint: a lot of 800 numbers will not accept international calls.
San Gimignano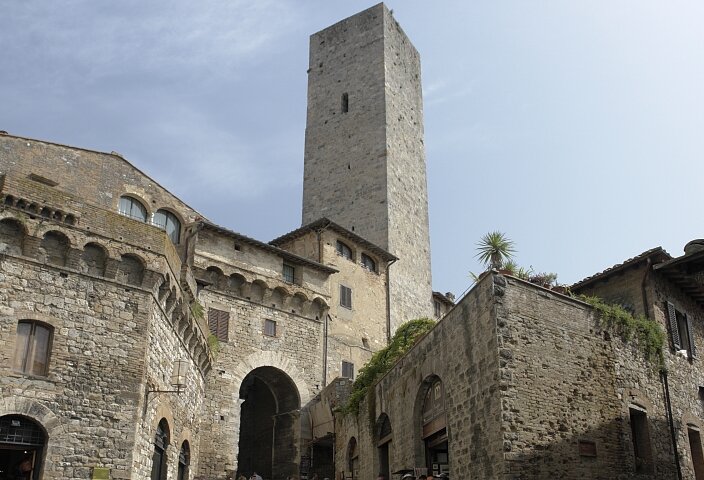 A very picturesque place from a distance, San Gimignano up close in September is a hot, crowded tourist trap. But it has at least one redeeming feature: Gelaterria di Piazza, one of the great gelato shops of the world. More of everything gelato should be: intense flavors, thick and yet creamy, and somehow much more satisfying than ice cream, even though it has less fat.

Not to be left out of the tourist trap business, the Duomo charged 3.5 euros to get in, and for your money you're not even allowed to take pictures without flash. So it was time for a little ecclesiastical disobedience. I surreptitiously took several pictures (which I won't share with you here) of some of the magnificent frescoes. Several could even be appreciated by someone who had no special knowledge of the lives of the saints: scenes from Hell, God breathing life into Adam, and "taking" Eve from the sleeping Adam's chest. I guess I was forgiven; my flash drive didn't crash before I got home...

But in the end the heat beat me, and I sat for a bit while the others explored. Richard found a reasonably inexpensive bottle of Brunnello to cheer me up, and after grocery shopping at the co-op and once again beating sundown up the hill, we enjoyed it after dinner. It was reminiscent of a very dry sherry.

Florence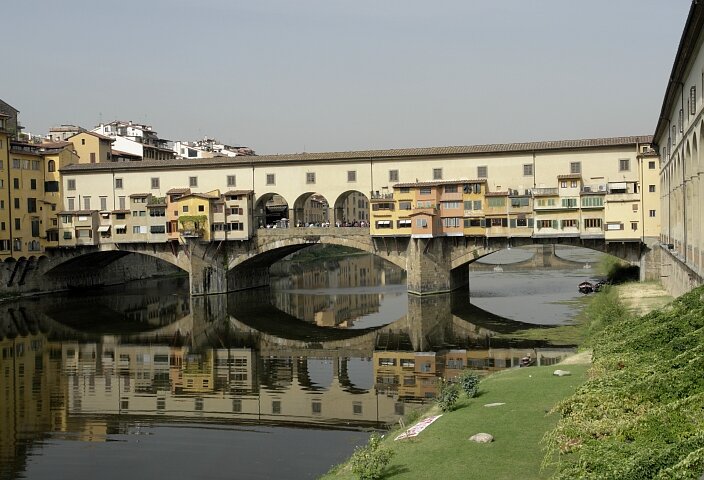 Richard had done yeoman's work on the phone the other day getting us reservations for the Uffizi and the Accademia, so we had a quick breakfast and drove into Florence. Scenes like the Ponte Vecchio here make Florence seem fetching:


but I found it hot and dirty and crowded. We ended up parking in Alberti (a mistake) and taking the bus into the old town. You don't want to be caught driving there unless you have a special permit, and there were still too many cars. And you have to buy your bus tickets at the tobacconist's; otherwise you pay double!

We walked down to the Uffizi and found a small place to buy pastries while we waited for our entry time. Mary was blessed by a local pigeon, but we managed to get our tickets and trek to the top floor. I was really looking forward to seeing The Birth of Venus and Primavera, but when we finally found them we were all pretty disappointed. Not only were there so many people that you couldn't just sit and take them in, but they seemed drab. Both have protective glass mounted a few inches in front of the paintings, and perhaps that is to blame, but the pictures you see in books look much more vibrant, the colors much more intense. After about two and a half hours in any museum I get saturated, and by that time we had only seen a half of the top floor, mostly Gothic stuff that I just don't appreciate. So at this point, I am still not impressed by Florence.

And lunch didn't help: our snotty waiter crowded us into 2 tables when 3 would have been appropriate (the third went unused). The food was good enough... On our way to the Accademia to visit David we happened on another of the world's best gelaterrias: Perche No. And this one to me was even better than in San Gimignano, although there was some debate about it.

And then there is The David. I had been skeptical, but Mary had seen it when she was in Florence in 1972, and I was game. She had this one right: as soon as you walk in sight of it, it owns your attention. In my journal I called it an excellent portrayal of anatomy in marble, but that doesn't even begin to convey what I saw. The veins and muscles in David's arms look as real as my own, yet he has the advantage of marble over poor flesh and blood. I would love to show you the picture I took, but of course I can't because photography was once again prohibited. And this time they had a plainclothes attendant playing camera police, a little Mussolini who seemed to enjoy fussing at every idiot whose flash gave them away.

There were some nice musical instruments in one gallery but the rest of what we saw was more Gothic art. We caught the bus back at the now-closed Duomo and only by the grace of a very nice lady were we able to find our garage and car again. But on the way we were treated to some of Florence's advanced technology: a computer screen mounted on the ceiling of the bus, continually rebooting Embedded Windows XP.

Pisa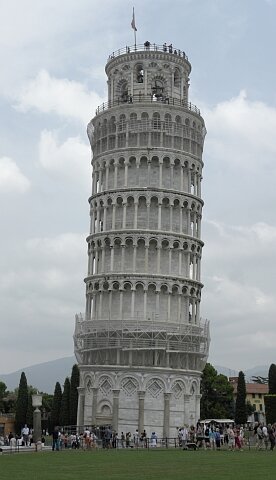 The Tuscan calenders do nothing to prepare you for the horror that is Italy. I had planned a nice rural sequence of towns to drive through on the way to Pisa. But after a series of one-horse... towns, with one-way streets that change direction on a traffic light and come equipped with a vagrant with dirty water and a squeegee who expects to get paid for messing up your windshield even though you vigorously shake your head "NO!" and honk at him... We finally got on the Fi-Pi-Li (Firenza-Pisa-Livorno expressway) and made some time.

Pisa was a traffic nightmare. Only by accident did we find a sign for the parking lot that Rick Steves recommends. Then we went in some weird spiral for 6 or 8 turns until we saw more signs and finally found it. At that point it's only a several-block walk to the Campo di Miracoli and the Baptistry and the Duomo and the famous tower... and stall after stall of the worst junk for sale that you can imagine. Topped off by wandering men selling knock-offs that land you a thousand euro fine if you buy one, although it seems perfectly legal to sell them. The acoustics in the Baptistry were nice, and there of course is the novelty of the Leaning Tower:


OK, so now you've seen it, take my advice and pass up Pisa.

On the way back, Tuscany made up for all the dry days with a vengeance. We drove through the worst hail storm I have ever seen (and the Midwest can have some doozies!); at one point there was so much hail on the road that it felt like the "dirty road" up to our farm house! We had lost Rick and Carol and Nancy going in to Pisa and only after a forgettable lunch had we found them. So when we left, they had to walk back to the train station where they had parked, and there they learned something that made our Tuscan week insanely complete: there would be a one day rail strike in Tuscany the next day. That of course was the day we were counting on using the trains to get Richard and Karen and Nancy back to Rome, and the rest of us to Cinque Terra! How does anything ever get done in Italy?

I think now that driving in Italy had colored my experience somewhat, and as I wrote in my journal that night about the awful day, we had a wonderful breeze, thunder and lightning and rain (all of which I like); it almost made up for it. But of course it couldn't end there: the downstairs apartment lost power, Richard's bed broke and we all lost hot water. On top of the weird water pressure problems we had had the day before, I was really ready to move on.

Corniglia
Richard was invaluable in finding the rental car office in Florence; he told me each time where to turn because I had my hands full avoiding accidents. Our poor Punto was not the car it had been a week before; between 7 trips up and down the "dirty road", and the hail storm (which left little dents all over it), it needed a front-end alignment and some body work. I was impressed with it, though: it got almost 39 miles to the gallon!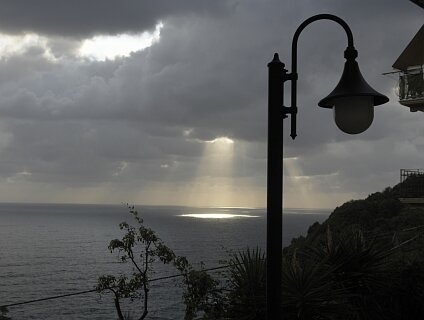 Of course, with the rail strike we tried to keep it for an extra day, but it was already rented; by the time we left the garage they were already washing it for the next customer. And of course there were no other cars available... But at the train station we found a very patient and helpful FS (Ferrovie dello Stato) employee who saved our bacon: there was one train running out of Tuscany, and if we could go to Rome and then catch a train to La Spezia, we could make it to Cinque Terra.

So I have the distinction of having visited Rome for 15 minutes. Richard, Karen and Nancy stayed in Rome and had a wonderful afternoon and evening before flying home, and their bags arrived only a day after they did. And we made it to Corniglia, where our hostess found us in the (then) crowded square by calling our cell phone and seeing who answered. Clever! She led us up... and up... and up... to a lovely pair of apartments which were our home while exploring the five towns.

On the way back to dinner we caught a beautiful sunset:


Dinner featured the best pesto we had ever eaten, and the local white wine. I typically don't go in for whites, but this had a great deal of character; almost golden, with a hint of raisin, and nice body. We ate al fresco overlooking the Mediterranean despite the strong breeze; I would take a jacket with me on the morrow!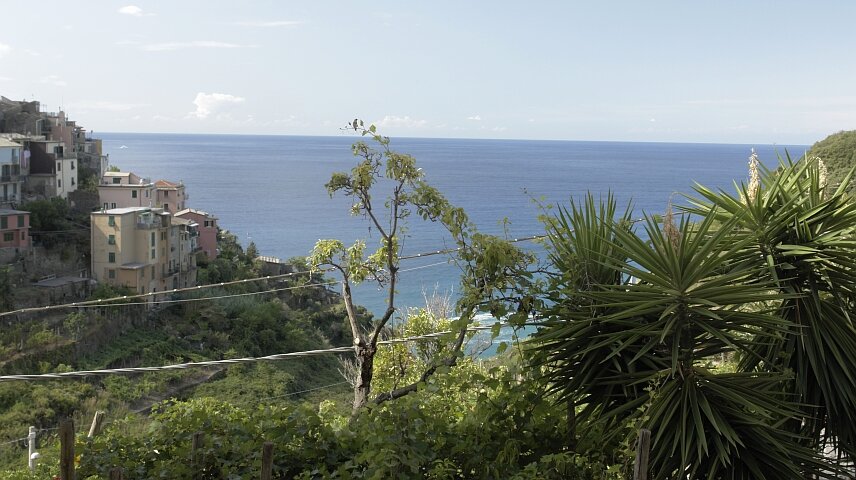 Corniglia is a quiet town, especially on Sundays, except for a sickly-sounding rooster that gets fired up at the crack of dawn and keeps at it until he's exhausted (sometime well after 9:00). We bought a Cinque Terra card, which gets you train rides and bus rides in the five towns, and headed off to...
Riomaggiore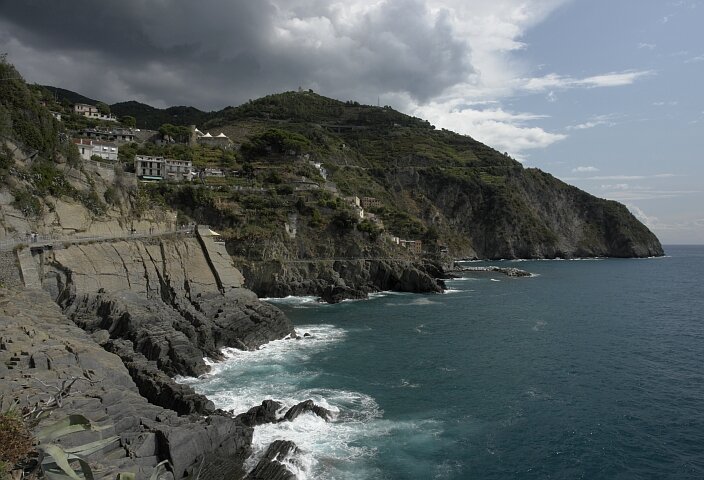 Our card was good for the lift, so we took it up to see the view and take some pictures. The vegetation seemed strange: cacti all over, sharing space with marigolds and grape vines. The shoreline all along the Cinque Terra is rocky, very picturesque with lots of foam.

Descending the lift, we found the Via D'Amore (which our card was also good for) and walked towards Manarola. It's a beautiful walk, something growing everywhere you look. Unfortunately there is a ton of graffiti, even carved on the leaves of the cacti. My polarized glasses treated me to a sight that most people don't get: where you see only sunlight scattering off the foam, I saw small fish (probably anchovies and sardines) swimming underneath, catching the sun and sparkling like sapphires in the surf. Very cool!

Manarola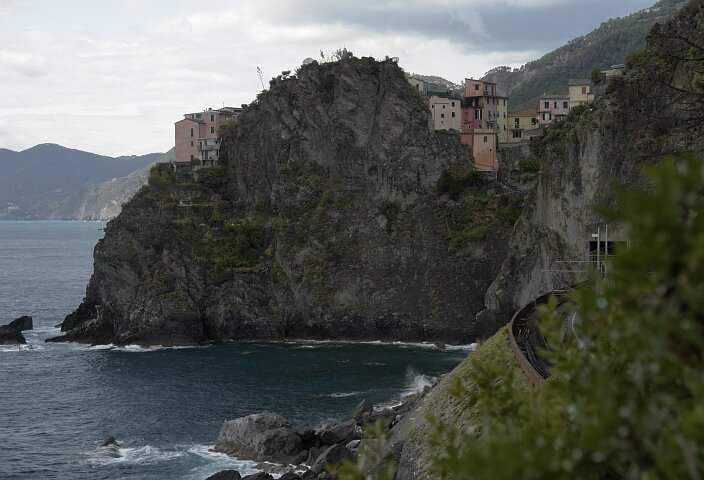 Three quarters of the way to Manarola a storm blew up, and we were just arriving at a little cafe on the side of the cliff. So we stopped for a beer and a bruschetta, and when we were finished the storm was just passing.

Vernazza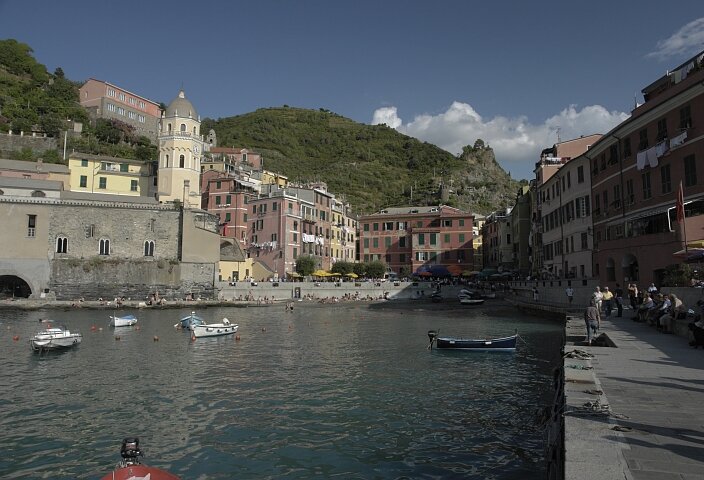 We took the train to Vernazza and wandered around a bit, but I found it too crowded and too touristy. If you head up the hill, away from the sea, it thins out a bit and there are some great views.

Trains in and out of Vernazza are almost insanely packed, at least in the late afternoon. Rick and Carol had been to Monteroso, but Mary and I had skipped it for lack of time, and because of its reputation as a high-end tourist destination.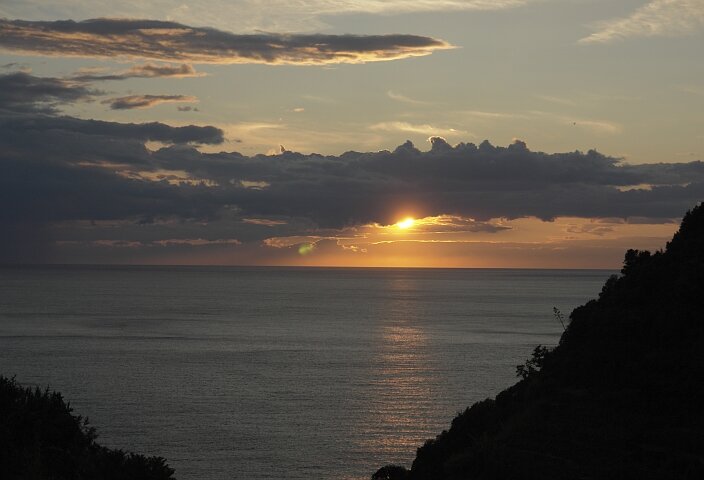 We had another lovely sunset in Corniglia before we started our journey home. We took the train to Milan, and I found it odd that after Genoa (which is a big city), the countryside became flat. Upon arriving in Milan, we walked the length of the train station 3 times trying to find the WC (bathrooms), Tourist Information, bus tickets and the bus stop (which was hidden behind the taxi stand). There was a lot of construction, but the signage also left a lot to be desired.

After a 50 minute ride to the airport, we had to walk the length of the terminal twice trying to find the Delta counter (which was closed up tight!), a restaurant and the gate where the hotel shuttle would take us to our beds. A nice dinner, and a real change of pace: no laundry! For tomorrow, we fly home. And I must say, we were ready to be back.

On the way home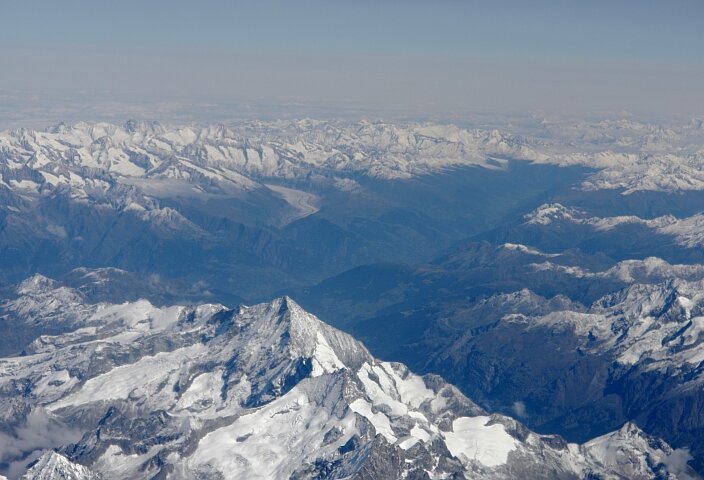 But I couldn't resist a parting shot at the Swiss Alps as we flew over them on our way to JFK. When we finally got home, we found that after a major wind storm two days before, our electricity had just come back on, and while we had half a tree down in our back yard and water damage on our kitchen floor (on the next trip I will empty the ice maker and turn it off!), it was great to be home.

One more thing: if I ever fly long distances again, I will definitely pay the extra for first class. If you are at all tall, the seats in coach are tantamount to torture; it is unconscionable the way the airlines pack you into those tin cans.

Final thoughts...
I suppose you could be forgiven if you got the impression that I did not like Italy. The essence of Italy is chaos, and the orderly part of me, much in the majority, preferred the way things are done in Germany and Austria. But while there were ups and downs, it was all a wonderful adventure.

So would I do it again? Absolutely! This was the trip of a lifetime. And perhaps I will take Lorenzo's advice, if ever I brave Italy again, and spend some time in Cittadella. It looks beautiful in the pictures...

---
©2008, Kenneth R. Koehler. All Rights Reserved.