Munich
Another advantage of traveling light is carrying all your luggage on the plane with you. Clearing customs was as simple as walking through a gate, and we headed off toward the subway. There we met a nice young couple who had mistakenly purchased an 18 euro all-day ticket for 5 people just to get to the airport. They offered to sell it to us for 10 euro, and after making sure the ticket said what I thought it said, we took them up on it. Nice to know that not every European is a scam artist, contrary to much of what we'd read.

Our trip to New York prepared us well for getting around Munich, although, as always, orienting yourself when you pop up out of the subway is a trick in strange surroundings. After a detour around the train station we managed to find our hotel (the Monaco, chosen from Rick Steves' suggestions, in part due to its amusing web site), and dropped off our bags.

Arriving in Munch at 8:00 AM is a little confusing for your body, which insists that it is really 2:00 AM. But it is very important to stay up until at least 8:00 or 9:00 PM local time to avoid jet lag. So we trooped back toward the train station and found a "hop-on hop-off" tour bus to get acquainted with Munich. Our first hop off was at the Marienplatz, site of the "New" Ratskellar: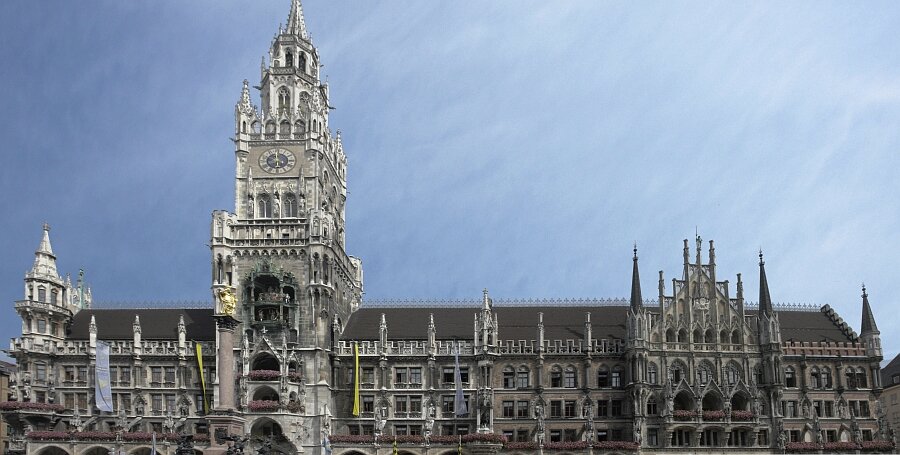 If you click on the image above, you will see a detailed view of the carvings and statues on the front of the Ratskellar. It's a very wide image when viewed at full resolution, so be sure to scroll all the way across the front of the building.
In the large tower left of center on the Ratskellar is perhaps the world's largest cuckoo clock: the Glockenspiel. It goes off at 11:00 AM, noon and 5:00 PM (known in Europe as 17:00), and is really quite a show, drawing an appropriately large crowd. The applet on the right shows the parade of figures while the music plays (the "VCR" controls at the bottom are "play", "back step", "forward step", "play faster" and "play slower", respectively):

During the actual show the top ensemble goes around twice, after which the bottom ensemble goes around twice, and finally the cuckoo at the top goes off (but if it moves, my old eyes couldn't see it).



I have to say that my first impressions of Germany were overwhelmingly positive. Even before we arrived in Munich, we saw wind farms on the trip from the airport, and we continued to see them as we traveled around the country. While our business leaders are busy whining about how it can't be done, the Germans are busy doing it. And starting here in Marienplatz, I was heartened to see that every bicycle rack was full to overflowing: many Germans make it a priority to not use a car when a bike will do.









On my list of musical destinations was the Residenz, not so much for the museum, but for the Nibelungensale: five halls featuring paintings of scenes from the Nibelungenlied. In preparation for this attraction, my "airport book" on this trip was an English translation of the epic that I had read many years before. What better way to immerse yourself in Germany than to enter its mythology through these paintings from the medieval tale. And, icing on the cake in a continent that gives very little away, it was free. Only problem was, it was also closed for renovation!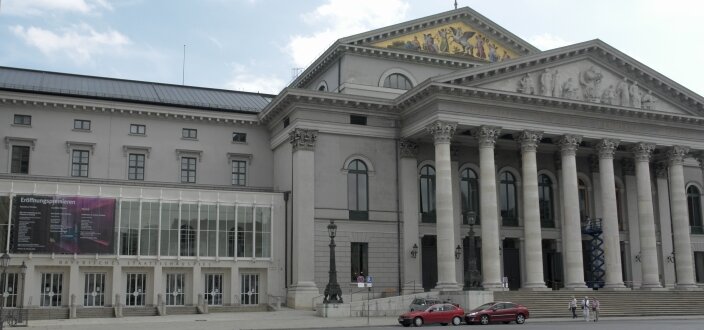 Hardly able to believe my ill timing, I was at least consoled when I found that next door is the Bavarian State Opera House, where the premier performances of Tristan und Isolde, Die Meistersinger, Das Rheingold and Die Walkure all were held. Of course, as with so many buildings in Germany, it was destroyed during World War II and has since been rebuilt.
Mary and I hopped back on the tour bus (having long since separated from Rick and Carol) and in deference to weariness, did the rest of the tour with our eyes instead of our legs. One of the stops was at Nymphenburg Palace, which Mary had toured during her other trip to Europe in 1972. As you can see, I have tried to capture it with my camera, but you really have to see it in person to appreciate the scale of the place:


We spent our evening window-shopping along the Neuhauserstrasse/Kaufingerstrasse pedestrian mall. Ending up near Marienplatz, we bought some delicious tortes to take back to our room and hopped the subway back to the train station. After dessert and laundry we crashed; after all, we had been awake nearly 46 hours!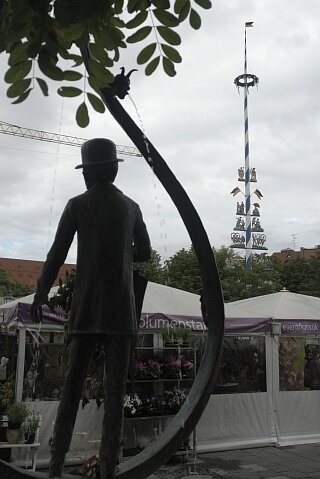 One of our first lessons in Europe is to always eat the hotel breakfast. Mary and I had thought we would do a few things at the train station (visit the ATM, validate our Eurorail pass, check schedules, get a subway pass) and then breeze out to Munich's Viktualienmarkt for breakfast. It was almost noon before we got something to eat! When language is a barrier, it doesn't stop you from doing things, but they definitely take longer.
I had attempted to learn some German as well as some Italian before the trip. Despite my good intentions, I didn't get very far... and then discovered that most of time you really don't have to know much. You should know how to say "please" and "thank you", "hello" and "goodbye", "excuse me" and "I don't understand", and how to ask where or when something is. You should know the words for left and right, and the numbers up to how many people you are traveling with. And you should know how to pronounce them all correctly; some of the vowels are definitely not familiar to the native English-speaker, and take practice. But if you are curious and aware, you will learn most of the other important words you need as you go along. And in most cases, especially if you are following Rick Steves around, you'll find that most of the people you need to communicate with know enough English to make up for your bad German. But they definitely appreciate your efforts to learn their language, and in some cases expect you to make the effort before they will try. Once in a while I suspect they claim ignorance of English because they really don't want to talk with you, but that's communication as well. Verstehe?
I had wanted to visit Andechs Monastery, especially when I learned that Carl Orff was buried there, but it is far enough off the Munich public transportation system to require most of a day and some planning. So instead we walked in the rain to the Deutsches Museum. This is primarily a museum of technology, and we saw many interesting things that I can't share with you for reasons of copyright: as with most museums in Europe, you might be able to take pictures, especially without a flash or tripod, but you cannot publish them without permission. But I can tell you that I saw some fascinating old computing equipment, including a Zeus Z6, a Univac 1, and the Enigma Machine, and some of Galileo's experimental apparatus. We also saw many interactive exhibits, and we were very impressed by the numbers of families enjoying the museum together. It was refreshing to see families spending time learning together instead of just playing. And they had a Mathematics lab! Altogether an amazing place.
The Viktualienmarkt is a large square with shops selling everything from flowers to food. There is a beer garden and lots of people eating and drinking good beer and wine. We had some fun trying to figure out what to buy for our snack, and how to conduct the transaction once we had decided. We ended up with some excellent landjaeger and something like a summer sausage, some mild hard cheese, a pretzel and a couple of local beers. It goes without saying that you should always try the local foods and beverages, and never have the same thing twice; you can have a different beer in every restaurant in Germany, and they're all good.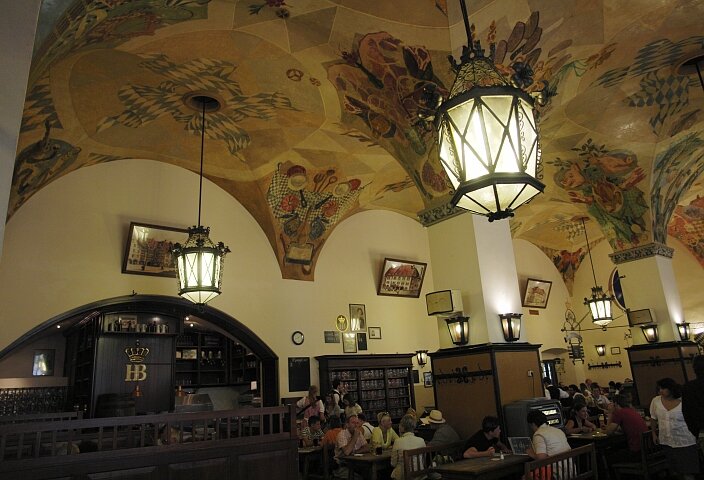 Later in the day we met Carol and Rick and set out for the Hofbräuhaus (for those of you in Cincinnati, the Original Hofbräuhaus). Or mad house, if you prefer: at 19:00 on a Saturday evening, it is packed with revelers and tourists. With the rain, the outdoor garden was closed, and we must have hiked the whole place twice looking for a table with 4 empty chairs. Just as we were about to give up, I noticed a table on the edge of the garden with two young men and 3 empty chairs. They were happy to have us join them, and with a hastily negotiated fourth chair from another table, we began a delightful evening.
Harald and Carsten were students together once upon a time, and were meeting for the first time in some years to renew their old friendship. Their English was so good that we were able to spend a couple of hours discussing geography (to find out where we were all from and where we were all going), politics (ditto) and music. Both fellows were well versed in American politics, better so than many Americans I know, and certainly knew more about current events in American than the vast majority of Americans know about Europe. And on top of everything else, I found that Harald is a fellow Pink Floyd fan: he had the great fortune to be at the concert in Berlin where The Wall was performed. We traded stories about Floyd concerts and discussed the role of music in national culture. Harald was concerned (as I am) that there is little home-grown music in Europe these days; it's mostly American and British imports. I found it a little disconcerting that during our entire trip, most of the music I heard in public spaces was American pop. We lamented together the homogenization of culture, then fought the trend in good traditional German fashion: Harald and Carsten taught us a drinking song!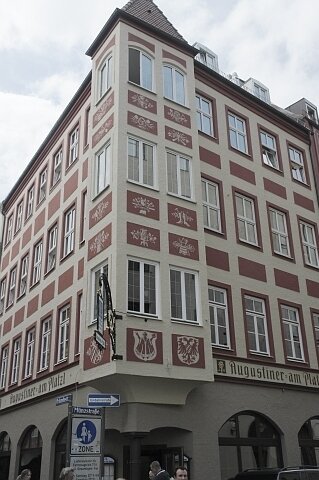 Prosit, prosit, Ein Prosit der Gemütlichkeit!!!
Gemütlichkeit is usually translated as "coziness", but it is a very special coziness: the social conviviality of good friends in warm surroundings. German can be difficult for the American, but you keep finding these words that, when you come to understand them, are perfect for the occasion. Each time we would begin, a table of young men across the garden, there for a bachelor party, would immediately join us and soon the whole garden seemed to be in tune.

The food at the Hofbräuhaus was only so-so, but happily there is another restaurant just across the street that has good food and better beer: the Augustiner:


It turns out there are Augustiners all over the place in Germany. We had actually eaten at this one for lunch on our first day in Munich. We found another one about half-way between our hotel and this one, where we had dinner one evening. Both were quite good. Tip: If you have lunch in Germany and find yourself desirous of a beer but don't want to drink much, try a Radler: a mixture of lager and lemonade (actually Zitronenlimonade, a lemon-lime soda): very tasty!

The Augustiner provided us another lesson. At lunch I had a pork shank that was very tasty, and whose juices I managed to slop across my shirt. That evening, Mary managed to rescue my shirt and all seemed well with the world. Later in the trip we happened on a self-serve laundry, and that shirt was in the load. When it came out, the stain had reappeared, and the whole load was dingy. Once again, we were able to rescue it in our hotel room sink, and when we got home, it washed up fine. But our experience was that we were a whole lot happier with doing laundry in the sink. Well, at least, my experience; I not sure Mary ever really enjoyed doing laundry by hand.



Our Castle Tour
For the most part, we planned our trip ourselves, and although there were logistical challenges that we had to overcome as we went, we had a much better trip for having done so. But reading Rick Steves (who was mostly an invaluable guide), we became convinced that we would not be able to do better than a "Castle Tour". The thought of engineering our own transportation to Neuschwanstein and getting there at the time printed on our ticket was too much for our second day in Germany (for those of you keeping track, this adventure occurred the day before our museum/Hofbräuhaus day). So Mary and I and Carol and Rick bought tour tickets in advance for a whirlwind tour that got us to Castle Linderhoff, where King Ludwig the second grew up, to Oberammergau, for a blinding 30 minutes of shopping, and to