Ken and Mary's Excellent New York Adventure
Goethe's Faust arranged to deliver his soul to the devil if at any time the devil could provide him with one perfect moment, in which Faust's striving was sated. For five days in May, I played Faust to New York City's Mephistopheles: would there come a time when I did not want to leave? Before our trip, it seemed impossible...

I am the kind of guy who can wander for hours in a park and be disappointed to see another human being on the same trail. Not that I'm antisocial; I just don't like crowds. So for years, each time my good friend Joe invited me to visit him in New York City, I said "Yeah, I'll have to do that sometime". And then made plans to go to Glacier National Park or drive to California on Route 66. Even Cincinnati can give me the screaming heebie-jeebies, so I'm going to go to New York?! My wife Mary had been there many years ago on her senior high school trip and kept encouraging me to go, and early in 2006 something possessed me to force the issue for myself: I bought tickets for Joe and Mary and I to see Parsifal at the Metropolitan Opera. So I was committed. Or as I sometimes thought, perhaps I should be committed...

We decided to combine our New York adventure with a trip to Acadia National Park in Maine, giving us an opportunity for some serious winding down after the city. We also e-mailed for tickets to see a taping of The Daily Show, and made arrangements to see an off-Broadway production of, appropriately enough, Faust, so we were set to make good use of Joe's advice for coping in New York: stay busy!
Tuesday
We left our car at Mary's cousin Lois' house in Morrisville and took the train into the city from the Hamilton station in New Jersey. We had driven across Ohio and Pennsylvania the day before, stopping for a couple of "quilt shops" (Mary being an avid quilter) and a couple of "Roadside Americana" photo opportunities. That's one of the reasons we enjoy these cross country trips so much: we each have stops that we look forward to along the way. We even made a special trip to Margate this morning to see Lucy the Elephant, so we were ready to be out of the car for a while. New Jersey Transit did fine by us and we found ourselves in Penn Station at 4:30 in the afternoon, trying to figure out exactly where Joe said we should meet him. It wasn't as crazy as I thought it would be, but we pretty much fulfilled our anticipations of feeling like country bumpkins in the big city. Luckily Joe found us pretty soon, and after buying two MetroCards and a short subway ride we found ourselves in Greenwich Village looking out Joe's window onto Lower Manhattan.

Real estate in Manhattan is a very different ball game from that in Cincinnati. On an island with over one and a half million people living in only 20 square miles, living space is two things above all: vertical and compact. Joe's co-op apartment is an eleventh floor studio worth more than our ranch on a half acre lot. And his generosity made it our home away from home for the rest of the week.

Manhattan is a walker's town, so after dropping our bags (pack light!) we hit the street. I normally am pretty good with directions: if I drive somewhere once, I can pretty much find it again at least a few years later. But lead me around on foot in a strange city and it takes me a while. We walked around the Village for a couple of hours, getting dinner at Sammy's Noodle Shop on 6th Avenue, and it was days before I could find half of what we saw. Proof positive of the relative efficiencies of active versus passive learning (or as I like to think of it, learning versus entertainment).
Wednesday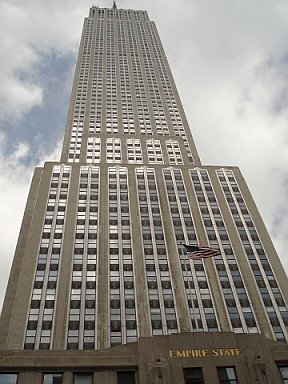 Ninth Street is right below Joe's window and is a favorite path for cabs, which means that street noise is fairly constant until almost morning, when it picks up with a renewed vigor. And since Joe and I can talk for hours on end (physicists and philosophers both), our usual M. O. was to put Mary to bed around 10 and take to the streets again for an hour or so; then return for a nightcap and some more conversation before hitting the sheets around 2:00 or 3:00. Of course, Mary rises around 7:00, so my first order of business each day was a shower and an industrial strength mocha latte (if there is such a thing: I've never been a coffee drinker, so I need a lot of milk; I like a lot of chocolate; and it has to be at least a triple shot of espresso to stand up to the chocolate milk). This morning it was at the Bagel Buffet, source of very tasty and reasonably priced comestibles (but bring some cash). Fully awakened, we picked up the subway from Washington Square to Herald Square and shortly found our first official tourist site: the Empire State Building.

Familiar to me since the first time I saw Fay Wray at the top, the Empire State Building is one of the quintessential New York sites for tourists. Which means you want to get there early. The observatory opens daily at 8 and we got there around 9, which is about as late as you want to get there. Going through security and waiting for an elevator to the 86th floor took about a half hour, but by the time we were ready to go up to the 102nd floor, the open air observatory on the 86th was packed. They charge you almost as much to go the 102nd floor as they do for the 86th, but it's worth it: there were only about 5 other people up there with us. The 102nd floor observatory is enclosed; the view is longer but not as clear due to the glass. But if you are a King Kong fan you'll recognize the room as soon as you exit the elevator.

Serendipity is not something you expect to benefit from in a place like New York City. So it strikes on our first day: we were visiting during the last week of a unique "folk art" exhibit: Toothpick Sculptures by Steven J. Backman, and who do we meet on the 102nd floor observatory but Steven J. Backman! Of course, in our rush to go up we had ignored the lobby, and we were fortunate indeed to have run into Steven. The lobby is an art deco masterpiece in itself, and we got a second chance to appreciate it as we searched for (and ultimately found) his show. The centerpiece of the show was a scale model of the Empire State Building itself, made from 7470 toothpicks. But his other work, both representative and abstract, is as or more impressive.

Here is a short slide show taking you around the 86th floor observatory starting from a view due east into Long Island and moving right around the building: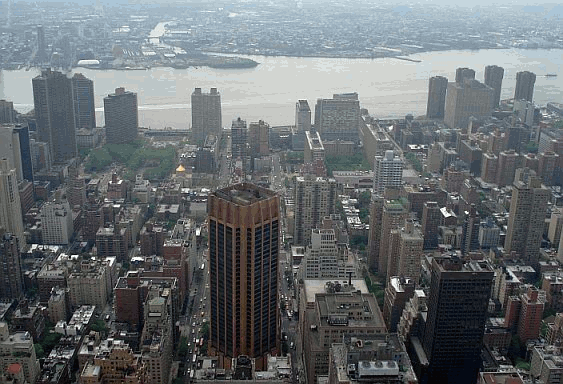 Our next stop was one block west and 9 blocks south: The City Quilter (for Mary), which thankfully had a chair for weary husbands. At the recommendation of the good folks there, we walked another block west and two more south for lunch at East of Eighth.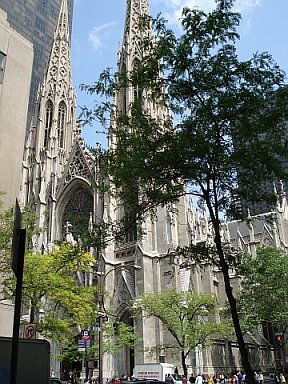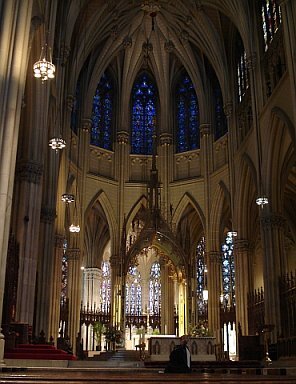 After a not-so-short detour for a wrong turn (the blocks between these avenues are long), we arrived two blocks east at the 23rd Street Station. Another subway ride took us to Rockefeller Center, one block west of Saint Patrick's Cathedral on 5th Avenue.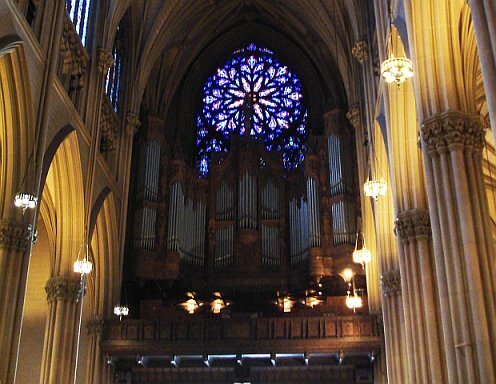 Stunning both as architecture and as art, Saint Patrick's provides beautiful Gothic asylum from the busy streets outside. I am a huge fan of both stained glass windows and pipe organs; I very much enjoyed the former during this visit, and hope to have an opportunity in the future to hear the latter:

The Daily Show Studio is at 744 11th Avenue, between 51st and 52nd Streets. The doors open at 4:45, and they recommend you arrive an hour to an hour and a half before then. It was a little after 2:15 when we left Saint Patrick's, so we had plenty of time to hoof it, right? Six blocks west, one block north and a half hour later we arrived at the studio, to take our place behind about 50 people who were already in line.
Visiting Jon Stewart at the studio is really for the young. Don't get me wrong: we enjoyed the show immensely. But there's a reason they give away the tickets: they need you to go nuts every time they start taping the beginning of another segment. It's tough for us more mature audience members (we were not the oldest people in line, but we were close) to do all that walking, then stand around for over two and a half hours, and then make a lot of noise welcoming Jon back from the commercial breaks. At least they provided an awning to hide under from the sun. But once we got seated, it was fun. Jon is a very nice fellow, but he is first and foremost a very professional entertainer, and in person he has a bit more of an edge than comes across on TV. Maybe it has something to do with distance: you really can see and hear him better on TV than in person. We had hoped to see them do one of the "blue screen" reports "Live From...", and being a fan of Louis Black, I was disappointed that his segment had been pre-taped (he was actually appearing in Cincinnati in two days). But we thoroughly enjoyed John Hodgman's explanation of modern economics, and Jon Stewart was just about masterful with his interview of Ramesh Ponnuru. You can say what you want about The Daily Show, but there's no one else on television asking those questions, and certainly not in that way!
Three blocks east, one block south to the 50th Street Station and the subway back to Washington Square left us just a few blocks south of Joe's: who was amazed at everywhere we'd been without coming back to his safe haven for a break. But we weren't finished yet.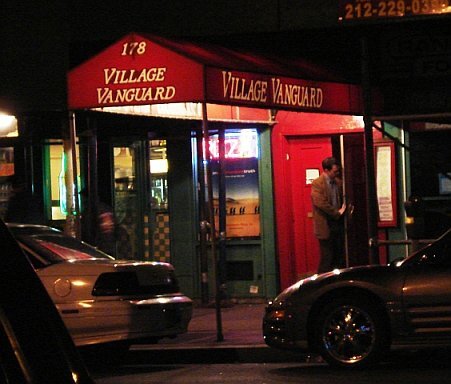 After great pasta at Sapore on Greenwich Avenue, we went back to Joe's to drop Mary off before heading out to the Village Vanguard to hear Rene Rosnes. Mary is not the jazz aficionado that Joe and I are, and needed her rest, but I was on my way to a religious experience. Ever since I discovered jazz as a teenager I had listened to music recorded there: John Coltrane, Eric Dolphy, Bill Evans... Whenever I had ever entertained the notion of visiting New York City, my first excuse (after seeing Joe) was to make a pilgrimage to the Vanguard.
The second set began at 10:00, so we wandered around for a while and Joe took me past several of his haunts. We arrived back at the Vanguard just as the doors opened, and descended the steep stairs into what must be the best venue in jazz. Intimate, nice acoustics; and you can almost see the shades of some of the giants of jazz on the small triangular stage.
Rene and her band came on and played a nice set. She is a good soloist as well as a composer; her music is interesting, her solos well-constructed; altogether a very satisfying performer. I also enjoyed the bass and alto saxophone solos, although I have to say that as far as I'm concerned they could have thrown away the soprano sax after Trane was finished with it (with a special dispensation for Wayne Shorter). And I have almost never met a drum solo that shouldn't have ended after four bars. That said, it was a fine evening of jazz and the fulfillment of a long standing dream. I would very much like to hear McCoy Tyner there some day. My Mephistopheles has done well, but he hasn't succeeded yet.

Thursday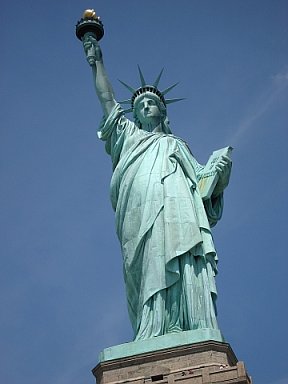 OK, I promise, no more block accounting. But I thought it would give a decent feel for how much walking a New York City tourist can do. Another person might have hopped a bus (your MetroCard is good on buses as well as subways and MTA trains), but this correspondent gets motion sickness at the turn of a bus, and besides, you don't get to see as much!

Our caffeine and breakfast fix was very nicely supplied by Cafe Condesa on West 10th Street. Then it was off for the subway from Sheridan Square to the end of the line at South Ferry Station and a couple of tickets to stand in line for the Liberty Island Ferry. The huge number of tourists in New York means that you're going to spend some time standing in line, but here it was almost entertaining. There were two good pan (steel drum) players about 100 feet apart along the line, and one fellow crooning bolero to a small boom box. But if you exhibit any amount of skin to the sky, be sure to wear a hat: today marked the real beginning of my receding hairline sunburn.

I want to take a moment to talk about the subways. Joe is absolutely correct: this is the way to get around the city. You walk down the steps, swipe your MetroCard, pass through the gate, and in a few minutes the cars appear. In a few minutes more you arrive at your destination, ascend the steps and enter the sunlight of what may well appear to be a different world. And the next time I go to New York, I'm going to take some pictures of the tile work: some of it, particularly on the older lines, is absolutely gorgeous. The first time here you feel like a tourist, and every time you get your camera out it's like holding up a sign to that effect. The second time I'll be a veteran city explorer documenting the handiwork of a previous generation.

The ferry crossing was smooth, and my nausea passed quickly as we walked ashore on Liberty Island (I told you I get motion sick at the drop of a hat!). Lady Liberty is a beauty, but if you want to go inside you want to arrange tickets well in advance. And this is where the National Park Service came to our rescue. I suspect that while most folks are aware that the Statue is a National Monument, a lot don't connect it with the Park Service. The rangers at the Visitor's Center looked positively lonely, and when we came in to ask some questions and mentioned that we didn't have tickets, they came to our rescue. An hour later (you have to go through security again here as well as before you board the ferry) we were looking up the good lady's skirt, as it were. They did a nice job of making her look solid again after her appearance in "Ghostbusters II."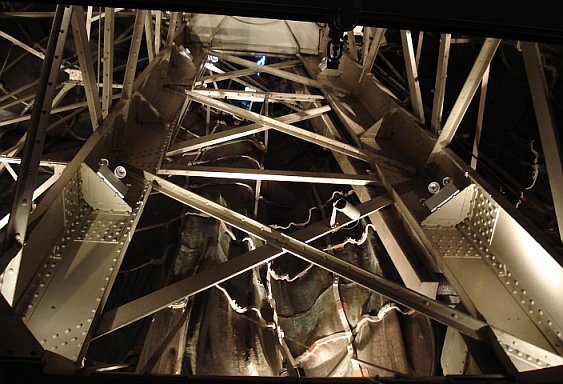 From here we re-boarded the ferry to Ellis Island. By this time (early afternoon) it was packed. But it is a marvelous museum as well as a great resource for genealogical research. And not for the last time during our visit, we could almost feel the ghosts of the immigrants who passed this way. No, I don't believe in ghosts; but if you have any imagination, it will definitely be inspired by what you see here.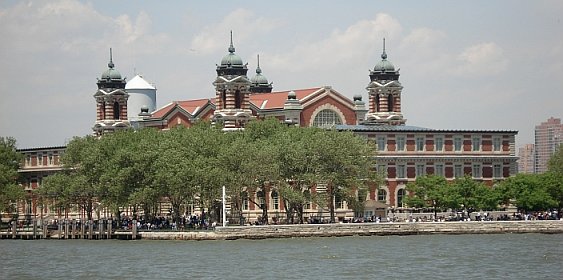 When we arrived back in Battery Park it was definitely past lunchtime. In a few short blocks we arrived at the corner of Broad and Pearl Streets, site of the oldest eating establishment in New York. Fraunces Tavern sits nestled among much taller and newer structures, but upon entering, you feel transported back into the eighteenth century. Our lunch was excellent, but the best was yet to come. The Society of the Sons of the Revolution have restored the upper floors into a museum. For me the highlight was standing in the room in which George Washington bid farewell to his officers after the Revolutionary War. Once again, imagination populates the room with men filled with the satisfactions of their accomplishments, sorrows for their lost fellows and trepidation for the future they have begun. I am not particularly a history buff or a museum haunter, but even for me this was a heady experience.
Back into the twenty-first century, we retraced our subway tracks back to Joe's for a brief freshening before heading out once more. This time we rode the underground rails from Sheridan Square to Lincoln Center. Joe and I are old Wagnerians but Mary is more fond of Italian opera. This evening she won multiple awards, for joining us for Wagner's most ethereal work, and not only staying awake but actually enjoying one of the longest operas in the repertory (whose first act may well be the longest in opera). All with only the help of a fine mocha at Cafe Vienna in Avery Fisher Hall.
We were to meet Joe and his friend Georgette by the fountain, but a sudden downpour drove us inside. After some brief introductions we took our smallish but otherwise comfortable seats and figured out how to control the Met Titles (on the backs of the seats in front of us) before the overture began.
There is a lot of exposition in Parsifal, and not a whole lot of action. But the music is beautiful, the playing was fine, and the sets were for the most part very good, particularly in the first two acts. Ben Heppner's Parsifal was good, but the real stars in this opera are Gurnemanz, here sung by Rene Pape, and Kundry, sung for us by Waltraud Meier. The singing and acting in both parts were outstanding and made this a very memorable evening. As we were leaving we took time to wander the lobby and admire the magnificent (and enormous) paintings by Marc Chagall, "The Triumph of Music" and "The Sources of Music."
A one AM subway ride (on which we felt perfectly safe, somewhat to our surprise) brought Mary and I back to the Village. After picking up a sandwich at the Bagel Buffet (open 24/7) to satisfy our peckishness, we went back to Joe's to await his return from escorting home the delightful Georgette. And of course Joe and I then hit the sidewalks to leave Mary to sleep in peace as we discussed the opera. I even got to meet Joe's nocturnal Washington Park friends (of the genus Rattus). But Mephisto did not appear, and as we enjoyed our last libation of the day we discussed the possibility that I might return the following year for the Kirov Ring Cycle. Still striving!

Friday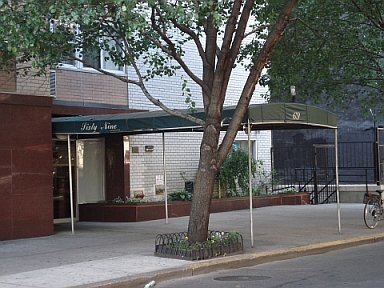 There is far more green in Manhattan than I expected, but for the most part it appears in bits and pieces; in individual trees and shrubs:







in miniature parks between buildings or on corners;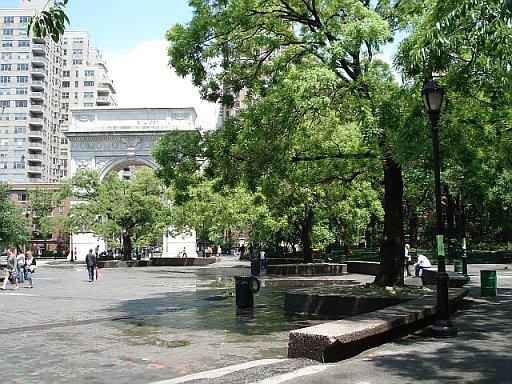 or in the various semi-wooded squares, such as Washington Square Park:

But today Joe was taking the day off, to show off to us the crown jewel of Manhattan's green space: Central Park.
Mary and I had a nice breakfast (and today's mocha fix) at French Roast on Sixth Avenue. Here again we experienced the compact nature of life in Manhattan: crossing your legs requires a carefully orchestrated movement of chairs to provide leg room without bumping into the person next to you. And of course the table for two could never accommodate three, at least with the amount of food and beverage we had on it.
But by the time we finished breakfast, Joe was awake and ready to lead us on our trek. After a walk through Washington Park, the subway took us from the West 4th Street (New York University) Station to the 59th Street / 8th Avenue (Columbus Circle) Station at the southwest end of the park. And once inside the park's boundaries something strange happens: the city all but disappears!
As you walk around in Manhattan, you seldom are aware of how high the buildings are around you. You know they reach for the sky, but your awareness is really of street-fronts and intersections and traffic and where is the subway entrance you're looking for and where am I after climbing out of the subterranean expressway? And that is now all gone.
You can still see the tops of the buildings surrounding the park, but all around you are trees and grass and lakes and really huge rocks. The occasional car or cab drives by on one of the few roads inside, but nearly all of the street noise was left outside when you crossed over the park's edge. I can see why people say Central Park is what keeps Manhattanites sane (at least as sane as they are...).
But it's hard to keep from making comparisons. Central Park comprises 843 acres, has 58 miles of pathways, and even on a Friday morning in May you are never alone. In contrast, our favorite haunt at home is Rowe Woods (part of the Cincinnati Nature Center), with 1025 acres and 18 miles of hiking trails on which you might see another person or two on a weekday morning. And of course within a half hour drive we have thousands of acres within the Hamilton County Park System, not to mention all the city parks scattered throughout Cincinnati.
We saw only the southern third of Central Park before rain motivated us to explore the Metropolitan Museum of Art for a few hours. But much of what we did see was fenced off for reseeding or more extensive renovation. Still, it was a fascinating contrast to the city outside, and perhaps the extremity of that contrast lends unusual beauty (as well as reputation) to the park.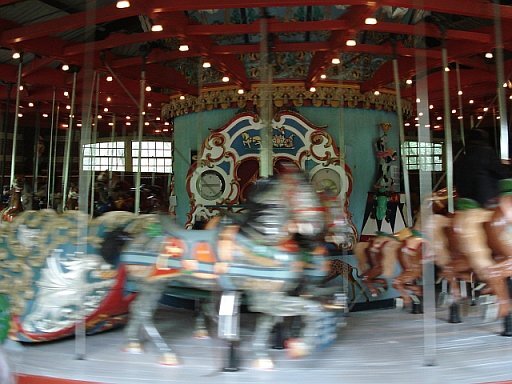 Our walk took us past The Friedsam Memorial Carousel;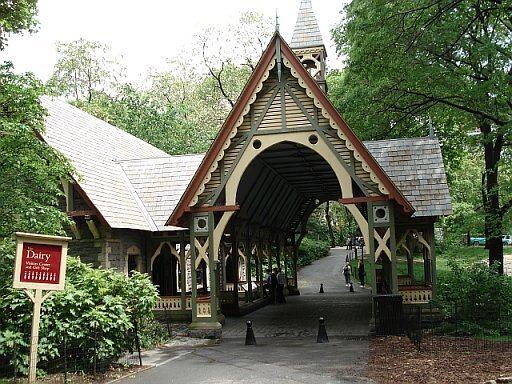 and The Dairy:

The Literary Walk was partially closed, but we were able to pay our respects to Misters Shakespeare, Columbus, Herbert and Beethoven, as well as to "The Indian Hunter". An informal baseball game was taking place in front of The Bandshell, and we paused to rest and watch some preschoolers play with the same kind of string-launched flying saucers I used to play with at their age. Thankfully, some things never change.
Scarlett Johansson and company were filming "The Nanny Diaries" alongside The Model Boat Pond, and we were politely but very efficiently shooed away from the area. I understood their motivation, but was nonetheless a little put off. It's nice to know that doesn't happen very often in Cincinnati. My compatriots were impressed, but I have to say that I wouldn't know Miss Johansson if she bit me. I guess she and I just don't go to the same movies.
After a restroom break and some more coffee, we headed north and found my favorite park destination: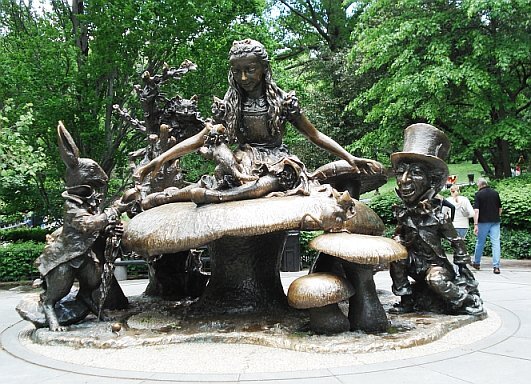 Alice!
Faithfully rendered from the original Sir John Tenniel drawings in "Alice in Wonderland", this sculpture of Lewis Carroll's fantastic characters felt like a personal reflection in the Central Park looking glass (big Carroll fan here). Very nice indeed.

But as we continued north the skies began to darken, and it became obvious that we weren't going to stay dry for long. Just as the sky broke we ducked into the Met Museum, and spent a wonderful couple of hours with the European Impressionists and the Dutch Masters, and with two special exhibits: "Warriors of the Himalayas: Rediscovering the Arms and Armor of Tibet" and "Samuel Palmer: Vision and Landscape".
Mary and I tend to saturate after about two hours in an art museum, but my best advice to any lovers of art as they visit New York is to hit the Met every day for a couple of hours, and check out their online collection in advance to plan your visits. Otherwise you will get wonderfully distracted at every turn. Even at that, it would take many return visits to see it all.
This is a prime example of the difference not only in degree but in kind between cities like Cincinnati and New York. The Cincinnati Art Museum has a fine collection and I love to visit it. But when you view their Impressionist collection, you see one Monet and one Van Gogh. At the Met, there are 40 Monets; there are 17 Van Goghs; and when you see them, side by side, you finally understand what they mean when they say that the Impressionists studied light. This is how to learn about and appreciate art. But they have only one Hieronymus Bosch. Are you listening, Mephistopheles?
Mary loves dance in all its forms. When we planned our trip, we discussed the possibility that instead of classical ballet, we might try to see some modern dance. Well, Joe proclaimed himself "Mr. Modern Dance" and so we had left the planning in his capable hands. At his suggestion, we hopped a subway from the 77th Street Station to Union Square: we were hoping to get tickets to the evening's performance at the Danspace Project. But we had a little time before they would begin taking names, so we ducked into Kim's Video on St. Marks Place, and there I struck gold. I had been looking for a DVD of the original "Gojira" (Godzilla to you who only know the big guy as a co-star of Raymond Burr), and had always expected that someday I'd find it in New York. And Kim's came through. Now if I can only figure out how to convert it from PAL to NTSC so I can watch it on my Sony.
The East Village has a slightly different feel from the West Village (which is usually called Greenwich Village or just The Village); a little funkier, maybe. We had a nice dinner at the Telephone Bar and Grill and then went back to St. Mark's Church-in-the-Bowery, home of the Danspace Project, to wait for tickets. We must have been about the last three to get in, but bless their hearts, they got us in. And then we saw a couple of performances that you'll never see in Cincinnati.
Christopher Williams is a dance and puppet artist and was the choreographer as well as one of the dancers for the evening. The first set was made up of excerpts from "Ursula and the 11,000 Virgins" and "The Golden Legend". Set to medieval music for vocals and small ensemble (with some original music by Peter Kirn), the dance was intricate and athletic, and the puppets featured exaggerated organs of both gender, sometimes on the same puppet. This was my first experience with modern dance and at the intermission, I checked with Mary: no, she had never seen anything like it before either! The second set was the world premiere of "The Portuguese Suite": nine dances set to Fado music sung with soulful passion by Amalia Rodrigues and depicting aspects of gay love. It was danced by Mr. Williams, Andre Garzon and seven very talented young women. As I said, you'll never see it in Cincinnati. That's why you go to New York.
Saturday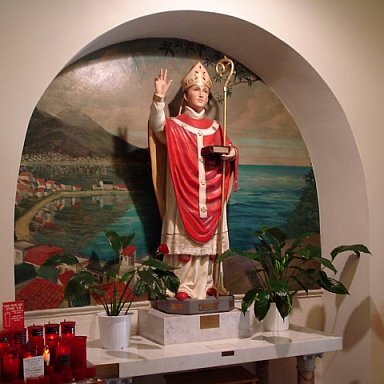 Mary and I began our day again at Cafe Condesa. We knew we wanted to make some tracks the next day and we wanted to take a look at Chinatown and Little Italy, so we thought we would kill two birds with one stone and get Mary to noon Mass at the Most Precious Blood Church on Mulberry Street, home of the Shrine of San Gennaro (right). So it was off to the Astor Place Station, where we picked up the subway to Canal Street...

And ascended onto the other side of the planet. Markets with unknown vegetables and fascinating sea creatures; strange smells; we felt quite literally stuck in "The Twilight Zone":
Submitted for your approval: Ken and Mary Koehler thought they were taking the subway a few blocks to a famous tourist destination. But their subway car took a wrong turn through the center of the Earth, to emerge in... The Twilight Zone.
And every ten feet someone asking in very poor English "Buy DVD?" "Buy Handbag?", which got old very quickly. Somewhat shamefully, we now understood why Americans in foreign lands brighten at the sight of a McDonalds or a Starbucks: it's a piece of home, a familiar place to retreat. Although we resisted the temptation to do that, we decided that the constant pushing of (sometimes clearly pirated) merchandise was too much and we set off in search of the good saint. After a wrong turn and a lonely walk around the Criminal Courts Building between Centre and Baxter Streets, we finally found a helpful policewoman and were in church with ten minutes to spare.

There were seven neighborhood women in the congregation, along with Mary and this observer. The priest was very nicely inclusive: each time he addressed the assembled group, it was as "our sisters and brother". I have never felt so welcome before as a non-Catholic present at a Mass.

We had wanted to have lunch in Little Italy, but the crowds in Chinatown were overwhelming and we elected to move on to a less crowded spot:


Times Square!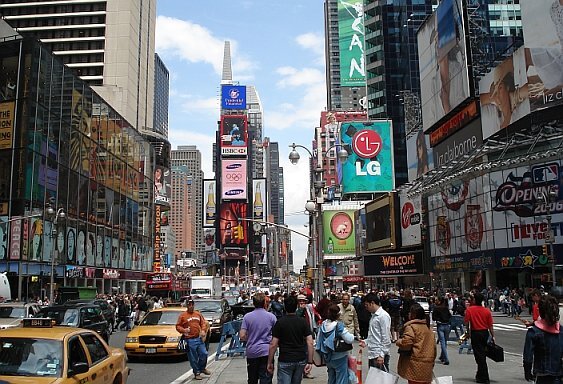 Actually there were probably almost as many people at Times Square, but the tourists now definitely outnumbered the sellers. Of course, the sellers were much larger: standing in Times Square is a lot like begin surrounded by HUGE TV screens, all running a constant stream of commercials. Which at least makes them a little easier to ignore. I was sort of conflicted here: the technology was pretty cool, but I really do not like to be sold stuff I don't need or want.
So we quickly set off on our next quest: I wanted to find Birdland. I knew I wouldn't get there for a show on this trip, but definitely next time. And while we were hunting around for it (finally getting some directions from a very helpful mail carrier), we saw something else for the next trip. Apparently they close off a few blocks each weekend as a sort of wandering street fair, and it looked like it would be great fun to spend some time strolling through, "window" shopping and eating your way down the avenue.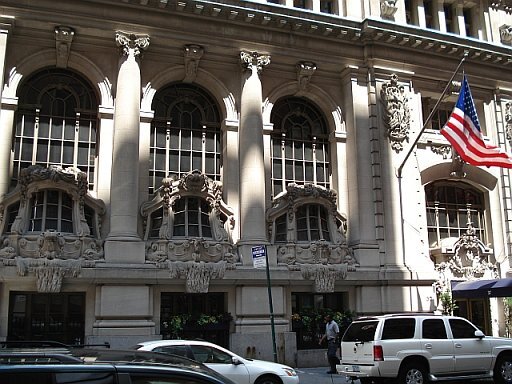 But we had a number of things to do before our scheduled rendezvous with Joe, so we were off again. The theater district was packed with people in lines for the matinees, so we elected to head down 41st Street to the New York Public Library on 5th Avenue at 40th Street. On the way, we saw some very cool "nautical" architecture (left), which brings up yet another assignment for the tourist: New York is packed with fascinating architectural details, seemingly on every other building. It really pays to keep your eyes open.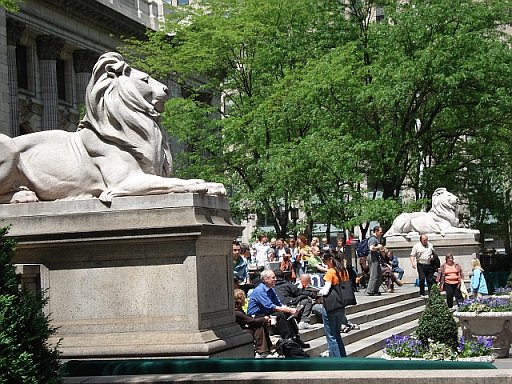 We had no time to read at the library, mind you; but I really wanted to get a shot of those lions. They didn't look nearly so possessed as they did in the movie. But Mary was beginning to wear out and we had a number of things to do yet. We had to get back to the East Village for our evening theater experience, so we headed off to...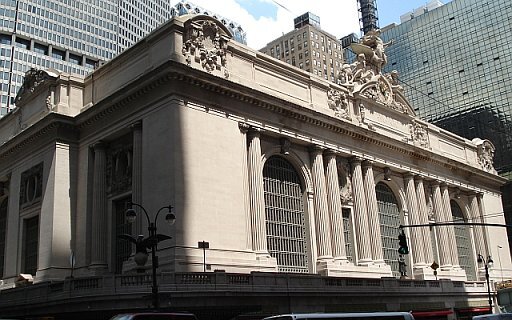 Grand Central Terminal (yes, it is technically a Terminal and not a Station). I had to be content to photograph the outside, because I just couldn't do justice to the interior with a picture. You simply have to see it for yourself.

An interesting thing happened on our subway ride to Union Square. At 33rd Street, an A Capella quartet got on our car, entertained us to 28th Street, passed the hat and then moved on to the next car. We had seen street musicians all around the city but this was a twist: underground music in motion.
There is an interesting phenomenon on the subways of New York. I don't know if this is universal or endemic to this city, but the riders all have a studied air of being able to look right through you. It's as if the lack of personal space is being compensated for by an exaggerated psychological space. For a moment, the music broke through all that, but on most of our subterranean travels the avoidance of eye-contact or the exchange of a smile was pervasive.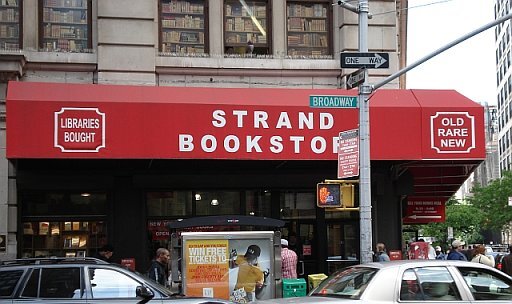 Joe had taken us past The Strand Bookstore last night but they had just closed. We knew it was one of his favorite haunts, and Mary assured me that a 15 minute stop was OK if we sat down and got something to eat immediately after, so we headed off and again struck it rich: I found a transcription volume of Edward R. Murrow's broadcasts and an old book by Peter Matthiessen, both out of print. It's amazing what you can find in 18 miles of books.

I've talked a lot about the sights and sounds of Manhattan, but there is another sense that gets over-stimulated here: smell. There's a lot of talk about how safe and clean New York has become, and I obviously can't compare with the past. We certainly felt safe most of the time, but we were not as impressed by the cleanliness as we had been led to believe we would be. And there are smells everywhere. You can be walking down the street and all of a sudden be overtaken by a distinctly sewer-like smell. And there are the buses and cabs... But for each of those, there is a wonderful smell emanating from a restaurant. Or perhaps a dozen restaurants: at some intersections there seem to be eateries in every direction. Most post their menus, so it is fun to stroll among them, sorting out the smells and deciding where to stop. Today we decided to lunch at Buona Sera on University Place. We sat alongside the sidewalk while listening to their resident pianist. Then it was off to meet Joe outside the Classic Stage Company for... you guessed it: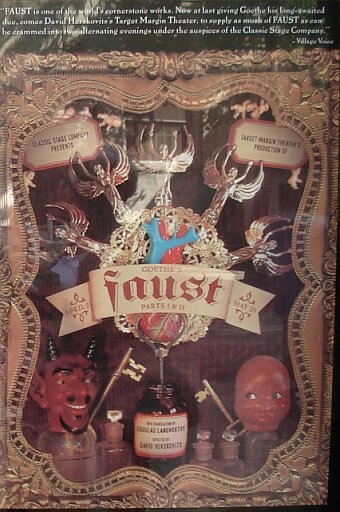 Faust!
Weak travelogue analogies aside, Joe had tempted me with an opportunity to see both parts of Goethe's Faust in a production by his favorite theater company, Target Margin. The ad copy promised an extravaganza, and while I've always held Faust in high regard, I never thought it could be so entertaining. But as with Shakespeare, I tend to take classical drama too seriously until I see a production that draws out the humor.
We were seeing it on closing night, Part I at 4:30 and Part II at 10:00. Mary is not the Faust freak that I am, so she decided to opt out for Part II. We took our seats in the third row of a theater with only 180 seats; it promised to be an intimate experience. The text was a new translation undertaken specifically for this production, and as we soon found, was pretty complete and very modern and simply a delight to hear.
I'm pretty sure it has been mentioned previously that the Devil has all the good lines. David Greenspan's Mephistopheles was sassy and could have stolen the show had the rest of the ensemble not been so strong and the production so fascinating. Aside from the fact that he used modern stage lights and sound, Herskovits' production used no special effects that couldn't have been created in Goethe's time. Nicely symmetrical. And the humor took nothing away from the intensity of Faust's struggle for enlightenment or the tragedy of Gretchen's ruin as the cost of that struggle. Simply great theater.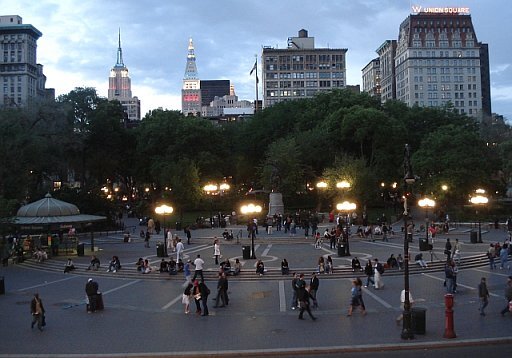 We had a few hours to get dinner and escort Mary to Joe's before he and I returned for Part II, so we stopped by Whole Foods on Union Square and caught dinner and this twilight shot of the square and the mid-town skyline. Note the color scheme on the Empire State Building.

Part II of Faust has always been sort of enigmatic for me. It's both a continuation of the same story and a whole new ball game. The text was well tailored and the Target Margin production brought it together beautifully. Daphne Gaines' Helen gave Mephisto a run for his money and the final scene was gorgeous and, surprisingly to this observer, largely nude. Once again, free expression is one of the many souls in New York City's breast.
On the way back to Joe's he popped the question on behalf of the City's Mephistopheles: was I ready to move here? I had really enjoyed my visit; I wasn't exactly ready to leave; but I was saturated. I couldn't believe that it was our last night in New York, but I couldn't take it any more. And I couldn't afford it anymore, at least not on a Midwestern professor's salary. I was ready to make my escape.
Sunday
We breakfasted one last time at French Roast, and after bidding a sleepy Joe a fond farewell, caught the subway from Sheridan Square to Penn Station. Another slightly nauseous train ride took us back to Hamilton, where Lois and her husband Art and their grandson Lucas were waiting for us. They took us out for a late lunch, and then we were back in our own car and headed for Maine. Amazing how a car can look so much like a piece of home.
Epilogue
After a couple of Americana shots in Cromwell and Willimantic, Connecticut, we reached our second destination: Southwest Harbor, Maine. And it was wonderfully decompressing to see this view from our apartment for the next four days: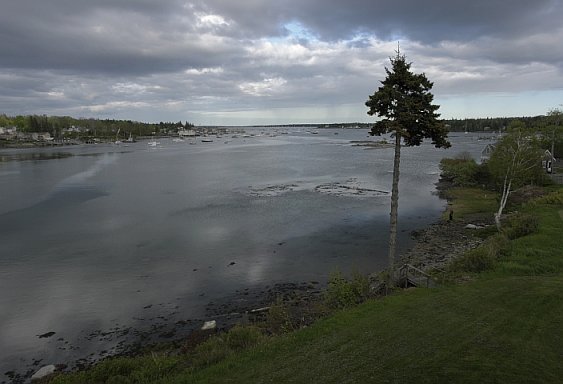 I spent a couple of days on my time lapse photography project while Mary shopped, and we spent Thursday driving and walking around Acadia. The area was wonderfully deserted during this last week before the official start of the tourist season, but it took some time to get used to the fact that most of the restaurants were closed. A very different state of affairs from just a week before!
On the way home from Maine, we visited a couple of quilt shops, got one more Americana photo and helped throw a surprise baby shower for my nephew's wife. Not bad for three days. But now the highway is littered with rotting venison, and the air is pungent with the smell of witless skunks, so we must be back in Ohio. And Home, Sweet Home.
Mary once described our Route 66 trip as "a two and a half week long date". And most of our trips are like that. I think that the key to a good relationship is to not be too much alike, but to share enough mutually compatible interests to make life fun.
As I write this, I find myself missing the city lifestyle a little. So will I ever get back to Manhattan? Less than two weeks after we got home, I ordered tickets for Joe and I to see the Kirov Ring next year. I've already dragged Mary across the country for her first Ring (Seattle in 1982), so she opted to pass. But even though I'm planning so soon to return, Mephistopheles will again lose our bet. Because I know I'll be ready to leave again after the last curtain falls on the Rhine Maidens...
---
©2006, Kenneth R. Koehler. All Rights Reserved.