Off-Road and Open-Mouthed
National Parks and More...
For those of you who think that all I photograph is strange roadside art and architecture, this page collects some of my favorite nature shots. Now that I've (hopefully!) gotten you off the interstates, maybe these will encourage you to stay off and visit the heart and soul of Natural America: the National Park System.

Our first stop is Arches National Park in eastern Utah. Actually, for my money you could save a lot of time and make the whole state a National Park. Even when you drive along the interstates, you feel like you could be cruising down the center of the Grand Canyon.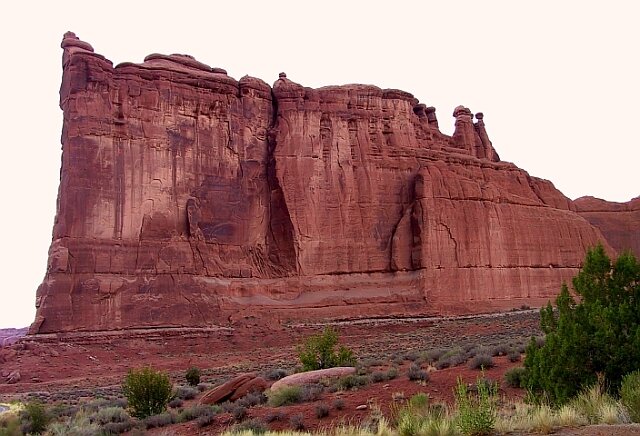 Next door to Arches is Canyonlands National Park. This picture was taken in the Island in the Sky District; I hope to visit the Needles District on a future trip.

And while we're in Utah we have to visit Bryce Canyon National Park. You can walk the trails on the floor of the canyon (barely visible in this shot), but I didn't have a chance to do that on our last trip. Next time....
If you choose to enter Utah from the southwest on I-15, try not to cause an accident as you gaze amazed at the beauty of Virgin River Canyon in Arizona.
Badlands National Park in southwestern South Dakota has been a favorite of mine ever since I was a kid. This panorama was taken as a series of pictures in 1982 and waited a couple of decades before personal computing gave me the power to piece it together myself.

The National Bison Range Wildlife Refuge is not in the National Park System, but is instead part of the National Wildlife Refuge System, operated by the U.S. Fish and Wildlife Service. The Bison Range has 24 miles of gravel roads on which you can drive literally through the herds of bison on the range.

Glacier National Park is northeast of the Bison Range in Montana, and is one of those places where every scene you encounter is more breath-taking than the last. My favorite picture from Glacier is this view from our suite on the south end of Lake McDonald: what a view to wake up to every morning!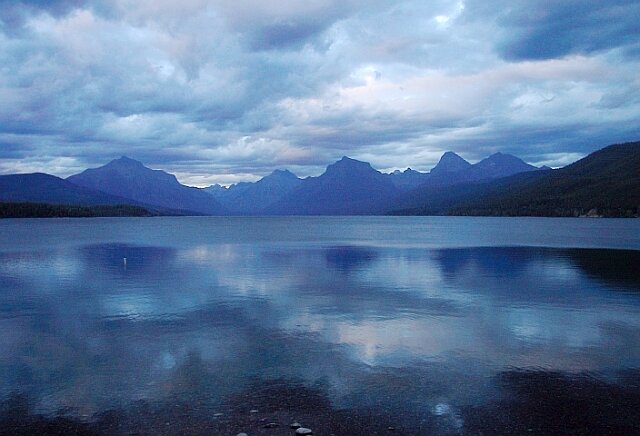 A word of caution for those of you traveling east on Going-To-The-Sun Road: if you have any tendency toward acrophobia (the fear of heights), you may want to travel the long way around the park on US-2 and US-89 and enter at St. Mary. It's longer in mileage but almost the same in time; you get to see a lot of interesting stuff you might otherwise miss; and there will be a lane between you and oblivion as you drive west along Going-To-The-Sun Road.
This next shot was taken in 1982 while camping at Saylorville Lake near Des Moines, Iowa. The lake is administered by the Army Corps of Engineers, who hopefully had no hand in the storm that followed: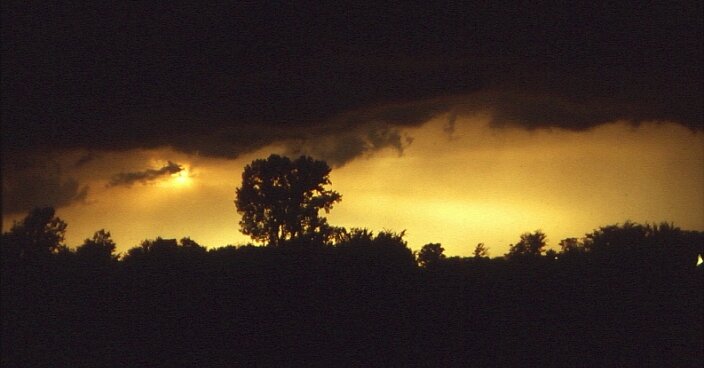 We were camping with my in-laws; we had the backpacking tent and they had the big tent with cots. The storm broke around 8 PM and was the single worst storm I have ever experienced. There was a very close lightning strike approximately every minute for ten hours. After an hour we took my wife's folks to a motel and then moved into their tent. An hour or two later we moved into the car. And at 6 AM we broke camp in six inches of standing water. I spent the day at the laundromat trying to get the tents dry enough to pack!
This picture was taken at the meteor crater in central Arizona, just off I-40 between Winslow and Winona (yes, it was taken on our Route 66 trip!). The site is not a National Park Site; rather it is operated for-profit by the owner.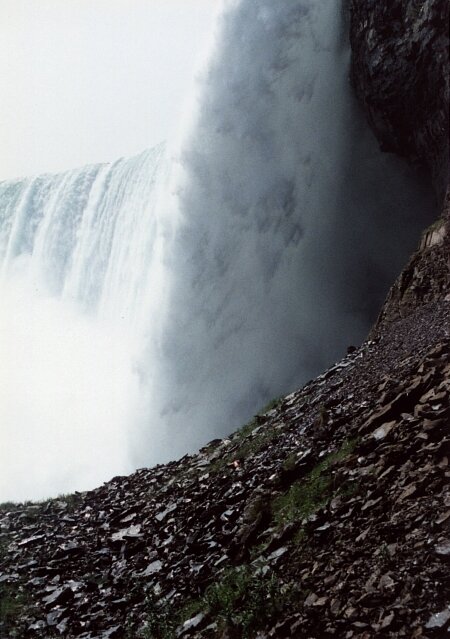 Here is a shot of the Canadian side of Niagara Falls which not everyone gets to see, and you have to be willing to get wet to do it. Niagara Parks operates this side of the falls for Ontario, and I have enjoyed every visit. There is something about the sound of the falls that is very relaxing, as long as your imagination doesn't put you in a barrel going over them!

This sunrise was taken on the shore of the Outer Banks in North Carolina. Part of the banks is designated the Cape Hatteras National Seashore, but this photo was taken on the northern end of the barrier isles.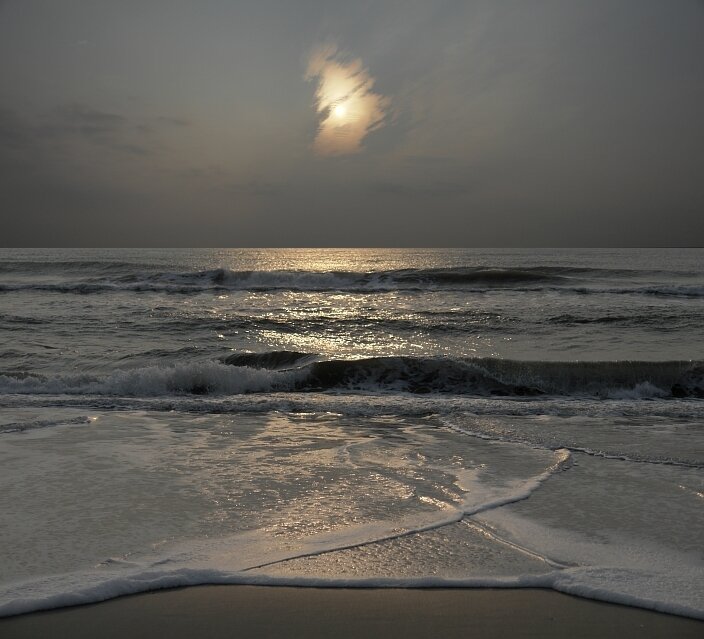 A short walk across the island on the boardwalk maintained by the EPA's National Estuary Program brings you to Currituck Sound, and on good days, sunsets like this one: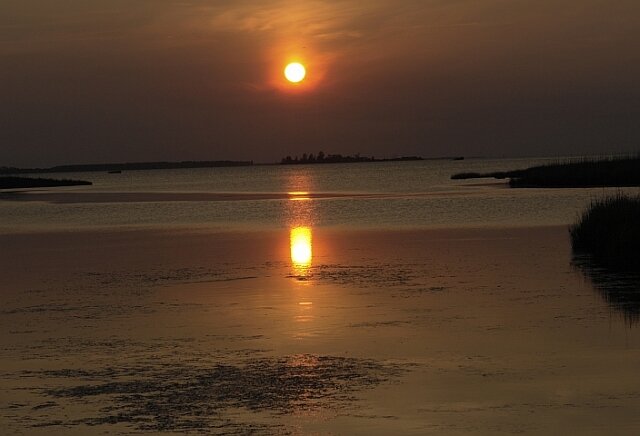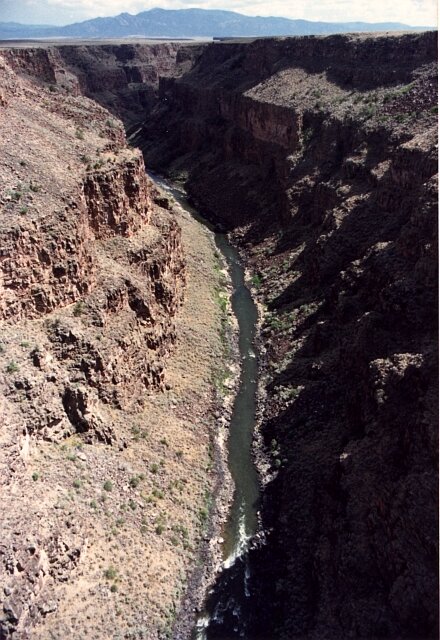 The Rio Grande River has made a deep slash across the plains of New Mexico which is best viewed from the Rio Grande Gorge Bridge on US-64 west of Taos. I had a great time rafting on the river below one day in July of 1987 (is there ever a bad day on the river?), although the levels were so low that at one point we got stuck on the rocks.

Here is another decades-old panorama (from the same trip as the Badlands shot above) of one of our favorite destinations, Grand Teton National Park in northwestern Wyoming:

And of course, Yellowstone National Park is just north of Teton and is full of fascinating things to see, such as Sapphire Pool: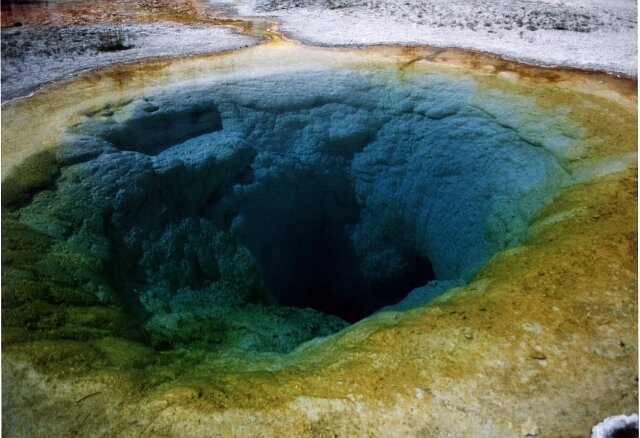 and of course Old Faithful: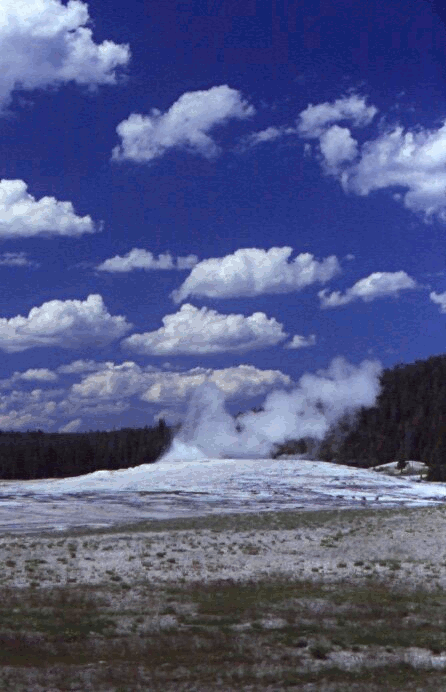 So as you travel, try to plan every trip to include a visit to a National or State Park. And please use your dollars and your votes to support these national treasures!
---
©2006, Kenneth R. Koehler. All Rights Reserved.