One result of Huygens' Principle provides us with a unique opportunity to "see" infinity. Consider a spherical mirror, formed by "slicing" off a spherical segment of a reflecting sphere of radius r: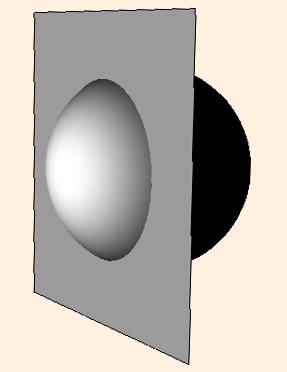 For a convex mirror (looking into the outside of the spherical segment), the magnification of the image (the ratio of the image size to the object size) is equal to 1 when the object touches the mirror, and reduces to 0 as the object recedes to infinity; and the image is always "right-side-up".
But for a concave mirror (looking into the inside of the spherical segment), something very interesting happens. Huygens' Principle leads us to discover that the magnification M is given by
M = 1 / (1 - 2 O / r)
where O is the distance from the object to the surface of the mirror. M is still 1 when the object touches the mirror, and the image is still right-side-up. But as the object recedes toward a distance r/2 from the mirror, the magnification approaches infinity (here, r = 2m):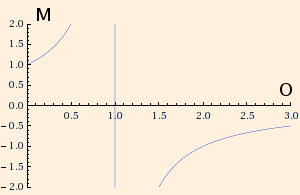 As the object continues to recede, the image is inverted (M < 0), and slowly shrinks in magnification. Try this with the inside of a highly polished serving spoon, or some other reflecting concave surface.
And in a coincidence of physics, the magnification of a concave mirror "mirrors" the form of the radial singularity (where changes in radial distance go to infinity) of a static black hole of mass M:
ds2 = dr2 / (1 - 2 M / r)
Here, as an object approaches r=2M, a far-away observer sees any change in position as taking infinitely long: the inward-falling object never appears to gets closer than 2M, even though the object itself has long since crossed that boundary. We will discuss this issue in more detail later (note that to simplify the equation, we have changed the units of M to meters by multiplying the mass by G/c2, where c is the speed of light).
The next section introduces the magnetic field.
---
---
©2013, Kenneth R. Koehler. All Rights Reserved. This document may be freely reproduced provided that this copyright notice is included.
Please send comments or suggestions to the author.