Consider a lump of clay. We can stretch it, squeeze it or twist it. In order to quantitatively describe our fun, we define the stress which we apply to the clay across any cross section of it as the force per unit area. The resulting strain (deformation) which the clay experiences is defined as the fractional extension perpendicular to the cross section we are considering. For instance, when stretching a cylindrical piece of clay, the cross section is a circular cut perpendicular to the force we applied to the clay, and the strain is parallel to the force. The graph of stress vs. strain for a material is a veritable cornucopia of information: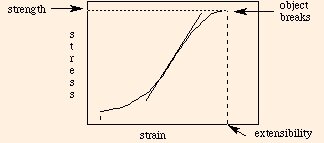 The slope of the curve at any point is called the Young's Modulus, and has dimensions of force over area. Its numerical value is indicative of the stiffness of the material: smaller values indicate that less stress is required for more strain. In general, the stress vs. strain curve will differ for each material, and for each type of stress. The strength of the material is the maximum value of the stress before breakage. The extensibility is the maximum value of the strain before breakage. The toughness is the area under the curve between the vertical dashed lines, and is equal to the energy required to break the object. The partial area under the curve up to a given strain (less than the extensibility) is the work of extension.
Hooke's Law is simply the linear part of the stress vs. strain graph. The stress vs. strain curve is not necessarily the same during the relaxation of stress as it was during the loading (application) of the stress. This phenomenon is called hysteresis, and the ratio of the area under the relaxation curve to that under the loading curve (for a given strain) is called the resilience (usually expressed as a percentage).
. . .
With our knowledge of Hooke's Law we can now make the analogy between mechanical and electrical systems more precise.
In an electrical circuit, charge plays the same role as position does in mechanical systems; therefore current is analogous to velocity. Since energy is voltage times charge, voltage must play the part of mechanical force (since force is the gradient of energy). In fact, electrical potential is often called electromotive force. We therefore have the following correspondences:
| | |
| --- | --- |
| F = - k x | V = Q / C |
| U = k x2 / 2 | U = Q2 / 2 C |
| Fdrag = - b V | V = I R |
The first two correspondences would lead us to believe that the spring constant behaves like the inverse of the