The following applet will give you some practice with these sorts of computations.

Note that while electrons cannot actually flow through a capacitor, as it is charging, electrons are collecting on the negative side and leaving the positive side. This gives rise to a current "through" the capacitor. Initially the current flows freely, but as the capacitor charges, the growing potential difference makes it harder for the electrons to redistribute. So in the circuits shown in the applet above, when the battery is first placed in the circuit, most of the current flows through the capacitors. As their stored charge increases, the current grows in the resistor network. The questions you are asked about the resistor currents assume that the capacitors are fully charged, and that the current is only traveling through the resistors.
As you answer the questions in this applet, make note of the orders of magnitude of the answers. Compare the energy stored in a capacitor to the energy you gain from climbing a flight of steps, and the power dissipated by a resistor to the power used by a light bulb. Then note the magnitude of the charge stored on a capacitor; this should be comparable to the charge on your cat. This fact helps illustrate why people who work on computers often take precautions against static: ordinary amounts of charge can damage the circuit elements used in computers.
. . .
So what good are resistors in an electrical circuit? At first glance it seems silly to want to lose energy in any physical system: it offends our sense that efficiency is of paramount importance. The RC circuit we use as our canonical example has an analog in a physical system: just as capacitors store energy, so too do springs. And in that analogy, resistors act as friction, which we are always trying to reduce or eliminate in practical applications.
In an RC circuit, the time constant is a measure of how fast the capacitor is charged. After τ seconds, it is charged to 63.2% of capacity; after 2τ seconds, it is charged to 86.5%; after 3τ seconds, it is charged to 95%; after 4τ seconds, it is charged to 98.2%, and after 5τ seconds, it is charged to 99.3% of its capacity. While in principle it is never charged to 100% of its capacity, it effectively reaches full charge in 5τ seconds. But if R = 0, τ = 0. What happens if one tries to charge (or discharge) a capacitor instantaneously? A small capacitor would melt, a large one would explode! The power applied to it would be far more than it is physically able to survive.
Of course, RC circuits are used in many timing applications: the timing of the windshield wipers on your car is controlled by an RC circuit. In addition, each bit in the DRAM (Dynamic Random Access Memory) in your computer is essentially an RC circuit. In these applications it is very important that R be nonzero. There is another example of a direct current (DC) circuit in which resistors are necessary: the voltage divider: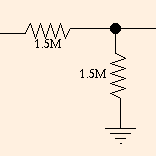 If a voltage V is applied on the left, (in this example) a voltage V/2 is measured on the right. Voltage dividers are the canonical example of the utility of resistance in DC circuits.
Of course in alternating current (AC) circuits, where the voltage oscillates, there are many more examples. Every volume control in your life is a variable resistor. The same can be said of every tone and balance control (although not of tuning controls: those are variable capacitors). In an AC circuit, a capacitor functions as a high-pass filter: it has less impedance (the AC analog of resistance) to higher frequencies then to lower ones. So a variable resistor in series with a capacitor connected to ground will shunt a variable amount of high frequency current to ground, and you have a treble control for your listening pleasure.
The lesson here is that dissipation can be a good thing if you have it under control!
The next section is our first look at fluids.
---
---
©2013, Kenneth R. Koehler. All Rights Reserved. This document may be freely reproduced provided that this copyright notice is included.
Please send comments or suggestions to the author.